TweakTown's Rating: 90%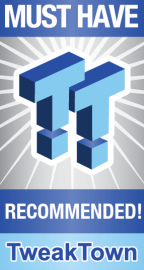 The Bottom Line
The new Razer Cobra Pro joins its Razer siblings as a premium and compact wireless gaming mouse that pairs high-end hardware with comfort and expansive RGB lighting. The symmetrical shape and small size won't be for everyone, but it's impressive nonetheless.
Pros
+

Compact and stylish

+

Fantastic Chroma lighting

+

Focus Pro 30K Optical Sensor is a monster

+

Long-lasting battery

+

Versatile with wired, 2.5 GHz wireless, and Bluetooth
Cons
-

Compact size limits its appeal

-

The scroll wheel is tuned for gaming and doesn't feature tilt buttons

-

Razer Synapse could use a UI makeover
Should you buy it?
Avoid
Consider
Shortlist
Buy
Introduction & Specification Details and Close-up
Razer has a wide range of gaming mouse options to suit all needs, from the Basilisk to the Viper to the classic DeathAdder. With wired and wireless options, Pro and non-Pro, if the company were to release a brand-new model, it would need to fill some gaps in the line-up. And that's exactly what the new Razer Cobra line does, presenting a compact, lightweight, symmetrical gaming mouse with impressive specs and features in its wireless Razer Cobra Pro form.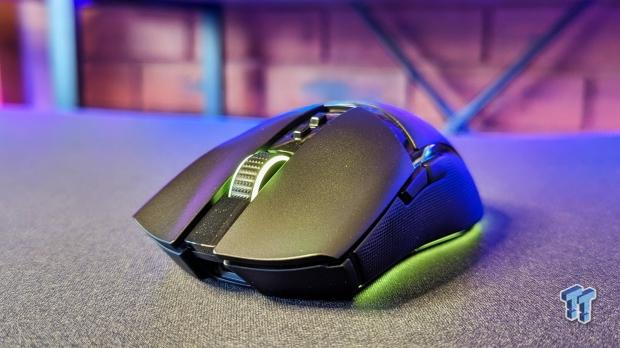 With its USD 129.99 and AUD 234.95 price tag, the Razer Cobra Pro is a premium wireless gaming mouse - with the company also offering an affordable wired Razer Cobra with a USD 39.99 price point. Although not related to the underlying (and impressive) Focus Pro 30K Optical Sensor and the excellent build quality, releasing a brand-new wireless mouse in 2023 does mean that Razer can approach the immersive RGB side of the Razer Cobra Pro from a new angle.
With lighting across the Razer logo, scroll wheel, and an underglow that covers the full base of the Razer Cobra Pro, you're looking at 11 individual and addressable lighting zones via Razer's Chroma Studio app. The impressive lighting, especially on the underglow front, gives the Razer Cobra Pro a 'floating on air' look. Again, this has no bearing on the actual performance of the mouse - but it does add to the immersion for a product aimed squarely at PC gaming. Let's dig in.
Specifications & Close Up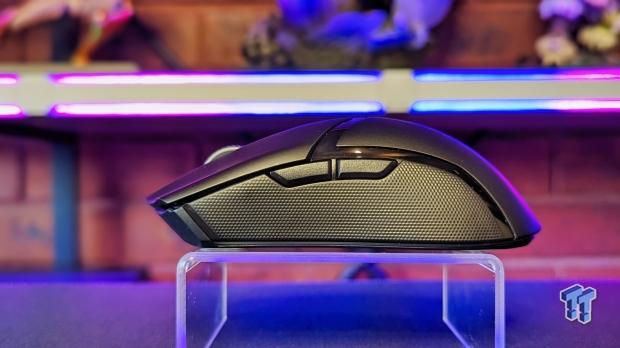 Product Type: Gaming Mouse
Product Name: Razer Cobra Pro Wireless Gaming Mouse
Interface: Razer HyperSpeed Wireless (2.4 GHz), Bluetooth, Wired (Speedflex Cable USB Type-C)
Sensor: Focus Pro 30K Optical Sensor
Switches: Optical Mouse Switches Gen-3
DPI/CPI: 30000
Polling Rate: 1000 Hz and up to 4000Hz with Razer HyperPolling Wireless Dongle and Mouse Dock Pro
Tracking/Acceleration: 750 IPS/70G
Controls: 8 (programmable)
Lighting: 11-Zone RGB
Weight: 77 grams
Battery Life: Up to 100 hours on Razer HyperSpeed Wireless, up to 170 hours on Bluetooth
In the Box: Razer Cobra Pro, HyperSpeed Wireless Dongle + USB dongle adapter, USB Type-A to USB Type-C Speedflex cable, Important Product Information Guide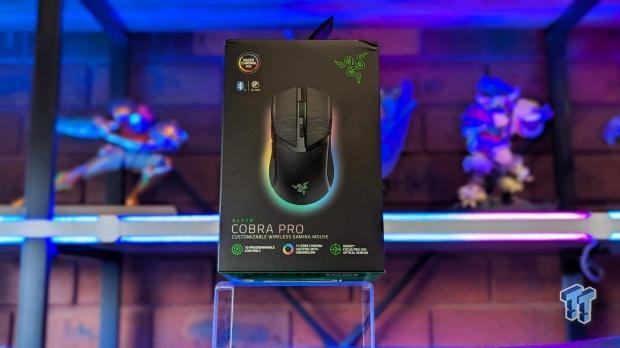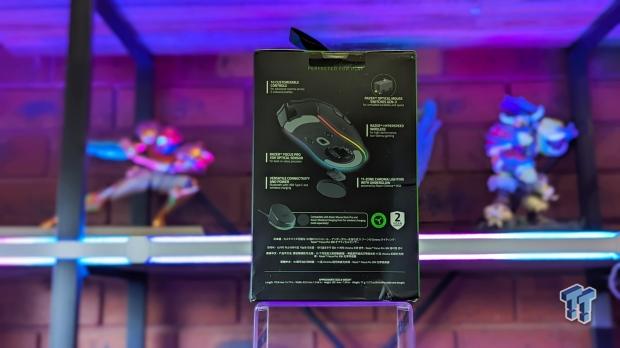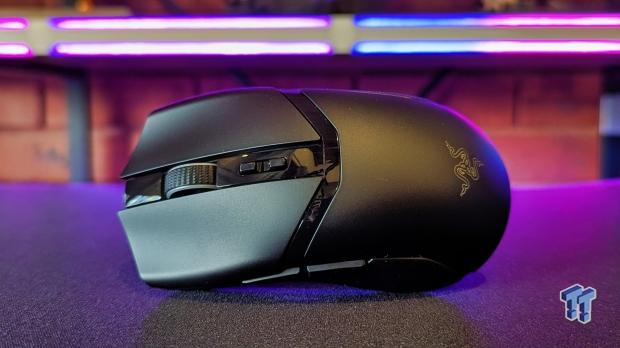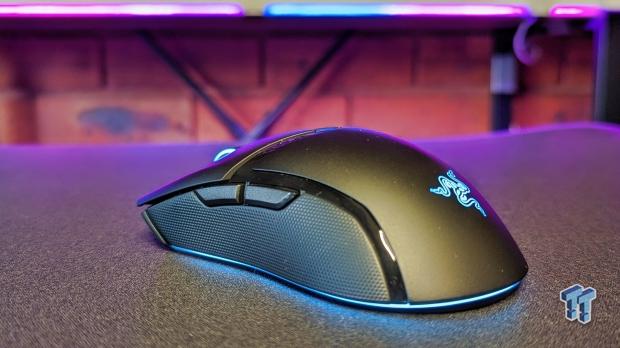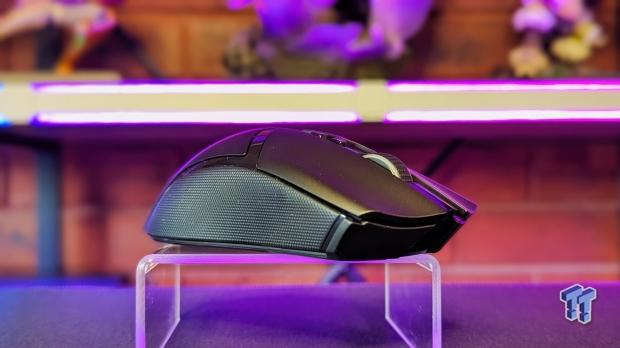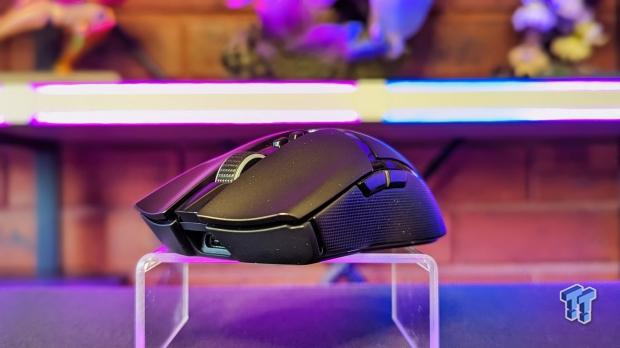 Kosta's Test System Specifications
Motherboard: MSI MPG X670E Carbon Wi-Fi
CPU: AMD Ryzen 9 7900X
GPU: NVIDIA GeForce RTX 4090 Founders Edition
Cooler: Corsair iCUE H100i RGB PRO XT Liquid CPU Cooler
RAM: 64GB (2x32GB) Corsair DOMINATOR PLATINUM RGB DDR5 DRAM 5200MHz
SSD: Sabrent Rocket 4 Plus-G M.2 PCIe Gen 4 SSD 4TB, Sabrent Rocket 4 Plus Plus M.2 PCIe Gen 4 SSD 8TB
Power Supply: Thermaltake Toughpower GF1 850W
Case: Thermaltake Core P3 Tempered Glass Snow
OS: Microsoft Windows 11 Pro 64-bit
Design, Sensor, & Software
Design
In some ways, the Razer Cobra Pro is reminiscent of the Razer Viper in that it's all about compact and lightweight performance paired with impressive hardware under the hood. However, the Razer Cobra Pro isn't trying to be the lightest mouse on the market, even though the 77 grams puts it in the lightweight category. The first thing you notice about the Razer Cobra Pro is its compact size, where the dimensions of 119.6 x 62.5 x 38.1 mm in symmetrical form support various claw or fingertip grip styles.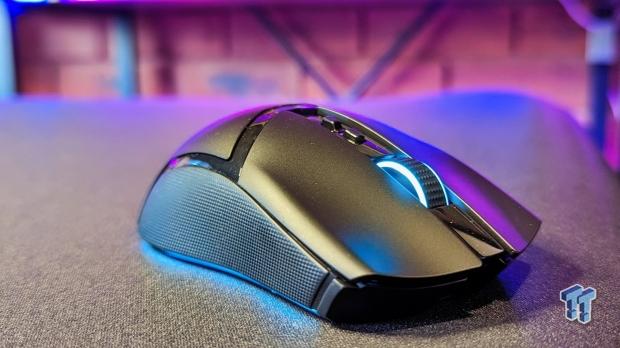 Not trying to be the lightest wireless offering in the Razer stable is great news for the Razer Cobra Pro because it means you've got comfortable, rubberized grips on the left and right side of the mouse - which extends to the scroll wheel too. The scroll wheel feel, as it were, is excellent and on par with what we've experienced with other high-end gaming mice from the Razer stable; however, there's no left or right tilt present, so you're missing out on some extra customization there.
Customization is a big part of the Razer Cobra Pro; with five onboard profiles and 10 controls to customize, there's a setting to suit any application or game. The default profile is fairly standard for a Razer gaming mouse with DPI controls underneath the scroll wheel, forward and back controls on the left side that you can easily reach with the side of your thumb, with the profile switch control located on the underside alongside the wireless mode controls.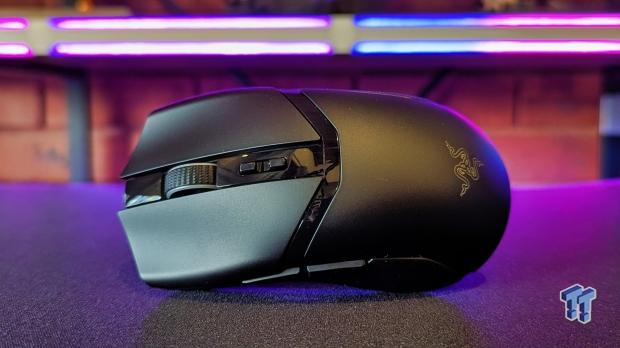 The Razer Cobra Pro is versatile, too, with support for 2.4 GHz wireless, Bluetooth, and even wired - with Razer supplying a handy USB dongle extender so you can easily swap between wireless and play-and-charge mode without skipping a beat. There is an option to boost the default 1000 Hz polling rate by adding a Razer HyperPolling Wireless Dongle and Mouse Dock Pro - but these are optional and somewhat expensive additions.
Sensor
The Razer Cobra Pro features the same high-end Razer Focus Pro 30K Optical Sensor, created in collaboration with PixArt, that we saw with the Razer DeathAdder V3 Pro. In addition to sensitivity that goes up to 30,000 DPI, you've also got improved tracking and surface compatibility - to the point where the sensor and the Razer Cobra Pro can accurately track movement on glass. We've tested it, and it's good enough to play a round of a competitive shooter like Call of Duty Warzone on a glass coffee table.
Though that's more of a 'let's see if it works' scenario, a gaming mouse like the Razer Cobra Pro always works best on a mousepad.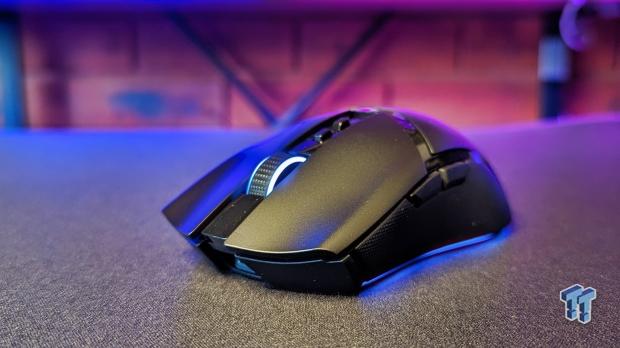 The Focus Pro 30K Optical Sensor also delivers a speed of 750 IPS, which is some serious tracking compared to the more common 450 IPS. Add in 70G acceleration, and this is a sensor tailor-made for high-performance and playing games at both a casual and pro level. There's a lot of customization here, too, with the ability to adjust tracking and lift-off distance and fine-tune the sensor to suit personal preferences.
Software
Like with all Razer products, the Razer Cobra Pro makes use of the modular Razer Synapse app on PC, where you've got access to all customization in addition to Chroma Studio for digging deeper into the RGB lighting side - which is something you'll probably do on account of there being 11 different zones and lights to adjust. Outside of the fact that Razer Synapse is still somewhat bloated in terms of its overall size, and the UI hasn't changed much in over a decade - what's on offer here is powerful and easy to use.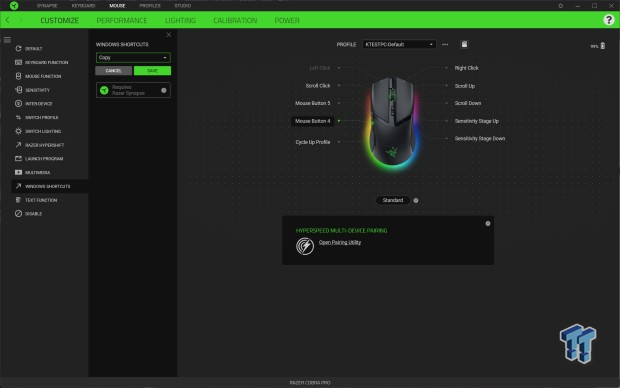 Making changes to the controls and setting up various profiles for the Razer Cobras Pro is simple, select the corresponding control from a visual depiction of the mouse and choose an option from the multiple categories covering mouse and keyboard controls, multimedia, lighting, apps, and more. Each set also includes a 'Turbo' mode, so holding down the control repeats the press. This is a cool addition and something you could use in an FPS to fire a pistol or single-shot weapon multiple times without clicking repeatedly.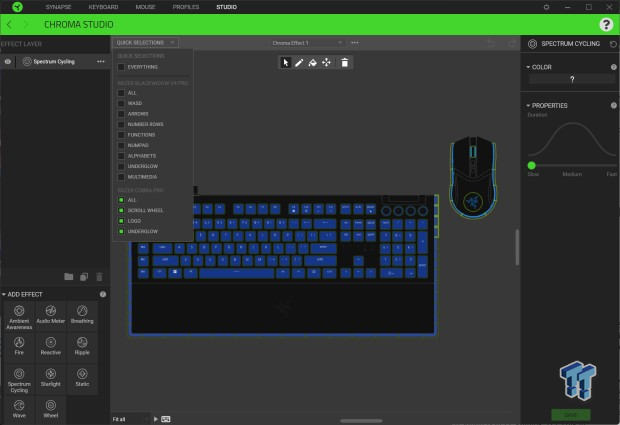 Razer Synapse offers much more customization for the Razer Cobra Pro, with detailed DPI stage settings (you can set up to 5 stages in increments of 50), the polling rate, and wireless settings for low power modes and sleep. On the battery front, you've got up to 100 hours using 2.4 GHz wireless, so the Razer Cobra Pro will last between charges if you take advantage of its power-saving features.
Gaming Performance and Productivity
Gaming Performance
The Razer Cobra Pro's symmetrical shape and overall compact size factor into the performance, at least from a personal preference perspective. Build-wise and hardware-wise, it's hard to fault. The optical switches deliver a tactile and satisfying click, and the comfortable grips, premium finish, and 100% PTFE mouse feet all add to the responsiveness of the Razer Focus Pro 30K Optical Sensor. If you're drawn to the more competitive side of PC gaming with shooters like Apex Legends and Call of Duty, the Razer Cobra Pro is an excellent choice - the sensor, build quality, and premium feel all come across.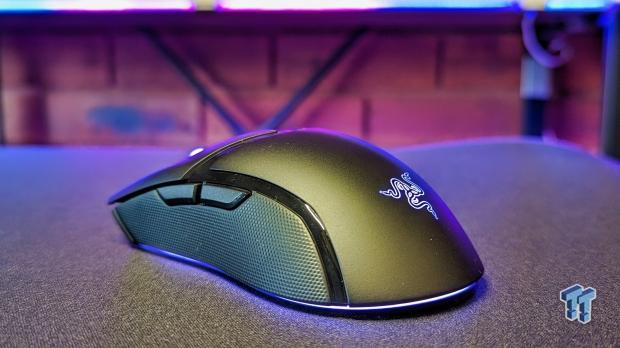 Even firing up a game like Diablo IV, which involves a lot of pointing and clicking on PC, the Razer Cobra Pro doesn't skip a beat - even when channeling all manner of skills, spells, and abilities. As a relatively small mouse offering, you could argue that it's more suitable for laptop or notebook gaming - so again, the small and compact size won't be for everyone. Going one step further, the Razer Cobra Pro is best suited for PC gamers that prefer the claw or fingertip grip style. Although not the lightest, the Razer Cobra Pro is still lightweight, and the addition of robust lighting does mean you've got some impressive Razer Chroma support. So firing up a game will automatically adjust the lighting profile.
Productivity
Hardware and feature-wise, the Razer Cobra Pro delivers when it comes to non-gaming day-to-day usage. The long-lasting battery extends even further when in Bluetooth mode, and several power-saving features combined with the physical design's portable nature make it something you can easily take on the go. The sensor is overkill if you're browsing and writing a few emails. Still, the premium finish and rubberized grips are comfortable enough to make it something you could use for hours without fatigue creeping in. For some, the only real issue would be the lack of smooth or fast scrolling on the scroll wheel and the lack of tilt controls, which can be useful.
Final Thoughts
As a brand-new addition to the Razer stable, the Razer Cobra Pro Wireless Gaming Mouse is an impressively compact and powerful symmetrical lightweight option. The premium nice-to-have features like rubberized grips and robust lighting are here, alongside the powerful Razer Focus Pro 30K Optical Sensor that is more than enough for even the most hardcore PC gamer playing CS: GO at the pro level. But the small compact size is not for everyone, and there are lighter options from Razer if all you're after is something to play competitive shooters with.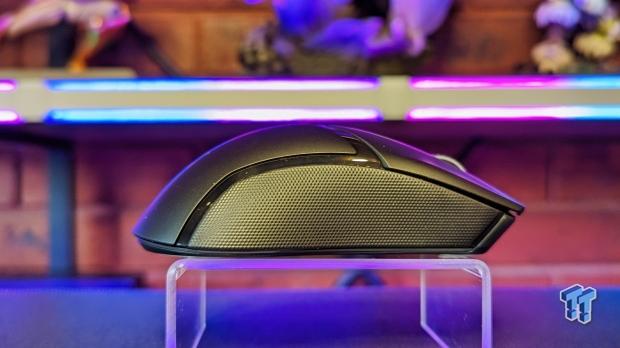 In the end, Razer Cobra Pro is more of an all-rounder, something to play games with across a wide range of genres, while the Razer Viper fills that ultralightweight category for a no-frills mouse that becomes an extension of your hand. Even so, the Razer Cobra Pro is smaller than the Viper - so keep that in mind if you plan on picking this up. It's a little pricey, too, like all premium wireless peripherals, but the Razer Cobra Pro backs that up with comfort, customization, and style.