MSI Clutch GM31 Lightweight Wired Gaming Mouse Review
MSI's Clutch GM31 Lightweight is a gaming mouse that performs great, with a few nice frills like rubberized grips that add to the overall experience.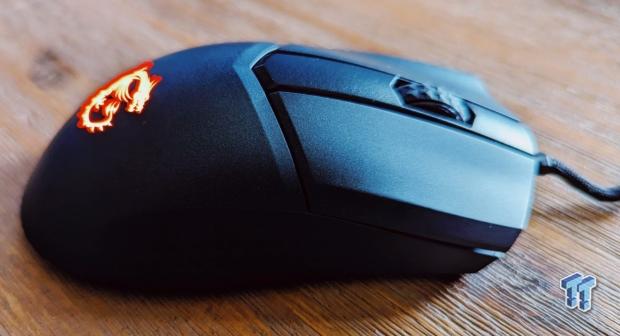 VIEW GALLERY - 15

Published
5 minute read time
TweakTown's Rating: 84%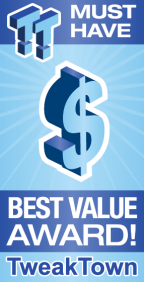 The Bottom Line
With its ultralight weight of 58 grams, impressive build quality, flexible cable, and decent sensor, the MSI Clutch GM31 Lightweight Mouse is an affordable champ.
Pros
+

Ultralight 58-gram weight and robust build

+

Rubberized grips and flexible cable for a smooth click

+

Decent sensor and performance

+

Affordable
Cons
-

MSI Center UI is clunky for mouse customization

-

The thin shape might not be for everyone

-

The same goes for the fast scroll-wheel
Should you buy it?
Avoid
Consider
Shortlist
Buy
Introduction & Specification Details and Close-up
The difference between a wired and wireless gaming mouse is usually a matter of weight, price, aesthetics, and the addition of low-latency wireless. Wireless is often more expensive for self-evident reasons, especially for a mouse under the 'ultralight' banner. But even so, wireless options tend to be heavier. The new MSI Clutch GM31 Lightweight Mouse is similar to the recently reviewed Wireless version. But, this time, its overall weight is kept to under 60 grams, with a different but similar performing sensor used inside.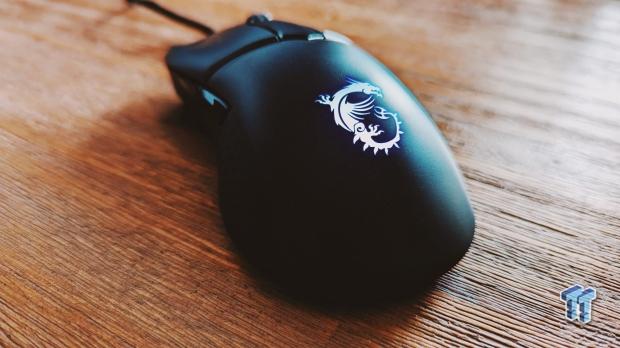 The USD 69.99 price point of the MSI Clutch GM31 Lightweight Wireless made it a reasonable and affordable choice for those looking for a lightweight wireless gaming mouse, with the bonus of it coming with a charging dock station. As the wired variant, the MSI Clutch GM31 Lightweight Mouse's USD 39.99 price point is even more attractive - especially for those looking to dabble in some competitive gaming. The weight puts it at the entry-level or mainstream pricing bracket for a lightweight gaming mouse, and it's with that lens we'll be approaching this review.
Being lightweight, the MSI Clutch GM31 Lightweight Wireless is the sort of mouse you'd pair with a gaming laptop or a new rig with MSI gear inside. Or, a gaming mouse for those that want something that will perform but not put a dent in their digital and physical wallets.
Specifications & Close Up
Product Type: Gaming Mouse
Interface: Wired (USB 2.0)
Sensor: PixArt PMW-3360
DPI: 12000
Polling Rate: 1000Hz
Switch: OMRON, 60 million clicks
Buttons: 6
Lighting: RGB Logo
Dimensions: 120 x 64 x 37 mm
Weight: 58 grams (w/out cable)
In the Box: MSI Clutch GM31 Lightweight Mouse, Guide Booklet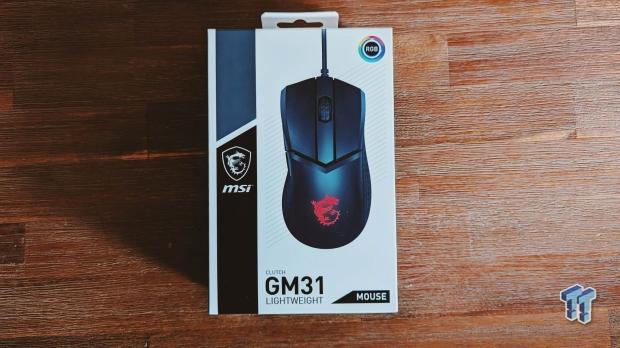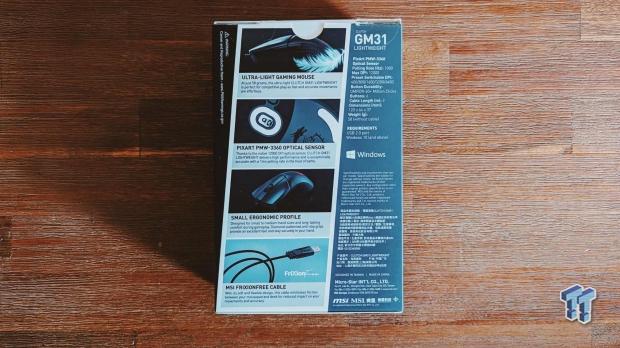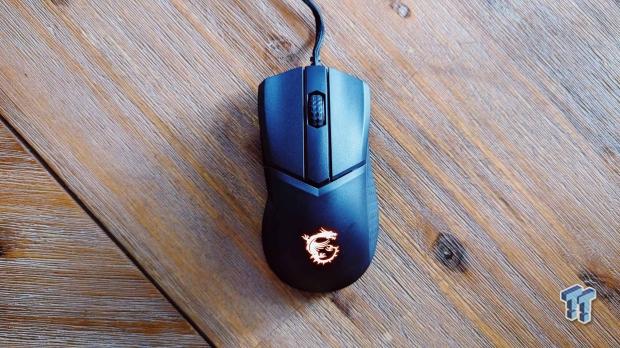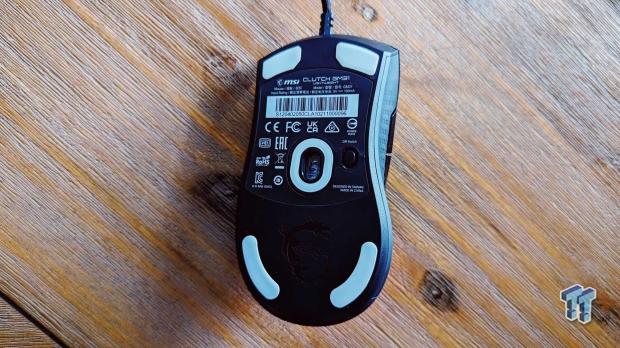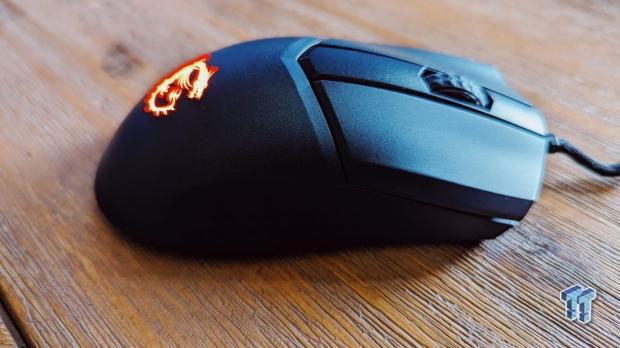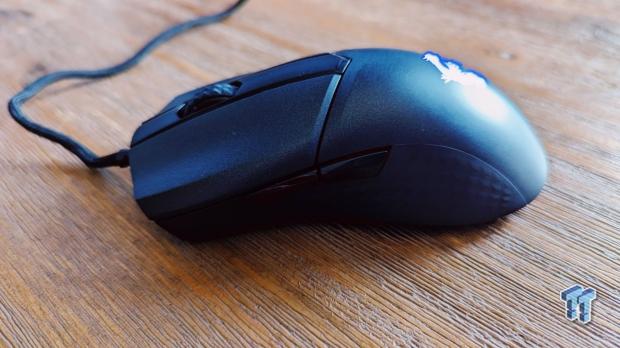 Kosta's Test System Specifications
Motherboard: MSI MPG X670E Carbon Wi-Fi
CPU: AMD Ryzen 9 7900X
GPU: NVIDIA GeForce RTX 4090 Founders Edition
Cooler: Corsair iCUE H100i RGB PRO XT Liquid CPU Cooler
RAM: 64GB (4x32GB) Corsair DOMINATOR PLATINUM RGB DDR5 DRAM 5200MHz
SSD: Kingston FURY Renegade PCIe 4.0 NVMe M.2 SSD 2TB
Power Supply: Thermaltake Toughpower GF1 850W
Case: Thermaltake Core P3 Tempered Glass Snow
OS: Microsoft Windows 11 Pro 64-bit
Design, Sensor, & Software
Design
The MSI Clutch GM31 comes in two variants, with this review covering the Lightweight Wired Mouse revision. The two are nearly identical in terms of look and feel, with the same slim ergonomic shape and comfortable, rubberized side grips. The 58-grams is definitely what you would consider an ultralight gaming mouse, and the Wired version is lighter. It's also good to see that MSI has dropped all those excess g's without sacrificing comfort or settling on a honeycomb design for the shell. As seen in the Wireless version, the only spot of RGB action comes with the MSI logo that illuminates.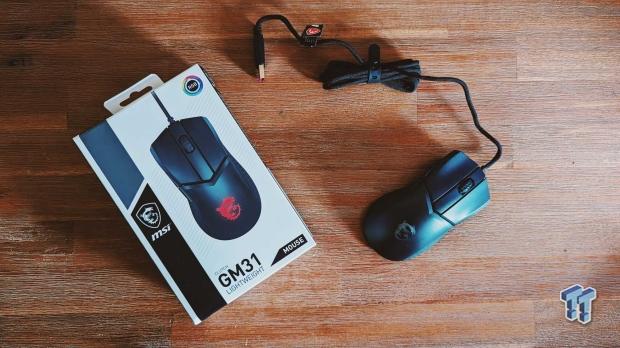 The immediate out-of-the-box impression you get from the MSI Clutch GM31 Lightweight Mouse comes from the shape, which is thin and comparable to the Razer Viper. Depending on what you're used to, it might take a moment or two to become familiar with the shape - and from our testing, it feels like a gaming mouse more suited to a claw grip versus a palm. It can be held and used in both styles, but it's worth pointing out nonetheless. The rubberized grips are a nice touch, and they feature a very cool Deus Ex-inspired look, blend seamlessly into the body, and are comfortable to boot.
The overall build quality here is impressive for the price point and in line with the more expensive wireless version. The cable, which MSI calls "FriXionFree," is flexible and light enough that it doesn't become noticeable. This is good because the 58-gram weight of the MSI Clutch GM31 Lightweight Mouse means that even a little bit of cable drag or stiffness would become immediately apparent.
The scroll wheel is rubber in a similar style to the side grips, offering a fast and smooth scroll. If you're a fan of a slower and more tactile scroll -for minor precise movement or swapping between two weapons in an FPS - then the MSI Clutch GM31 might be a little too smooth.
Sensor
Inside the MSI Clutch GM31 Lightweight Mouse, you'll find the PixArt PMW-3360 sensor, rated at 12,000 DPI, with a tracking speed greater than 250 IPS and 50g acceleration. It's not the most high-end sensor on the market, but for the affordable price point that MSI is hitting, it's more than serviceable.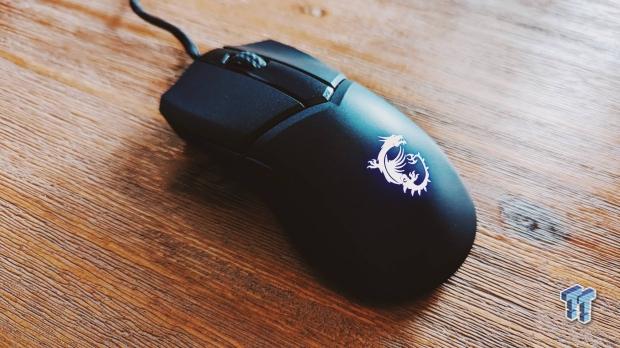 The tracking might be the sensor's shortcoming, but performance is excellent for gaming and entry-level competitive action. In practice, it works without any significant issues. The sensor was initially designed for gaming applications, and that's where it excels. Coupled with the 60-million-click-rated Omron switches and impressive for-the-price build quality, the MSI Clutch GM31 presents excellent value.
Software
Like all MSI hardware, the MSI Clutch GM31 Lightweight Mouse uses the MSI Center Windows 10/11 app for all customization. It's a comprehensive and powerful software from MSI, though the UI is the main problem with the MSI Clutch GM31. You can change button assignments for buttons, adjust DPI settings and polling rate, and toggle angle snapping on or off. In addition, you can adjust the lift-off distance, which wasn't an option for the Wireless version.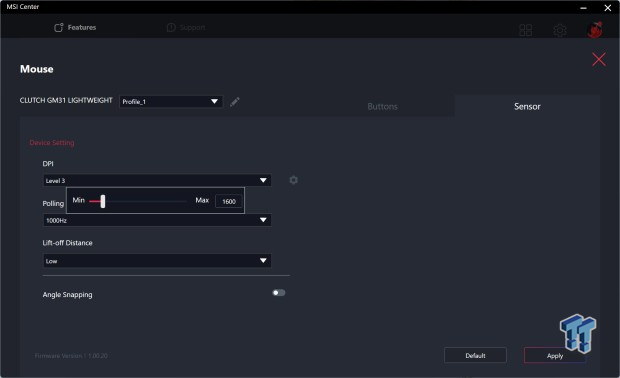 RGB customization is handled via MSI's Mystic Light system, which is great for synchronizing the light between all the various PC components in your build - but overall, the look and feel of MSI Center for a gaming mouse feels a step behind the competition. The most common thing regarding mouse customization is changing and customizing DPI settings and levels to suit your preferences. Here you've got an unintuitive drop-down box and no clear look at the overall steps.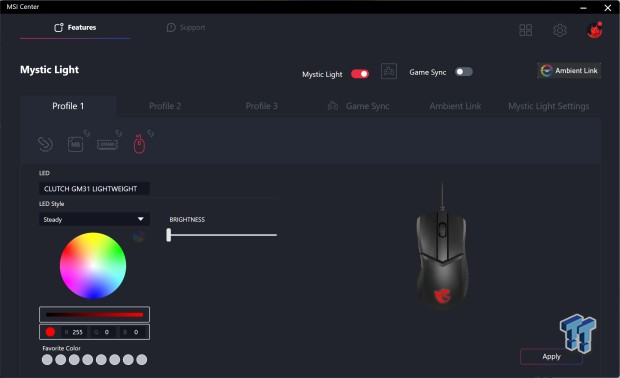 It's clunky but serviceable. Feature-wise, for an affordable gaming mouse, it's decent. You can even save multiple profiles.
Gaming Performance and Productivity
Gaming Performance
The ultralight 58-gram weight of the MSI Clutch GM31 Lightweight Mouse is ideal for fast-paced games, which means FPS titles and MOBAs that require a lot of rapid mouse movement. And on that note, we tested its chops with Call of Duty Warzone, DOOM Eternal, and Warhammer 40,000: Darktide.
Outside of the weight and the addition of a cable, performance is as smooth and impressive as the Wireless version. The sensor delivers when it comes to affordable performance, with one of the only drawbacks being that it can be a pain to change DPI settings due to the DPI switch being located on the underside of the mouse.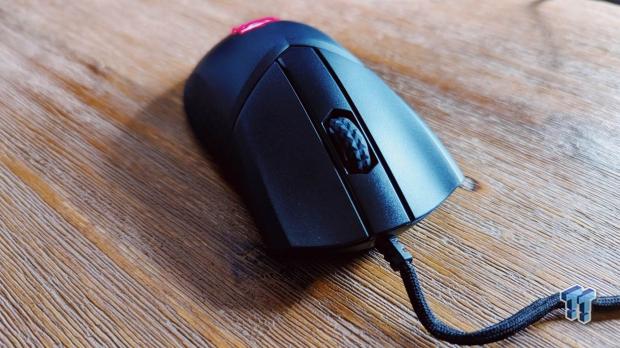 It's also worth pointing out what an ultralight mouse brings. Even if you're gaming with a similarly priced and specced gaming mouse, dropping down to 58 grams makes the mouse almost disappear when in use. Well, maybe not disappear but become weightless and an extension of your hand.
For competitive titles like Call of Duty or Apex Legends, using an ultralight is more comfortable for longer sessions. It's one of the things where, if you're serious about the FPS genre, once you go ultralight - you don't go back.
Productivity
Using an ultralight gaming mouse for day-to-day tasks probably comes down to user preference, but in terms of its look and feel - and minimal RGB lighting - the MSI Clutch GM31 is a great all-rounder. The addition of rubberized grips improves comfort, and the ultralight build makes the movement as smooth as a summer breeze.
The weight also makes it a decent choice for a gaming laptop, as long as you're ok with giving up a USB port.
Final Thoughts
The fact that the MSI Clutch GM31 Lightweight Mouse isn't all that exciting is probably a good thing, as it performs as you'd hoped and is excellent value when you consider the price point. Its design is standard, though the impressive build quality and nice flourishes like rubberized side grips stand out. Throw in a flexible cable and support for profiles and software customization, and it's an easy recommendation for budget-conscious PC gamers looking for something to use when firing up Call of Duty.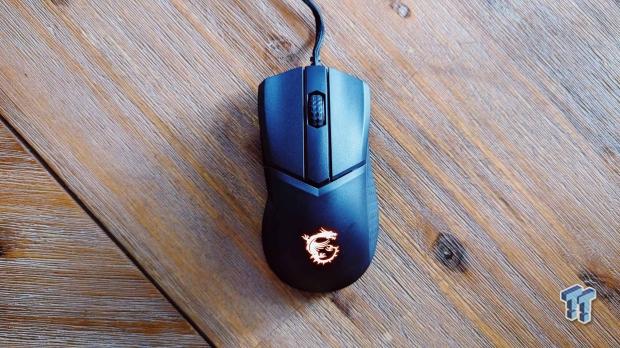 Although the sensor is a step or two behind more premium offerings, the MSI Clutch GM31 Lightweight Mouse still delivers when it comes to overall performance. In our testing, it was accurate, smooth, and without issues. Our main gripe is with the MSI Center app because using it for mouse customization is clunky. As an "everything MSI" app, it's certainly powerful, but we'd love to see the features and layout given an overhaul in time for the next Clutch to hit the scene.
| | |
| --- | --- |
| Performance | 80% |
| Quality | 81% |
| Features | 85% |
| Value | 90% |
| Overall | 84% |
The Bottom Line
With its ultralight weight of 58 grams, impressive build quality, flexible cable, and decent sensor, the MSI Clutch GM31 Lightweight Mouse is an affordable champ.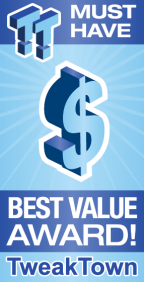 We openly invite the companies who provide us with review samples / who are mentioned or discussed to express their opinion. If any company representative wishes to respond, we will publish the response here. Please contact us if you wish to respond.