TweakTown's Rating: 87%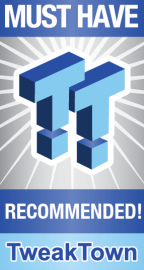 The Bottom Line
MSI's Clutch GM51 Lightweight has all the makings of a premium gaming mouse, with a great sensor and other high-end features, but it's held back by unremarkable software support.
Pros
+

Powerful sensor

+

Robust physical build and comfortable design

+

Excellent RGB lighting

+

Lightweight and smooth to use

+

High-end features like the 8000Hz Polling Rate and 650 IPS tracking
Cons
-

Side-button design is awkward

-

Software is functional but also unintuitive at times
Should you buy it?
Avoid
Consider
Shortlist
Buy
Introduction & Specification Details and Close-up
We recently reviewed the new MSI Clutch GM31 Lightweight Mouse, an affordable entry from MSI that featured an ultralight 58-gram build, rubberized grips, a flexible cable, and a decent, if not all that high-end PixArt PMW-3360 sensor underneath the hood. It was impressive and earned our Best Value Award as an "affordable champ." And now, with the MSI Clutch GM51 Lightweight Mouse, MSI is keeping many of the design elements we saw with the GM31 - with some notable changes to make it more of a premium wired offering.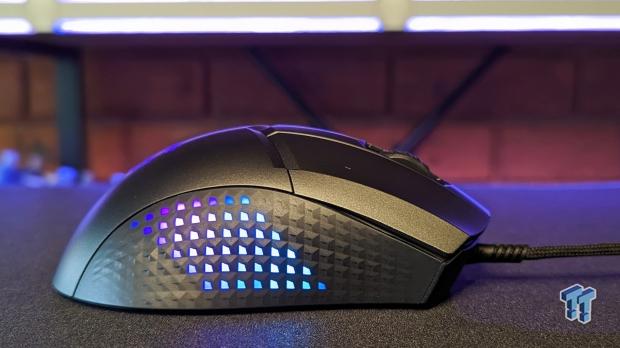 The USD 69.99 price point is a sizable jump from the USD 39.99 priced MSI Clutch GM31, and there's a lot more here than simply adding robust RGB lighting. Though on that front, how MSI has integrated RGB into the stylish Deus Ex-style rubberized grips is very cool - not to mention the subtle changes made to the overall shape that keep it in the lightweight realm.
Plus, there's the more advanced and frankly - impressive - PixArt PAW 3395 Optical Sensor. It brings to light just how much can change when you upgrade from one pricing bracket to another, and it seems that the mid-range and high-end are advancing at a pretty steady clip when it comes to gaming mice. What you can get in 2023 versus what was available as recently as five years ago is incredible to witness, where something like the MSI Clutch GM51 Lightweight Mouse features a polling rate of 8000Hz for pretty much flawless performance. Let's dig in.
Specifications & Close Up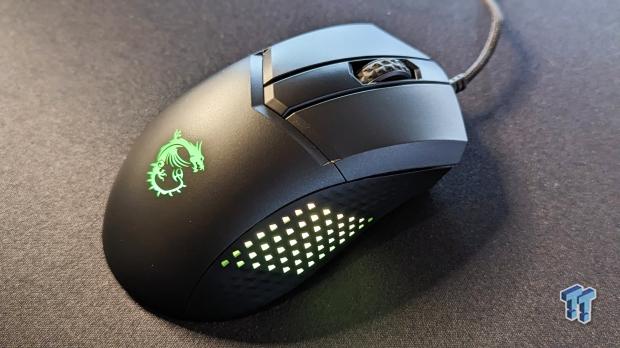 Product Type: Gaming Mouse
Interface: Wired (USB 2.0)
Sensor: PixArt PAW 3395 Optical Sensor
DPI: 26000
Polling Rate: 8000Hz
Switch: OMRON, 60 million clicks
Buttons: 6
Lighting: 3 Zone RGB
Dimensions: 122 x 65 x 45mm
Weight: 75 grams (w/out cable)
In the Box: MSI Clutch GM51 Lightweight Mouse, Guide Booklet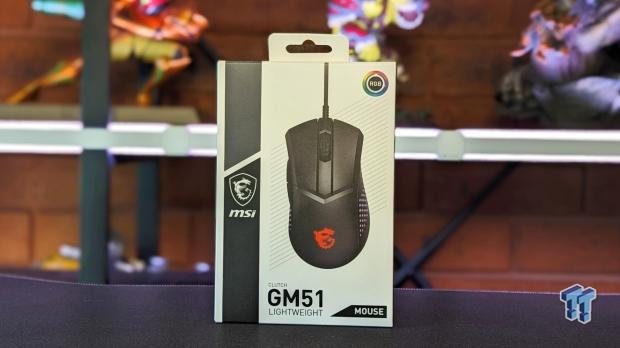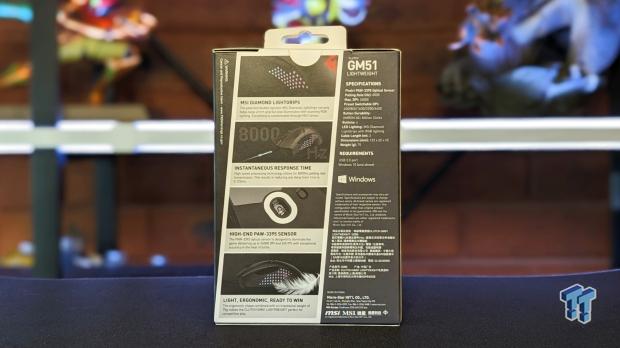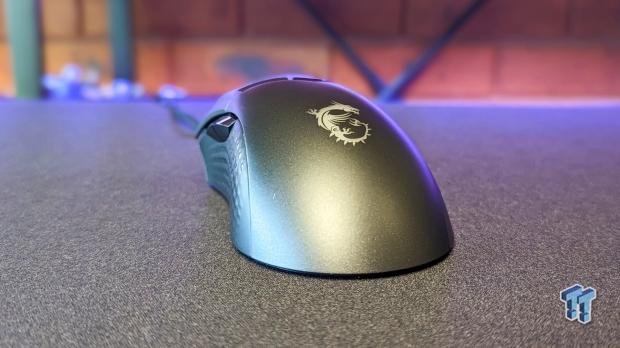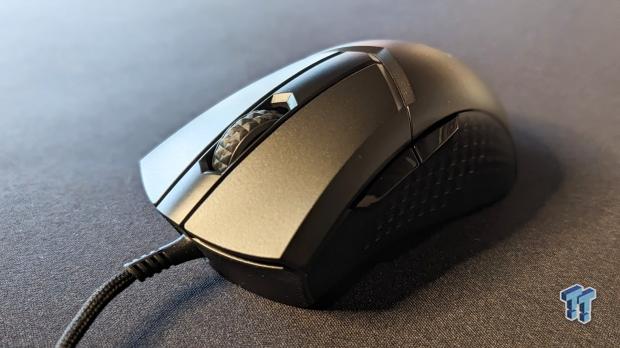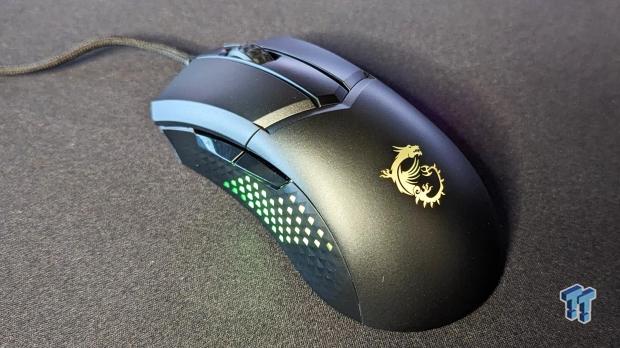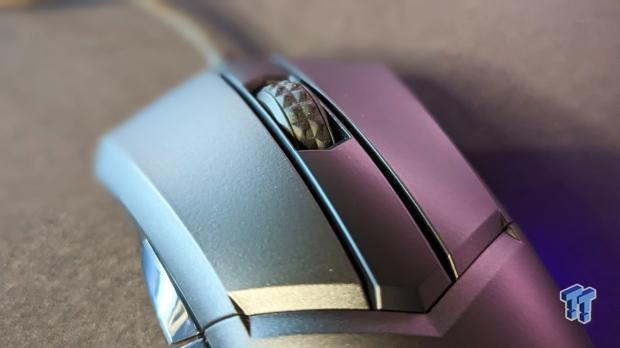 Kosta's Test System Specifications
Motherboard: MSI MPG X670E Carbon Wi-Fi
CPU: AMD Ryzen 9 7900X
GPU: NVIDIA GeForce RTX 4090 Founders Edition
Cooler: Corsair iCUE H100i RGB PRO XT Liquid CPU Cooler
RAM: 64GB (2x32GB) Corsair DOMINATOR PLATINUM RGB DDR5 DRAM 5200MHz
SSD: Kingston FURY Renegade PCIe 4.0 NVMe M.2 SSD 2TB
Power Supply: Thermaltake Toughpower GF1 850W
Case: Thermaltake Core P3 Tempered Glass Snow
OS: Microsoft Windows 11 Pro 64-bit
Design, Sensor, & Software
Design
The MSI Clutch GM51 Lightweight Mouse retains the thin ergonomic profile and shape of the GM31, albeit a little wider. This adds quite a bit to the overall palm feel, whereas the GM31 was the sort of thin shape that took a little time to get used to, so things are a bit more "traditional" here. This also means it's heavier, though, at 75 grams, it's still a lightweight affair, with the 2-meter MSI FriXionFree flexible cable delivering a smooth and seamless glide.
This is an area where we've also seen improvements across a wide range of gaming mice, with the main reason to go wireless these days being more about removing wire clutter versus the weight and drag that come with a cable. It also helps when you've got pure PTFE skates on the underside, as you do here.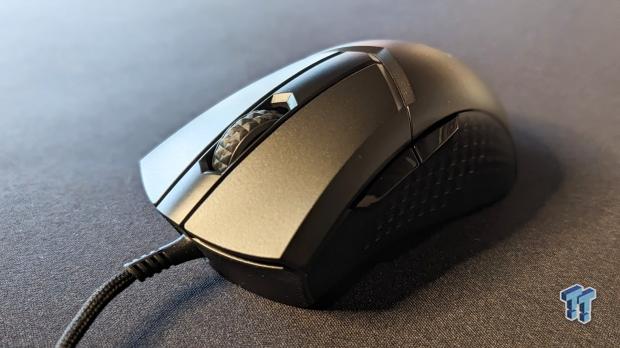 The MSI Clutch GM51 Lightweight Mouse is also quite comfortable to hold thanks to the rubberized grips that feature a pattern that reminds us of the art style seen in Deus Ex Human Revolution - angular and "high-tech." The scroll wheel has a similarly ribbed rubber finish and is precise in that small movements are easy to manage. It doesn't feel as fast as we got with the more affordable GM31 - but it is excellent for gaming and productivity applications.
The two side buttons on the left of the MSI Clutch GM51 Lightweight Mouse are weird. They're pointy, making thumb placement awkward, especially if you're used to keeping your thumb on these buttons when browsing back and forth on sites like TweakTown. It's a strange design choice by MSI and a letdown for an otherwise great physical build.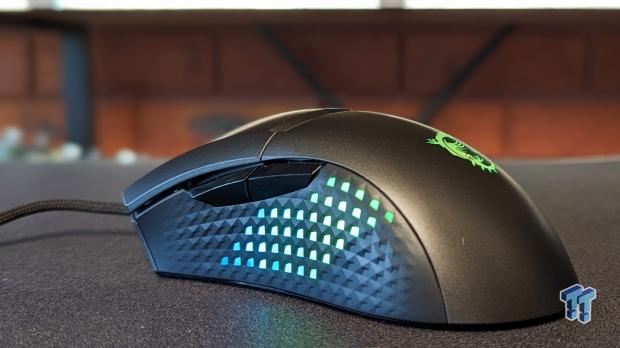 RGB lighting on a gaming mouse might not be on your list when choosing your next point-and-clicker, but the implementation here is worth highlighting because it's one of the better RGB-lit mice we've tested. In addition to the MSI dragon logo that lights up, two additional RGB zones are embedded within the left and right-side rubberized grips.
This gives the left and right-side lighting a windowed honeycomb look that compliments the Deus Ex style - while being bright and versatile enough (thanks to MSI's Mystic Light software customization) to stand out.
Sensor
Any gaming mouse's real meat and potatoes are the sensor and switches deployed underneath the hard plastic exterior. Here you've got the PixArt PAW-3395 optical sensor which delivers up to 26000 DPI sensitivity, 650 IPS, and 50G acceleration - all high-end stats for a gaming mouse. In addition, you've got a Polling Rate that can go up to 8000Hz, 8 times more than what you'd find in most gaming mice (including the Wireless version of the MSI Clutch GM51 reviewed here).
It's a bit overkill because this translates to sending data with a delay of only 1/8th of a millisecond compared to the 1ms found elsewhere. So yeah, basically instantaneous.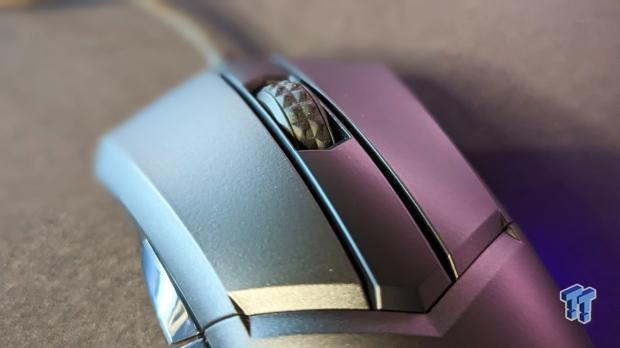 You could say the same about the 650 inches-per-second tracking, overkill for most users - but it highlights that the underlying hardware in the MSI Clutch GM51 Lightweight Mouse is undoubtedly high-end. This is backed up by OMRON switches rated at 60 million clicks and an overall sturdy construction that feels robust enough to last you an entire generation of PC gaming.
Software
MSI Center is one of those "everything" apps in that any bit of MSI gear can be customized, tweaked, or viewed from within this one catch-all app with its little modules for things like motherboards, GPUs, keyboards, and mice. With that said, MSI Center is impressive and stable, and it's something I've used to manage display settings on an MSI display, in addition to tweaking gaming and silent CPU cooling profiles and syncing up various bits of RGB lighting. However, how it handles mouse customization leaves a lot to be desired.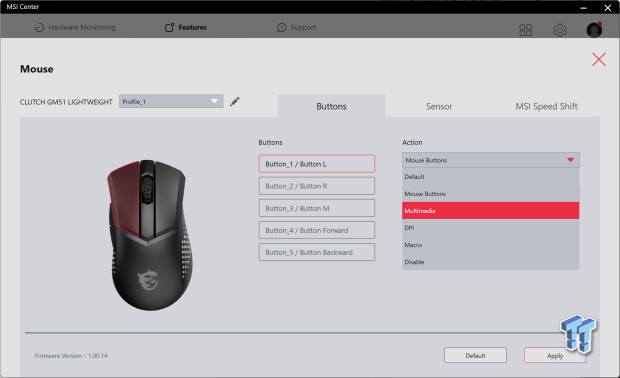 Thankfully the MSI Clutch GM51 Lightweight Mouse is a straightforward gaming mouse in that you've got six buttons that you probably won't need to change. Outside of being unable to make a button selection directly on the image of the GM51 presented, assigning different functions to buttons, recording macros, or swapping between three other profiles is serviceable and decent enough. It's limited in secondary functionality outside of media controls, but it works fine.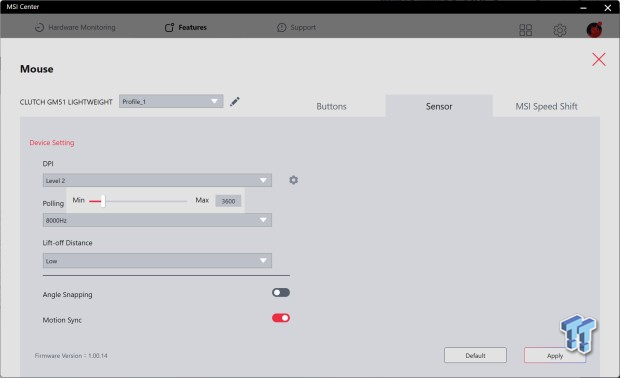 It gets clunky with changing the varying DPI settings; it's just not intuitive. You need to select each Level manually, click on the setting icon and then use a slider to set the DPI setting. There's no way to see all of the DPI settings simultaneously, which you'd want, nor does it indicate what that Level's DPI setting was before changing it. It's a shame because the MSI Clutch GM51 Lightweight Mouse is a more than capable gaming mouse, and you can adjust the Poling Rate, lift-off distance, and enable Motion Sync (more on this in a bit).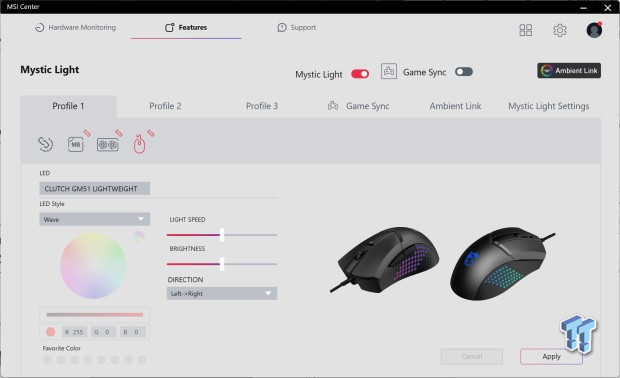 The good news is that MSI Mystic Light remains a great little RGB lighting tool for making changes, and it's wonderful when you can sync up the MSI Clutch GM51 Lightweight Mouse with an MSI GPU and motherboard, which is what I did for this review.
Gaming Performance and Productivity
Gaming Performance
The PixArt PAW-3395 optical sensor has another trick up its sleeve in Motion-Sync Technology. It aims to intelligently synchronize communication with your PC to ensure that even though tracking stats and capabilities might be there on paper, it's also accurate. It's something you can toggle on or off from within MSI Center; in practice, it adds consistency to performance. For this review, we played several games.
However, with first-person titles like DOOM Eternal and Call of Duty: Modern Warfare II, you get an excellent feel for the accuracy and finer subtleties in the movement. Although it's debatable whether you can tell the difference between specific sensors at a particular DPI setting, there's no doubt that the gaming performance of the MSI Clutch GM51 Lightweight Mouse is impressive.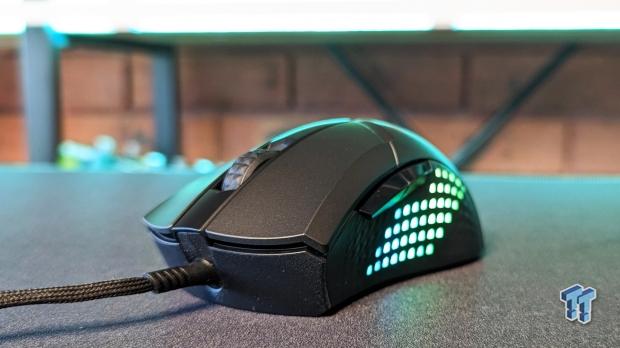 Though it's worth mentioning again that the physical design of the side buttons is weird, and this translates to games where using buttons to perform tasks is standard practice. It was when playing a few different games that I realized that MSI intended to have your thumb underneath the buttons to keep your grip while being able to press them with a slight movement. Granted, this takes some getting used to, but to me, it still feels like a misstep for an otherwise comfortable gaming mouse.
Productivity
The MSI Clutch GM51 Lightweight Mouse features a lightweight right-hand grip, and the sensor is more than capable of handling day-to-day tasks or general use. The RGB lighting can also be disabled if it's too distracting, and the scroll wheel has a feel that aligns with mice designed for productivity. This is a gaming mouse, first and foremost, but the classic 6-button design translates well to just about anything. Adding rubberized grips is always a productivity plus - as it only adds to the overall comfort.
Final Thoughts
Regarding its physical design, features, and underlying hardware, the MSI Clutch GM51 Lightweight Mouse is a big step up from the more affordable MSI Clutch GM31. It has a stylish design that is comfortable to use over long sessions, and the RGB lighting compliments the rubberized grips.
It's a shame that MSI's mouse customization within the otherwise robust MSI Center is a step or two behind the competition. Especially when you're dealing with what feels very much like a high-end gaming mouse, thanks to the powerful PixArt PAW-3395 optical sensor.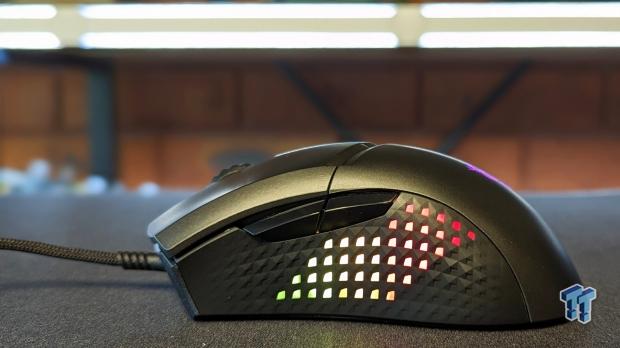 Outside of the weird side button design, which could be a personal taste thing, there's not much about the MSI Clutch GM51 Lightweight Mouse to complain about. If MSI can improve and expand on the software side, then this would become an absolute winner as opposed to something that still comes highly recommended.