Win Vista on Eee PC 1000H - will it work? (video)
XP wasn't good enough for us with the new Eee.
Published Jun 13, 2008 1:02 PM CDT
|
Updated Tue, Nov 3 2020 12:38 PM CST
1 minute & 42 seconds read time
Alright folks, we're back again!
Windows XP is so yesterday... we couldn't get really super downright excited about the new Eee PC 1000H until we installed Windows Vista Ultimate. So that's just what we tried to do...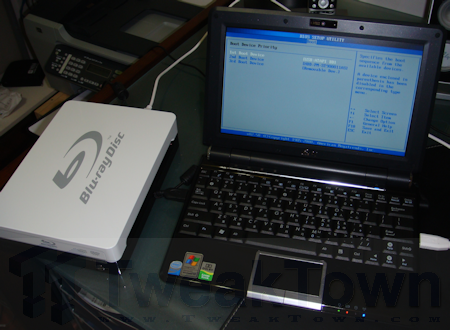 With Lite-On's Blu-ray USB 2.0 drive in hand from
a previous review
, we set about trying to see if Vista will install on the new Atom 1.6GHz Eee. Play the video, will you?
Important note -
After we installed all drivers and latest Windows updates, we re-ran the performance index and got a new score of 2.7 compared to 1.0. The graphics component score is now 4.0 with the gaming graphics component now scoring 2.7 - the other component scores are the same as the fresh install.
The actual real-world experience of Vista on the 1000H is surprisingly good - I expected it would be sluggish and slow but it's actually quite smooth and that's with ReadyBoost enabled we noted a slight improvement again. Keep in mind this is the Eee 80GB HDD version, the Eee PC 1000 with 40GB SSD should run even smoother.
As you can see from the video we recorded, Vista does work on the Eee PC 1000H but only the 32-bit version since the Socket 441 FCBGA8 45nm Intel Atom processor only supports 32-bit instructions. As far as drivers go, besides the GPU and INF driver (which you can easily grab from the Intel website) for the Intel 945GME + ICH7-MU chipsets etc, the rest of the drivers on the included Eee PC XP support DVD worked under Vista for things like networking, 802.11n wireless and so on.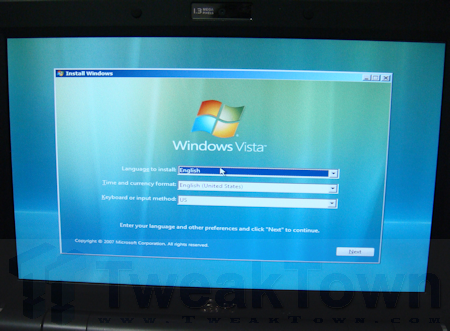 After we installed the graphics drivers for the Intel GMA 950 chip, the Windows Aero interface was automatically enabled, without any issues to report. We can also confirm that the 802.11n wireless chip works flawlessly with a connection to our nearby office Dlink DIR-655 router at 135Mbps.
A quick note about the Atom CPU - it appears to have some pretty heavy duty power saving in place. It dynamically switches between clock multiplier of 6 and 12. If there is only idle activity, the CPU clocks down to 796MHz (6 x 133MHz FSB) and instantly switches up to 1.6GHz (12 x 133MHz FSB) when there is activity. We realize this isn't a new power saving feature in ACPI but the speed at which it switches seems to be.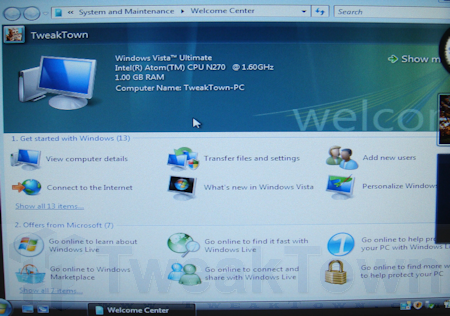 I've got to say it was a surprisingly smooth install taking just over 30 minutes. Keep checking back for more Eee PC 1000 coverage including ripping it to bits and of course our full review now with Vista installed!