IKONIK MAD TWEAKER wireless PSU monitoring (video)
We visit IKONIK HQ for a close look at MAD TWEAKER.
Published Jun 11, 2008 2:15 AM CDT
|
Updated Tue, Nov 3 2020 12:38 PM CST
1 minute & 18 seconds read time
During Computex Taipei 2008 last week we ran out of time to see the sheer amount of companies attending the event but today we got a chance to visit Kathy and her colleagues from IKONIK at their Taipei HQ.
I am happy we waited, as we got a really close look at a couple products the new company is working on for a July and August release.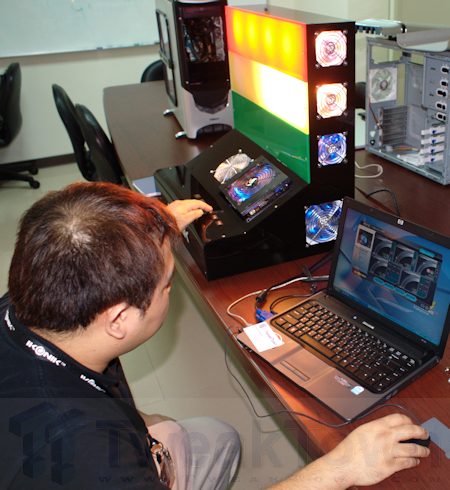 The first thing they showed us was their MAD TWEAKER software. It will be a feature of all upcoming IKOKIK Vulcan power supplies that range from 650 watts all the way up to 1200 watts. MAD TWEAKER is the first real-time power supply monitoring software that interfaces with your system via USB as well as wireless infrared - the demo we saw was hooked up using USB as the wireless system is still being fine tuned. This means that you'll not only be able to monitor and control things like fan speeds and LED lights (on and off switching) from your main system but also from say a notebook that is near the system with the Vulcan PSU installed.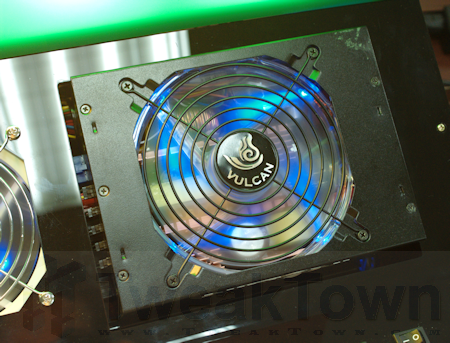 We asked the product manager about accuracy of the reading and he mentioned that it is accurate give or take 5%, which isn't too bad. It also now monitors and reports in real-time with only a 80ms delay. There are a total of five thermal probes attached to the PSU but one of them is always connected to the PSU. The other four you can freely decide what you want to monitor inside your case and label them in the software settings.
There was a live demo setup for us to look at and we recorded the above video to show how it works. The live demo setup by IKONIK uses an 850-watt Vulcan PSU with high intensity lights hooked up to it with switches to demonstrate the wattage and voltage reading and just how effectively it works. Take a look above!