AMD's upcoming 790GX mobos get an early showing
Get an early quick look at boards from DFI and MSI.

Published Sun, Jun 8 2008 5:43 AM CDT
|
Updated Tue, Nov 3 2020 12:38 PM CST
COMPUTEX TAIPEI 2008
AMD is not due to officially release its codenamed RS780D named 790GX chipset (along with SB750 chipset and AMD Overdrive Extreme overclock tweaking utility) until a little later but several companies were showing off their early design boards at Computex Taipei 2008 this week.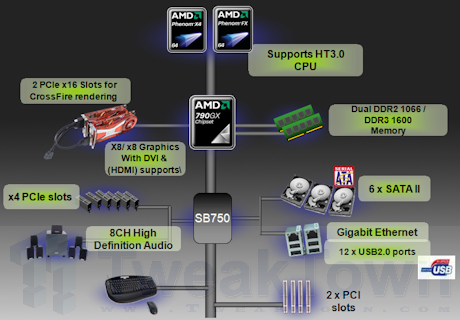 Our first stop was at MSI who had its K9A2GX-Digital motherboard on display for all to see. The MSI rep we spoke to mentioned that the board is nowhere near finished and the product we saw on display actually only arrived from the factory in China a couple days before the show began.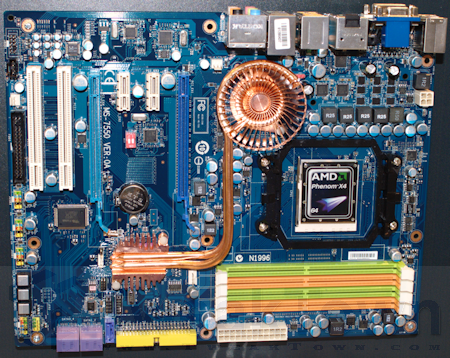 AMD's 790GX chipset is a new version of the 790FX with onboard graphics card better overclocking ability according to the folks we spoke to during Computex. MSI's K9A2GX-Digital gets a couple PCIe x16 slots for CrossfireX support, as well as generation two of Dr.Mos and five phases of power just for the CPU.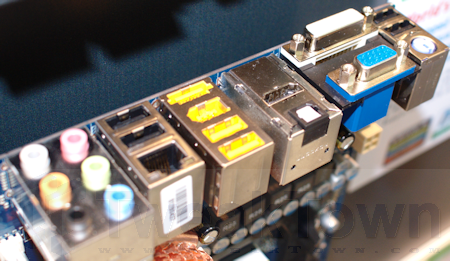 As far as I/O goes, you get all the usual goodies in addition to a single eSATA port and HDMI output with an optical port above it, in case you aren't using the HDMI cable to output audio into the same device as the video part.
Next up we saw DFI who had a couple rather interesting AMD 790GX based mobos on show. First up is the LANPARTY DK (stands for Dark) 790GX-M2RS which DFI is targeting towards "hard-core gamers and overclockers". They say it will offer excellent performance but not cost a bomb.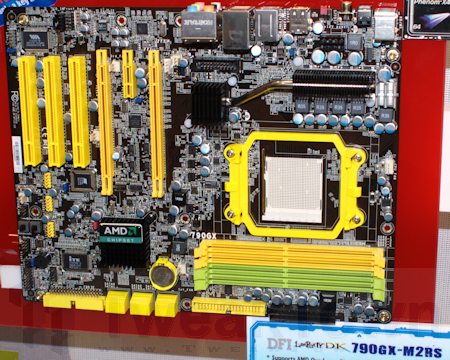 The 790GX-M2RS is the full-sized ATX option from DFI and it gets four + one phase digital PWM, Hybrid Graphics support of course, ALC885 HD eight channel sound, DFI's Auto Boost System (ABS), fanless cooling for 0db operation and six stacked 90 degree angled SATA-II ports. It gets two PCIe x16 slots for CrossfireX but if you have two cards installed, each slot will operate at x8 electronically.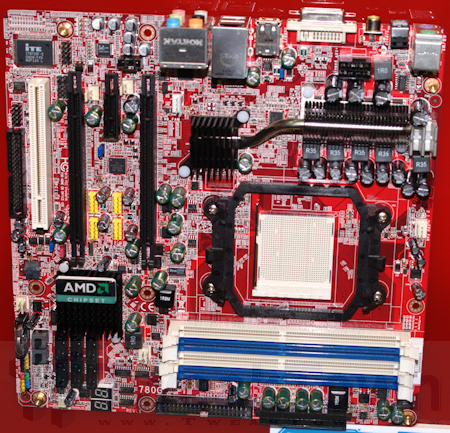 Next up is the DFI LANPARTY JR (stands for Junior) 790GX-M2RS which is the little brother of the other one you just saw. It is a Micro-ATX based motherboard and the big thing with this product is that it manages to squeeze in dual PCIe x16 slots for gamers looking to build a small system which is still able to offer good performance.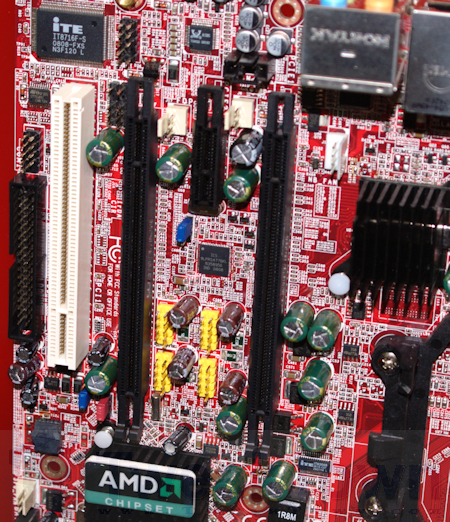 It gets pretty much most of the features as the LANPARTY DK 790GX-M2RS but with the addition of an even more attractive price tag.