Todd Howard inadvertently explains why consumers enjoy physical media in a new interview with Wired.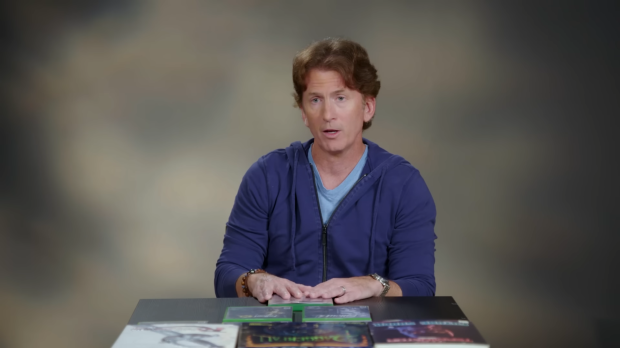 A bit ago, Todd Howard sat down with Wired to talk about the history of Bethesda and the games he'd worked on. The interview is a good watch and exposes Howard's overall humility as he repeatedly acknowledges the team efforts required to ship games like Daggerfall, Morrowind, Fallout 3, and Starfield.
Perhaps the most interesting tidbit is at the end of the video. Howard looks down proudly at the game boxes and really touches upon some of the biggest reasons why physical media is still so powerful: Emotional connection.
"You know, seeing it visually, even though there's obviously digital...the boxes make it tangible. There are these things that have kind of their own personalities," Bethesda's Todd Howard said.
"I'm going back and picturing the faces of the people here that I've made them with. There's been so many people who have been on the journey with us here, and I can't wait to continue it together."
A game box confers a memory, potentially one from childhood, and it sometimes becomes impossible to separate the game itself from the real life events that took place around it. Physical media can be an anchor of sorts that helps hold people steadfast, providing a vital outlet; or perhaps it's a flag, proudly waving in the wind and standing for something more meaningful than just cloth, the same way a game box is more than just a case with a disc in it.
Physical media can represent something, especially the old-school big-box PC games. Those days might be long gone, but the memories and attachments are still there.
I think everyone has one of these games, especially Millennials who grew up in the Nintendo heyday of the 1990s. It's just another reminder that physical media can be a special thing and a kind of token, an interactive momento, or in Todd Howard's case, the result of hundreds of people coming together to create experiences that spark our imaginations.