There's a popular theory going around that Final Fantasy XVI has flopped, and Square Enix's recent 6-month performance figures are being used as proof. But the reality is that there's far more going on with Square Enix's accounts than the performance of a singular video game.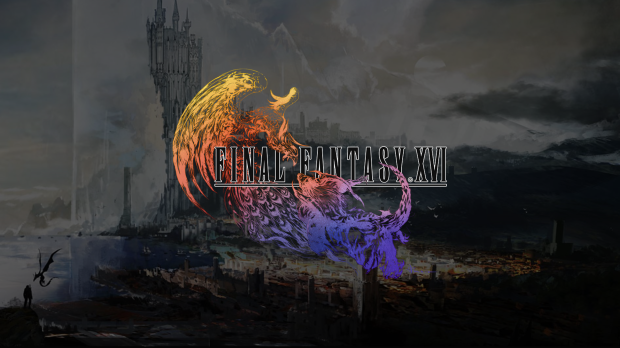 Square Enix's profits have dropped by over 57% since last year, and members of the gaming community are latching on to this drop as evidence that Final Fantasy XVI is a dud for the Japanese games-maker. It's not as simple as that; the real reason behind the drop is that last year is a tough year to compare against for a number of reasons. A closer look at Square Enix's income statement is warranted.
The first thing we have to look at is basic net sales and operating income. While net sales are up to 172 billion yen (+5.3% YoY) for the 1H'24 period (1H refers to first-half, or the first six months of the fiscal year), Square Enix's operating income is significantly lower than the year prior.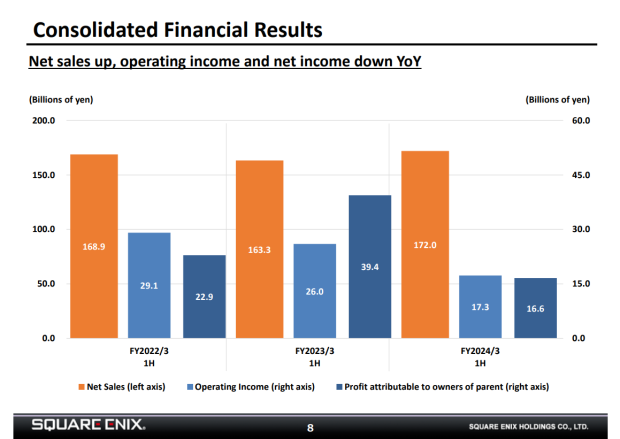 Of this value, digital entertainment made up 122 billion yen, and a quick breakdown shows the HD Games sub-segment, which includes premium game sales like Final Fantasy XVI, is the only segment with gains--HD Games are up to 43.7 billion yen. Note that HD Games is not the only segment of Square Enix's business--there's also Amusement and Merchandise, too.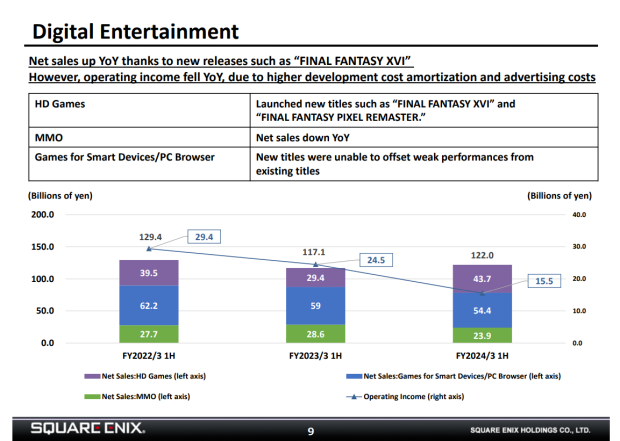 As the company notes in the above slide, operating income is down due to higher advertising costs associated with new games like Final Fantasy XVI, which includes spending on international tours, as well as higher amortization of development costs.
This last part is critical. Reports indicated that Square Enix has chosen to pay all of Final Fantasy XVI's development costs upfront, however the source of these reports has deleted their original Tweet. In any case, SE is indeed paying off FF1XVI's development costs over time and recognizing these costs as expenses.
As such, SE's 1H'24 costs are indeed higher than last year's. The income statement is a series of additions and subtractions;
net sales - cost of sales = gross profit

gross profit - SG&A expenses = operating income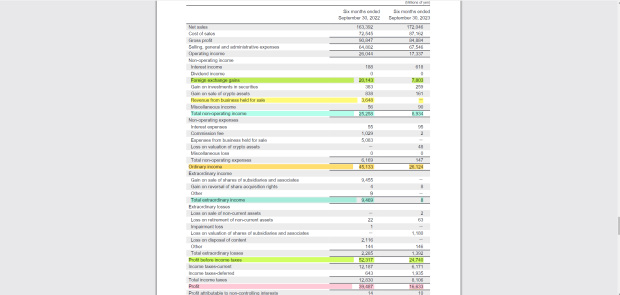 As for the lower profits in 1H'24 compared to 1H'23, this is affected by Square Enix enjoying a high 20 billion yen foreign exchange gain last year. This year, that forex gain was about 7.8 billion yen. This significantly lowered non-operating income compared to the year prior.
Also in the above statement, Square Enix benefitted from a 3.8 billion yen gain from the sale of its Western game divisions (Crystal Dynamics & Eidos).
Extraordinary income was also up last year thanks to the sale of the shares of these subsidiaries.
So looking closer at SE, we can see that 1H'23 was a high period to compare against. The lower operating income at the top of 1H'24's income statement coupled with lower foreign exchange gains and the absence of the extraordinary income gains from the sale of SE's Western games divisions ultimately affects the total profits at the very bottom of the statement.
All of this matters, and all of it affects the bottom line. It's never as simple as saying a single game is solely responsible for a company's gains or losses (in this case, Final Fantasy XVI).