Sony's new PlayStation 5 "slim" revision is a lot smaller than previous models, but the system hasn't received a node shrink.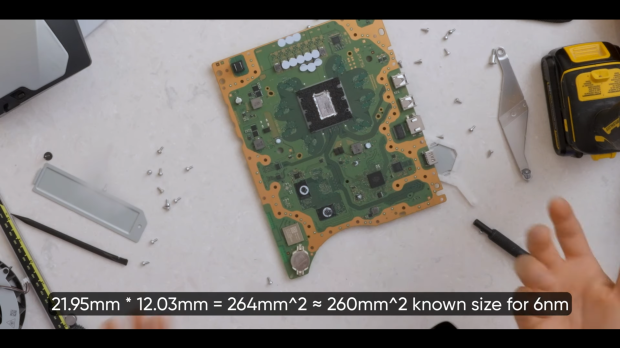 A bit ago, there were rumors that the new PS5 slim duo could feature a new 5nm SoC refresh to accompany the system's various form factor changes--smaller case, modular hot-swap disc drive, etc. This trend isn't abnormal, and most console hardware revisions also benefit from a die shrink. That isn't the case with the latest PS5 models.
Having looked into TSMC's node processes and family structure while working on TweakTown's PlayStation 5 and Xbox Series X reviews, I didn't think the jump from 6nm (N6) to 5nm (N5) was very likely. A new teardown from Linus Tech Tips confirms our suspicions: The PS5 slim uses the same 260mm² die as the most recent PS5 revisions, which indicates a 6nm chip. This means the PS5 slim is effectively the same as the PS5 CFI-1202 models introduced in 2022.
So...why isn't the PS5 using 5nm?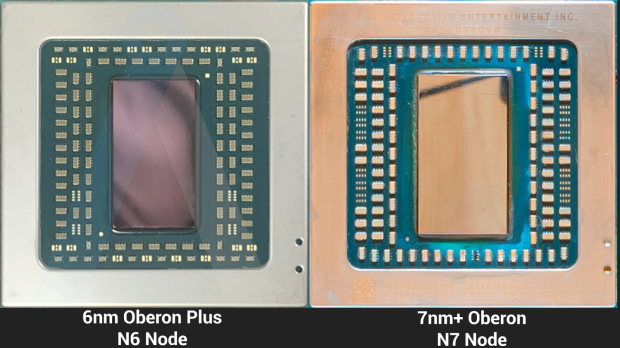 Last year, Sony moved from the 7nm+ (N7) process to 6nm (N6) in a design called "Oberon Plus". Functionally, there's no real differences between the two chips--all PS5s will play the same games at the same performance metrics. The new PS5 slim is no different in this regard.
The real reason that Sony moved from 7nm+ to 6nm is that the latter process has better yields, which allows Sony to reduce waste and produce more chips that can be used for actual PlayStation 5 consoles. High production is key for Sony right now, especially because they want to ship 25 million PS5s by March 2024.
A closer look at TSMC's process nodes reveals that the 7nm+ Oberon SoC and the 6nm Oberon Plus SoCs are all part of the family. In this case, both are part of the N7 family. That means that Sony can easily scale its custom SoC design between the two processes. The 5nm (N5) process is part of an entirely different family, which means Sony may have to work with its partners to redesign the chip in order for it to utilize this process, so it's more likely that Sony uses N5 for the PlayStation 5 Pro, if anything.
For a more in-depth breakdown on the N7 family, click here.