Call of Duty: Modern Warfare III is set to hit Early Access on November 2, and with PC specs already out there and with the recommended specs listing either a GeForce RTX 3060 or Radeon RX 6600 XT GPU, you won't need a monster rig to fire up the latest CoD. To play with competitive or 4K Ultra campaign settings, you will need a GeForce RTX 4070. The good news for GeForce RTX 40 Series owners is that the game will fully support DLSS 3 and its related technologies.
Which includes DLSS Super Resolution to boost performance, DLAA to maximize visual fidelity, NVIDIA Reflex to reduce system latency (which is perfect for Call of Duty multiplayer), and the new AI-powered DLSS 3 Frame Generation. Usually, NVIDIA provides benchmark results for its DLSS 3 announcements. Still, without any for Call of Duty: Modern Warfare III, we'll just have to assume it'll be the same impressive 2X and higher increase.
It's a big week for PC gaming adopting NVIDIA DLSS 3 technology, with games like Jusant, RIPOUT, The Talos Principle 2, and RoboCop: Rogue City all supporting the tech on day one.
Here's a look at each game in action, with DLSS 3 benchmark results from NVIDIA.
Jusant
An action-puzzle climbing game from DON'T NOD that's out now. It features a striking visual aesthetic and is powered by the latest Unreal Engine 5 tech. Per the 4K benchmark results below, Jusant can hit over 100 FPS in 4K on a GeForce RTX 4070, with that number climbing to over 200 FPS with a GeForce RTX 4090.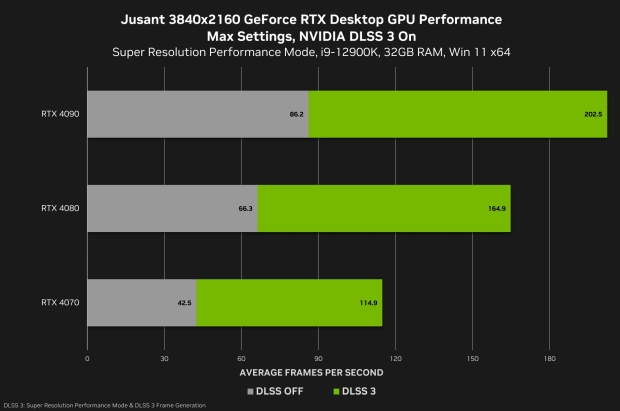 RIPOUT
Okay, this one looks very cool - a sci-fi co-op first-person game with you and a group exploring derelict spaceships filled with all sorts of mutant horrors. Available to play in Early Access, RIPOUT features support for DLSS 3 and Frame Generation to push GeForce RTX 4090 performance close to 240 FPS - with the GeForce RTX 4070 sitting comfortably above 100 FPS.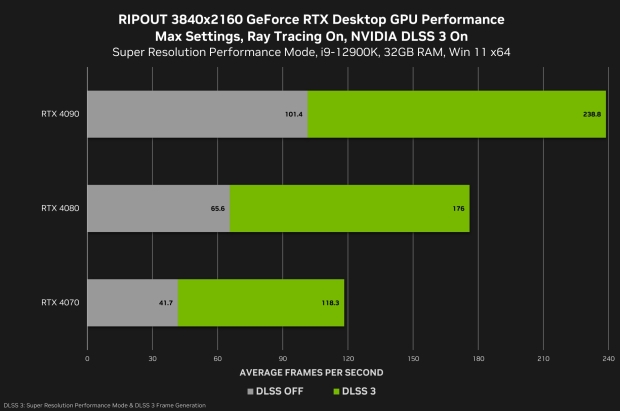 RoboCop: Rogue City
A sleeper hit in the making, if you're a fan of the original Robocop films, this is essentially like an early Christmas present - with developer Teyon nailing the look and feel of classic Robocop. RoboCop: Rogue City also sees Peter Weller return to voice the titular character, which is awesome. Powered by Unreal Engine 5, with DLSS 3, 4K performance hits over 170 FPS on the RTX 4090, with the RTX 4070 able to maintain a solid 70 FPS.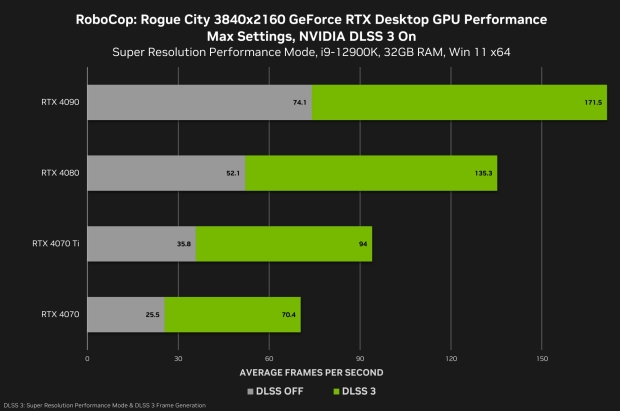 The Talos Principle 2
This first-person exploration and puzzle game from Croteam and Devolver Digital is a visual delight and, like Robocop: Rogue City, sees 4K performance hits over 170 FPS on the RTX 4090, with the RTX 4070 able to maintain a solid 70+ FPS.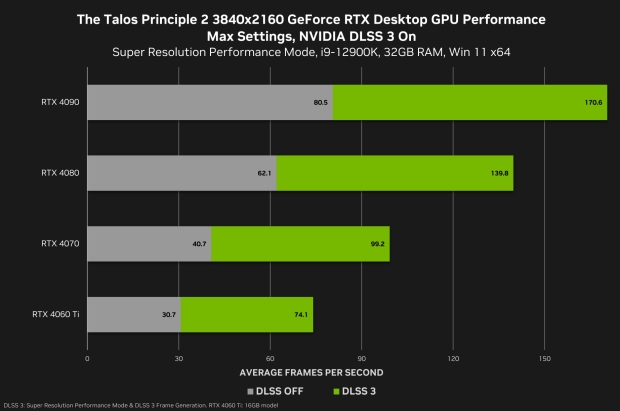 In addition to the above, NVIDIA confirms that the impressive sci-fi strategy game Desynced is getting DLSS 3 support when it launches on November 16, with EA SPORTS WRC getting DLSS 2 support later this week, and the already out-there Ghostrunner 2 updated with DLSS 3 and Reflex.