The official launch of P45 chipset is a month away, and usually this means Taiwan manufacturers are at the Alpha or Beta stage of development for their new products.
Foxconn it seems has stepped ahead of the pack with a product that is complete and ready to launch ahead of schedule. We at TweakTown got some very tasty pictures and some pretty hot tips on the expected features of the Foxconn Quantum Force "Avenger" motherboard based on Intel P45 chipset.
The motherboard is aesthetically appealing in a standard blue color with quite a few colored ports, connectors and slots.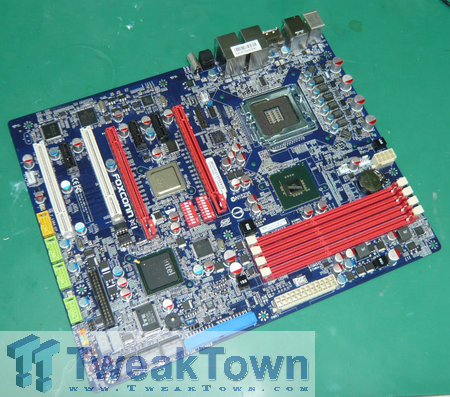 The board has 2x PCI-E x16 slots, 3x PCI-E x1 slots and 2x PCI slots. In total all seven slots are available, however, with some of the larger graphics cards taking up two slots, you are not likely to use all of them if you have a top of the range system. 6 internal USB prots, a firewire connector, floppy connector, 6x 90 degree SATA ports.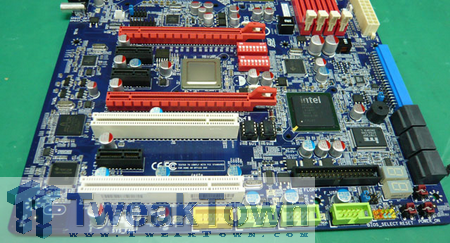 This is a close up of the Power, Reset and Clear CMOS Convenience Buttons, with Dual BIOS selection included. Usually this has been a Gigabyte exclusive invention, but finally others are seeing the value in it, especially with enthusiast platforms.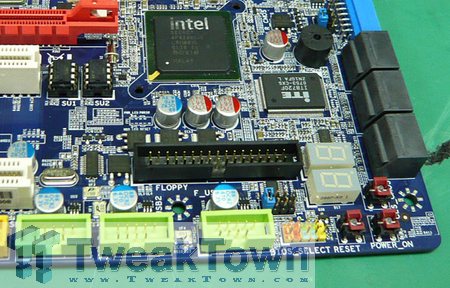 Dual PCI-E at x16 + x16 PCI-E Gen. 2.0 for Ultimate Cross-Fire X Performance Bandwidth.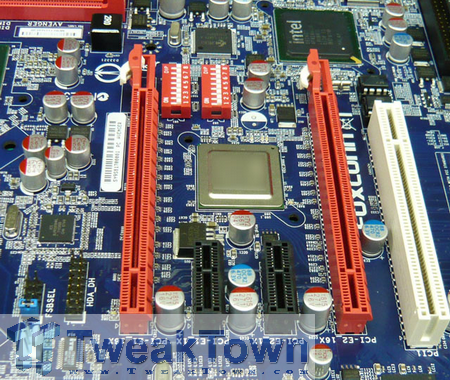 Unique 8 Phase Digital PWM for smooth and consistent voltage regulation to the CPU.
Taking things to greater extremes, a 2-Phase PWM for memory power regulation.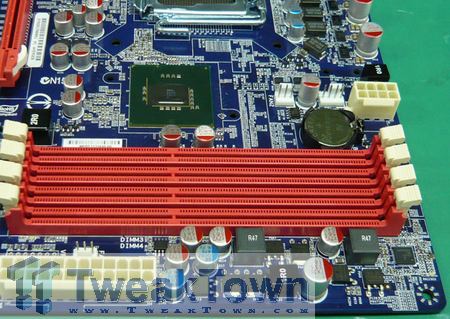 A nice touch for the extreme enthusiast: convenient and most importantly accurate safe Voltage measurement points for your Multi-tester.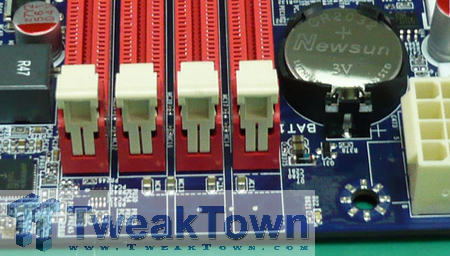 Here you can see a probe from the multi-tester making good contact.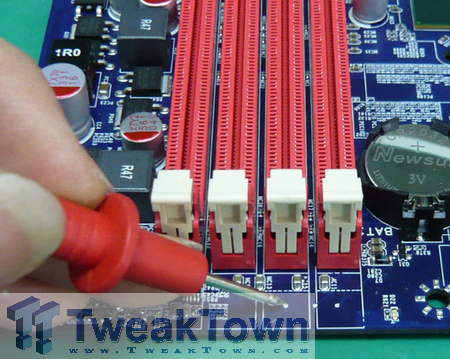 Unique heatsink/heatpipe combo to keep the VCore, Chipset, and Memory extremely cool under extreme voltages.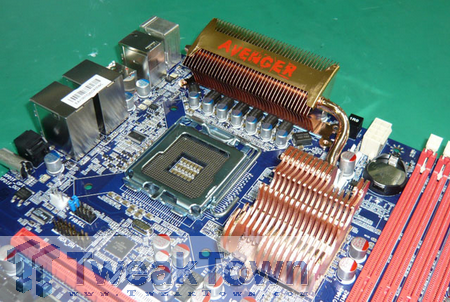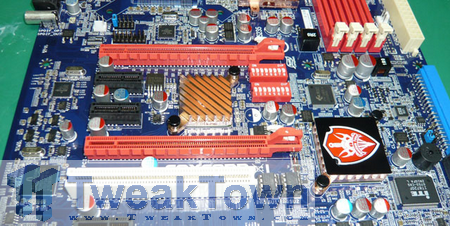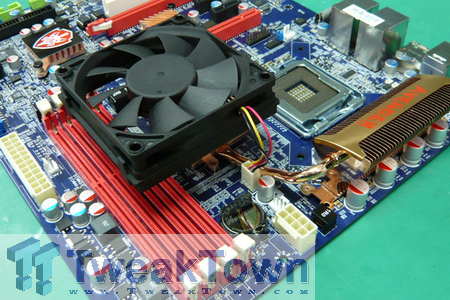 Specialized height-adjustable fan clip-on to cool Northbridge and Memory at the same time.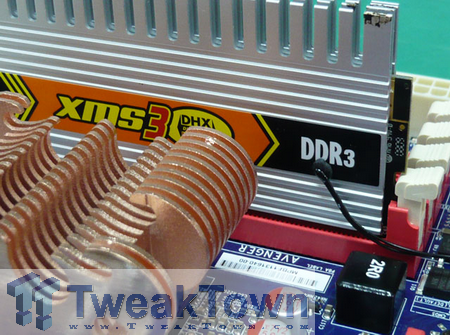 Memory Temperature monitoring in the BIOS:

The Ultimate Overclocking Control Panel bundled with the Motherboard, the specifications of which include Multiple Information Display: Voltages, Temperatures, Speeds, Date/Time, On the Fly Real-Time Voltages + Front Side Bus Speeds and Adjustments.

The display panel when turned on is attractive and feature rich. Multiple Turbo Profiles can be saved for future use: Voltages + Front Side Bus Speeds Profiles. It has "On the Fly" jump to and fro Settings.

You can run 3D Mark at maximum speeds while manipulating the settings without a performance hit. The panel works in any environment, from DOS, Windows, BIOS, as long as the PC is on, and the device uses no resources from the PC, so it is a completely separate component.
With all those features, designed and attuned towards enthusiast tastes by none other than Shamino (One of the World's Top overclockers) in conjunction with Foxconn's very capable PM and BIOS teams. This Foxconn Quantum Force "Avenger" motherboard based on the Intel P45 chipset is looking to be a very attractive product indeed.
We can't wait to get one of these babies in our lab so we can push her to the limits.