Last week, Intel announced and launched its 14th Gen Core processors for desktops, with the flagship Intel Core i9 14900K leading the pack. The company made a mistake when formally revealing the 14th Gen 'Raptor Lake Refresh' lineup; the new desktop processors will not support the latest Thunderbolt 5 spec.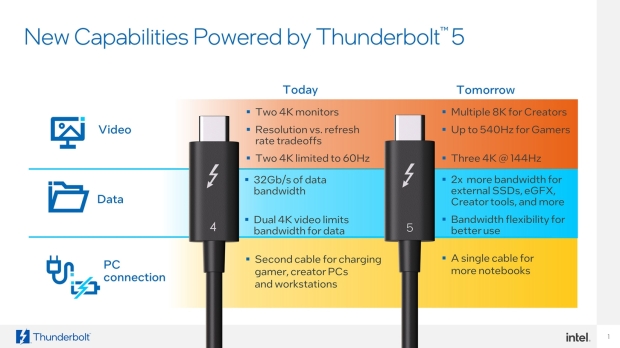 It's not the sort of mistake you see in a product reveal of this stature, with the statement proclaiming that the 14th Gen processors would support "upcoming Thunderbolt 5 wired connectivity."
To make the situation a little more confusing, the announcement has been updated with an Editor's Note (via Tom's Hardware) stating, "While some processors in the Intel Core 14th Gen processor family will include support for Thunderbolt 5, Intel Core 14th Gen desktop processors, specifically, will not support it." Adding it will share details on "Intel Core 14th Gen CPUs that support Thunderbolt 5 at a later date."
This means the Intel Core i9-14900K, i7-14700K, and i5-14600K will not get the 80 Gbps of bi-directional bandwidth of Thunderbolt 5, which is a shame. From this, we guess that when Thunderbolt 5 is introduced, it will be supported by laptops and mobile 14th Gen CPUs - specifically the new Intel Core Ultra "Meteor Lake" Chips launching later this year.
As Thunderbolt is a spec and tech morally associated with laptops, Thunderbolt 5's delayed desktop appearance probably won't affect most users - as Thunderbolt is often used to handle fast charging, display output, and things like live video capture over USB. Thunderbolt 5's display capabilities can output up to 8K HDR video or charge up to 240W - both are game changers for high-performance mobile devices.