Alan Wake 2, the highly anticipated sequel from Remedy (the studio behind the brilliant Control and Max Payne franchises), is set to launch globally on October 27 for PlayStation 5, Xbox Series X|S, and PC. The latter has been dominating the PC gaming headlines of late because of the super demanding PC requirements for the game.
For 30 FPS performance at 1080p, you'll need a GeForce RTX 2060 or Radeon RX 6600 with DLSS or FSR 2 set to 'Quality' mode - which means the game is being upscaled from an internal 720p resolution. Also, this is 30FPS using the game's Low graphics preset without any ray-tracing effects.
This makes Alan Wake 2 the most demanding PC release ever. However, it doesn't stop there. The developer hasn't included GPUs from the GeForce GTX 10 Series or Radeon RX 5000 Series because they're not officially supported.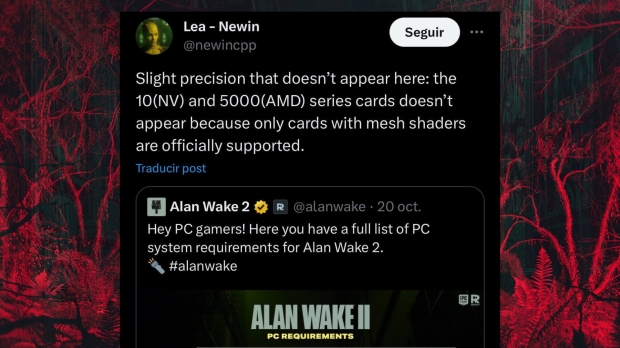 Because Alan Wake 2 on PC takes full advantage of mesh shading, a rendering improvement was introduced with the Turing-based GeForce RTX 20 Series that effectively culls geometry not visible to the camera to increase overall visual fidelity. The game won't render what you don't see and use that additional power to improve detail elsewhere.
Despite mesh shaders being designed to improve performance, the technology's adoption and use in modern games has taken some time. Alan Wake 2 is designed for GPUs that support mesh shading, and according to a deleted post from Remedy's Lea-Newin (via DSOG), "only cards with mesh shaders are officially supported." This makes it one of the first major PC releases to require mesh shaders.
That said, the end result looks stunning. With full patch-traced lighting options in the game requiring a GeForce RTX 4080 to play in 4K using DLSS Performance mode, Alan Wake 2's stunning visuals bear a pretty high cost on PC. With mesh shaders designed to optimize performance and rendering, the team at Remedy is using the tech to push fidelity to Cyberpunk 2077 and Portal with RTX levels with full support for the incredible new DLSS 3.5 with Ray Reconstruction technology from NVIDIA.
The only downside is that even the non-RT visual modes are so intensive that DLSS and FSR 2 are an absolute must just to hit 30 FPS at lower resolutions.