Square Enix once again goes meta with its mega-popular MMORPG, adding in a new in-game crossover with another game in the series.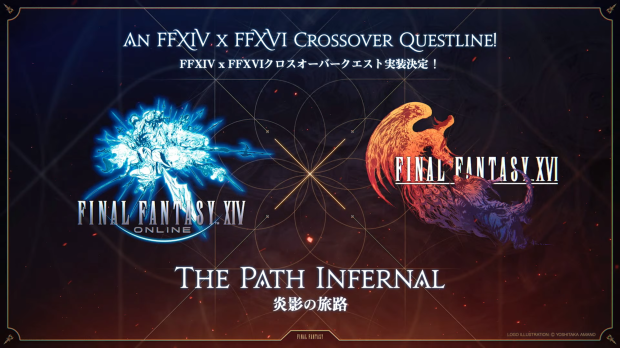 The worlds of Valisthea and Eorzea will soon clash as Square Enix prepares an official Final Fantasy XVI x Final Fantasy XIV collaboration event. The two games will cross-over with a special experience called The Path Infernal, and will see players fight alongside FF16's protagonist hero Clive Rosfield against the fiery eikon Ifrit, who is also lifted directly from the PlayStation 5 mainline hack-and-slash game.
At the official Final Fantasy XIV Fan Fest 2023 event in London, Yoshi-P gave an update on the cross-over event, confirming a Torgal mount and other content:
"I asked the producer on Final Fantasy 16, you might know him, and he said it was okay...so here we go. It's called The Path Infernal and it will feature 16's protagonist, Clive Rosfield, fighting alongside the warriors of light. We've written the story so that it doesn't spoil too much for those players who have yet to play Final Fantasy XVI, or look into buying a PlayStation 5 this Christmas, or maybe waiting for the PC version. But there's enough in it so that everyone should have a lot of fun."
Naoki "Yoshi-P" Yoshida goes on to say that the FF14 x FF16 cross-over is being developed simultaneously alongside new Final Fantasy XVI expansion content and the anticipated PC version of the game.
"I bet you all saw the Torgal goodies in that teaser trailer. Rest assured, there will be a lot of unique loot for this collaboration including gear. Again, we'd like for you to think of this collaboration as kind of an introduction to the world of Final Fantasy XVI, for all of our Final Fantasy XIV players. We can't wait for you to get your hands on this new content, and we're currently developing alongside Final Fantasy XVI DLC and the PC version."