With the emergence of AI-powered tools used to generate uncomfortably accurate video and audio representations of public figures, we are starting to see a rise in the number of phony advertisements.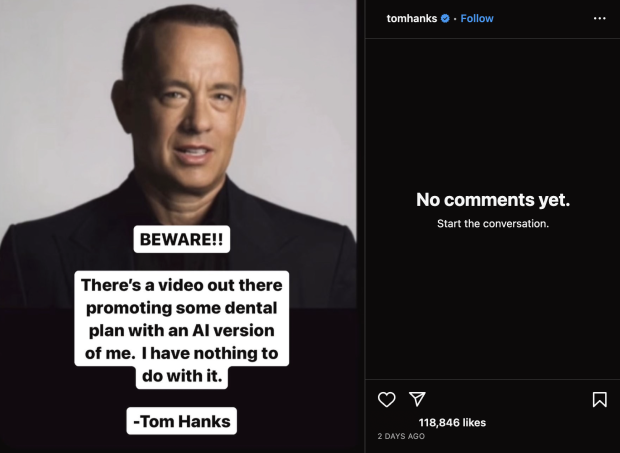 AI-powered tools capable of deep-faking actors into promoting specific products have begun to rise, with prominent figures such as Joe Rogan and Dr. Andrew Huberman already having to battle individuals creating ads to sell specific products. Now, Tom Hanks has been added to the growing list as the actor recently took to his personal Instagram account to warn the public of a seemingly AI-generated ad of him promoting a dental plan.
Hanks wrote, "I have nothing to do with it", with Gizmodo being able to track the owner of the image used in the deep fake back to Los Angeles. Another AI story on the same day joined Hank's public warning of the ad. Zelda Williams, Robin Williams' daughter, took to her Instagram Story to issue her own warning about AI being used to create versions of actors without their permission.
"I've witnessed for YEARS how many people want to train these models to create/re-create actors who cannot consent, like Dad," the comedian's daughter wrote in her own post. "Living actors deserve a chance to create characters with their choices, to voice cartoons, to put their HUMAN effort and time into the pursuit of performance."
"The entire industry is at a crossroads, and everybody knows it," Hanks said in May during an appearance on CBS Mornings. "The financial motor has to be completely redefined. And there is some degree of pie here that is going to have to be equitably distributed by the people who are responsible for the content - not the folks who make the deals for the content, the folks who actually make it."