First-party Xbox games have engaged half a billion players, Bloomberg Technology reports.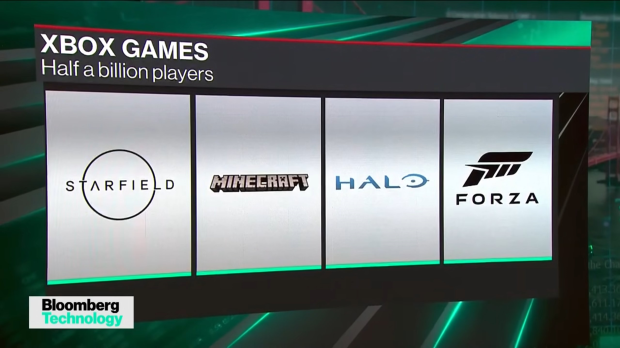 Microsoft might be third place in the Big 3 but it's games are still quite popular. In fact, key Xbox games have captured over 16% of the total 3.09 billion gamers worldwide.
That's according to a recent Bloomberg Technology interview with Todd Howard and Xbox gaming CEO Phil Spencer that discusses the recent Starfield launch. During the interview, a slide popped up that revealed an interesting metric that I don't remember seeing anywhere else: half a billion people have played Xbox games.
The graphic listed first-party franchises like Starfield, Minecraft, Halo, and Forza--all of which are heavy-hitters. Even at launch, Starfield has become a megaton success for Xbox with 6 million players at launch on PC and console. Despite this success, we know that Minecraft is far and away the most popular (and profitable) game/franchise under Xbox's banner.
Also remember that Xbox games aren't limited to Xbox platforms. The aforementioned Minecraft is also on PlayStation and the Nintendo Switch where it engages and monetizes many millions more players than those on Xbox consoles. In fact, Minecraft makes 4x more revenue on Switch than it does Xbox.
We have to attach some important context to this data. We don't know what the cutoff points are--e.g. whether or not this includes all of ZeniMax's titles including multi-platform titles like Elder Scrolls Online, Deathloop, and Fallout 76--and how far back the metric is weighed. Does it include the original Xbox from the 2000s, the Xbox 360, Xbox One, and newer Xbox Series X/S console generations?
It's hard to say.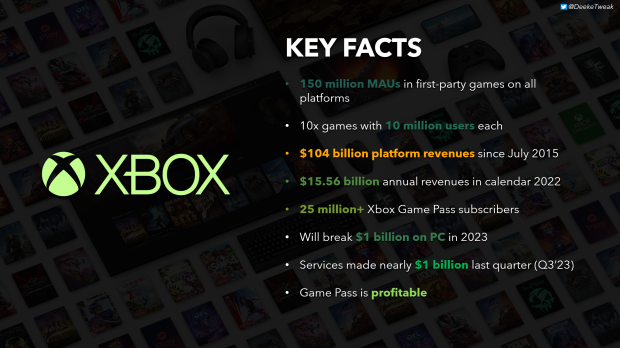 Other data points underline this metric, though.
Earlier this year, Xbox Game Studios head Matt Booty said that first-party titles have 150 million monthly active users (MAUs) across all platforms. Xbox also has 10x separate games that have 10 million players:
"In the last five years, our teams across Xbox Game Studios and Bethesda have shipped 10 games with over 10 million players each life to date, from new IPs like Sea of Thieves and Grounded, to franchise entries like Minecraft Legends and Elder Scrolls Online," the Xbox Game Studios boss said at the time.