Ahead of the launch of AMD's new Radeon RX 7800 XT and Radeon RX 7700 XT, it looks like official benchmark results have leaked - via HDTechnologia and Videocardz. According to the publications, these detailed performance numbers (in that they cover a wide range of titles) come from AMD's official reviewer's guide for the new graphics cards.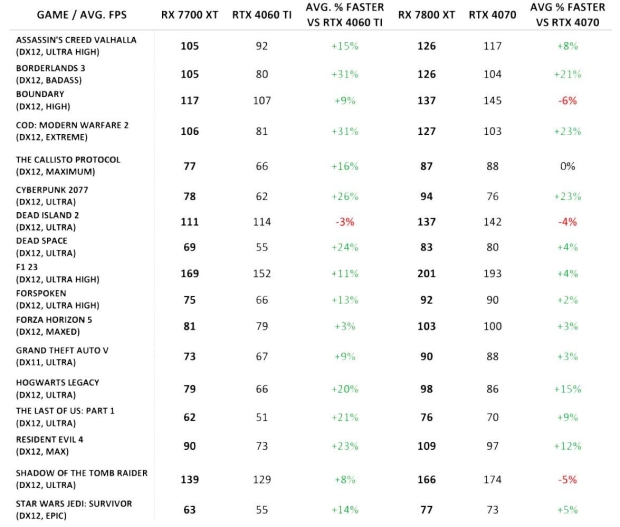 With the launch so close, it's safe to assume that what we're seeing here is correct, though it's worth highlighting that the results allegedly come from AMD itself and not independent reviewers. Also, the exact system configuration isn't specified. Still, each game entry does note what settings are used - like 'Ultra High' for Assassin's Creed Valhalla and 'Epic' for Star Wars Jedi: Survivor. And there's a separate section for ray-tracing.
Without RT enabled, according to these figures, the Radeon RX 7800 XT outperforms the GeForce RTX 4070 by around 7% on average, with that number dropping to a slight performance lead with RT effects turned on.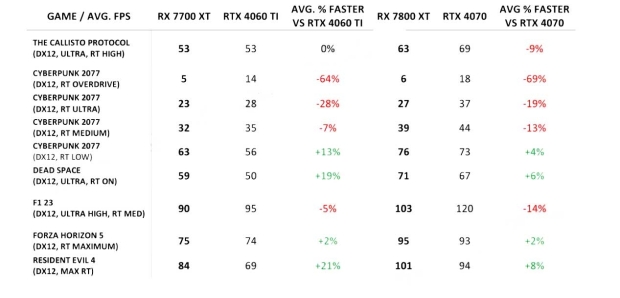 With the MSRP of the Radeon RX 7800 XT set to USD 499 compared to the GeForce RTX 4070's USD 599, an increase in overall performance is a good thing for AMD and the new GPU's price in relation to performance. However, these internal AMD figures paint a picture of Radeon falling behind big time regarding ray tracing. As high as 69% in Cyberpunk 2077 (in favor of the RTX 4070) using the new RT Overdrive mode.
Things look similar when it comes to the Radeon RX 7700 XT (with its MSRP of USD 449) when compared to the GeForce RTX 4060 Ti (USD 399 or USD 499 for the 16 GB model) - here, the performance lead in non-RT tests is close to 16%, but this drops to around 8.5% when RT is enabled.
Ray tracing is no longer a niche effect, especially when it comes to cranking up the visuals in modern cinematic releases, and it's an area that AMD has recently gone on record to state that it needs to improve on. Several of the titles included in AMD's non-RT result feature ray tracing.
Here's a look at the summary according to these leaked results.
AMD Radeon RX 7800 XT 16 GB (USD 499) vs. NVIDIA RTX 4070 12 GB (USD 599)
Non-RT (Raster) Performance: +6.88%

Ray Tracing Performance: -11.55%

Overall: +0.5%
AMD Radeon RX 7700 XT 12 GB (USD 449) vs NVIDIA RTX 4060 Ti 8 GB/16 GB (USD 399/499)
Non-RT (Raster) Performance: +15.9%

Ray Tracing Performance: -5.44%

Overall Performance: +8.5%