In a new wide-ranging interview with Club 386, AMD Radeon chief Scott Herkelman opened up about all things Radeon - from the new Radeon RX 7700 XT and Radeon RX 7800 XT GPUs dropping next week through to the company's plans for the future and the recent announcement of FSR 3 and its new Fluid Motion Frames technology.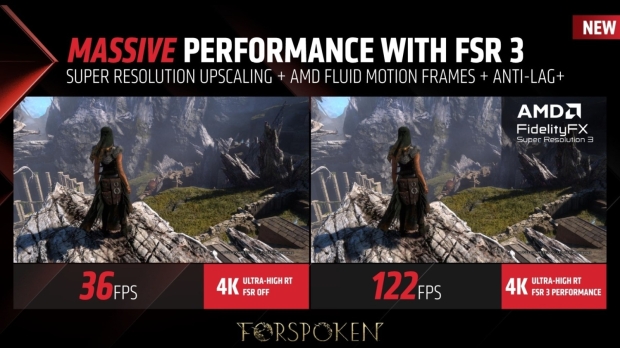 Regarding FSR, the AMD chief noted that it always planned to make the technology as broad as possible (i.e., support multiple generations of Radeon GPUs in addition to those from competing brands like NVIDIA and Intel), which is why it took so long to see the light of day. "FSR 3 will be good for the industry," Scott Herkelman says.
Undoubtedly, a big part of FSR 3 and AMD's Fluid Motion Frames technology directly responds to NVIDIA's DLSS 3 Frame Generation exclusive to the GeForce RTX 40 Series. And by that same token, FSR and FSR 2 directly responded to NVIDIA's DLSS Super Resolution upscaling. The interview gets interesting when Scott Herkelman becomes candid about the state of upscaling technologies.
"If I were to be blunt with you, it's a little concerning that we're still in this bifurcation stage. For example, with FSR, DLSS, and XeSS, a game developer has to think about three different standards. That's a lot of additional complexity that game developers shouldn't have to deal with, so this is our push to say, 'Hey, look, there is a way we can do this for everyone by working together and consolidating efforts.' Hopefully, we get to a one-standard approach for all, where developers can focus on making the best games, and we focus on building the best hardware."

Scott Herkelman, Senior Vice President & General Manager Graphics Business Unit at AMD.
The response was in relation to a question about AMD's Fluid Motion Frames becoming a driver-based tool that will work across hundreds of DirectX 11 and DirectX 12 games without the need for game developers to add the support to every game - and that's an exciting prospect. It should come as no surprise that AMD wants to make FSR and FSR 3's Fluid Motion Frames the new standard - and effectively replace NVIDIA DLSS and Intel XeSS.
Will that happen overnight? No, and the AI-powered DLSS being the gold standard for upscalers means it's not going anywhere. Advances like DLSS 3.5 show that its technology continues to mature at a truly impressive pace. Ultimately, what AMD is hinting at here is that its technologies are open-source, compatible across all GPUs and consoles like the PlayStation 5 and Xbox Series X|S - widespread adoption is the plan for FSR in the coming years.