NVIDIA has shared some surprising benchmarks for its new Grace CPU Superchip. This Arm-based Neoverse V2 core processor will power some of the most cutting-edge data centers alongside NVIDIA's GPU technology and, by all accounts, will be something to behold.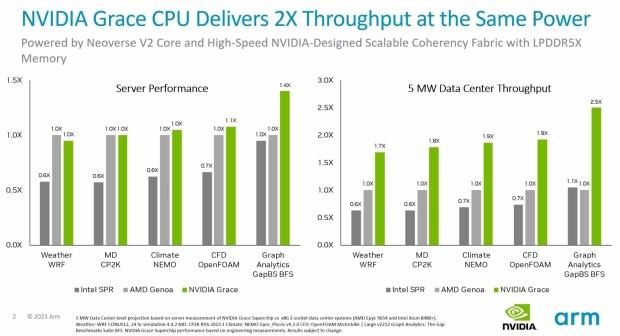 Being internal benchmarks, naturally take these with a grain of salt, but across several applications, NVIDIA shows that when using the same power, the Grace CPU is up to 2X faster than AMD's EPYC Genoa and Intel's Sapphire Rapids Xeon processors.
The Grace CPU Superchip has a peak power draw of 500W, covering two processors on a single board alongside high-speed LPDDR5X memory, so the comparisons include AMD and Intel's CPU offerings in a 2-socket data center systems setup running at the same power consumption.
The idea here, of course, is to showcase the power efficiency of NVIDIA's high-end data center hardware. The NVIDIA Grace CPU Superchip features two 72 Arm Neoverse V2 core chips in a single die, resulting in a whopping 144 Arm Neoverse V2 cores connected via NVLink with 900 GB/s of bandwidth. So you've got the NVIDIA beast against 192 Zen 4 Cores across two 96-Core EPYC CPUs and 112 Golden Cores across two Intel Xeon CPUs.
NVIDIA Grace CPU Superchip benchmarks show up to 2X AMD Genoa and Intel Sapphire Rapids performance (specifically the AMD EPYC 9654 and Intel Xeon 8480+) - which is more prominent in the 5 MW data center throughput tests. The list of benchmarks includes Weather WRF, MD CP2K, Climate NEMO, CFD OpenFOAM, and Graph Analytics GapBS BFS.
Like NVIDIA's Ada Lovelace generation of GPUs for the consumer market, Grace's strengths (at least when compared to the competition) come with the architecture and technology's overall power efficiency. The Grace CPU Superchip is currently in production, with systems set to launch later this year.