SPARKLE has finally confirmed that it has a SPARKLE Intel Arc A770 TITAN OC Edition on the way, with the 16GB flagship Intel Arc GPU's product page now live. With 16GB of VRAM and an out-of-the-box overclock, this could be the 16GB GPU to get - especially if the SPARKLE Intel Arc A750 TITAN OC Edition is anything to go by.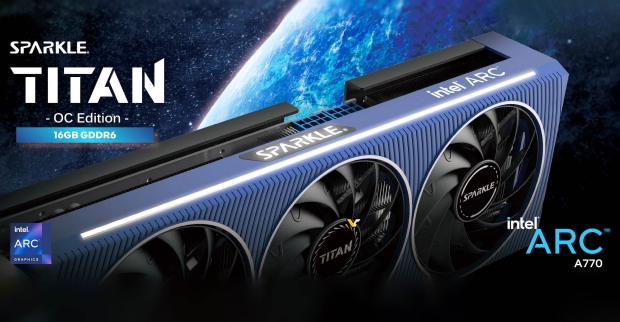 Per our review of that card, we called it "one of the best-looking and well-made GPUs available today," the only downside is the Intel Arc A750's overall performance is a mixed bag. It's mostly good (and things continue to improve for Intel's discrete GPUs), but there's still room for improvement. Plus, the triple-fan TITAN design from SPARKLE demands to be paired with a more powerful GPU as it features impressive cooling and thermal performance to match its style.
One cool little design touch we loved from our review of the Intel Arc A750 version was that the light strip on the side of the GPU changes according to the card's temperature - with fans that stop spinning once the temp gets within the 'white' range. With ample cooling and three-fans, SPARKLE is pushing the card's Graphics Boost Clock' to 2300 MHz from the 2100 MHz specified by Intel for the Arc A770.
The memory, too, looks to have been given an overclock with a 17.5 GB/s transfer rate and an overall memory bandwidth of 560 GB/s. Elsewhere, Intel's A770 ups the Xe Core and Ray Tracing Unit count to 32 from 28 - which, alongside the increase in VRAM capacity, should help deliver more impressive 1080p and 1440p performance.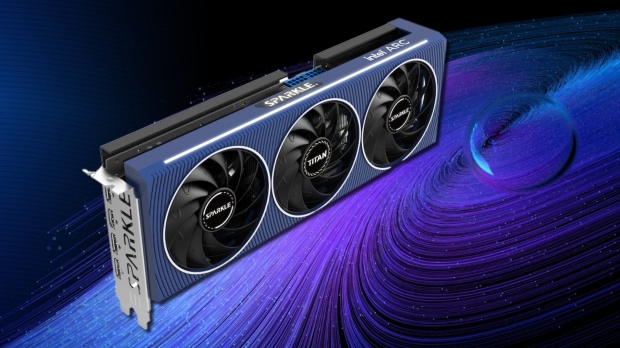 With Intel discontinuing its Limited Edition Arc A770 16 GB graphics card, cards like the SPARKLE Intel Arc A770 TITAN OC Edition help fill the gap - though, as of now, there's no pricing or release date info available on SPARKLE's product page for the GPU. In the meantime, check out our in-depth review of the SPARKLE Intel Arc A770 TITAN OC Edition.