Samsung has launched its Odyssey OLED G9 DQHD gaming monitor, bringing forth an incredible 5,120 x 1,440 resolution at a 240Hz refresh rate.
Samsung was kind enough to fly me out to have a hands-on experience with both the G95NC, the world's first dual 4K gaming monitor, and the Odyssey OLED G9, a dual 1440p display. During the event, I was lucky enough to have a gaming session of around 20 minutes with both of the displays - if you want my thoughts on the flagship G95NC, check out this link here. Before we get into my impressions, let's talk specifications.
The OLED G9 comes with all the bells and whistles that you'd expect out of Samsung's gaming line-up of monitors, with a crisp 0.03ms response time, 240Hz refresh rate, AMD FreeSync Premium Pro, and the advanced Neo Quantum Processor Pro, which optimizes each frame the gamer sees in terms of shades, contrast, brightness and more.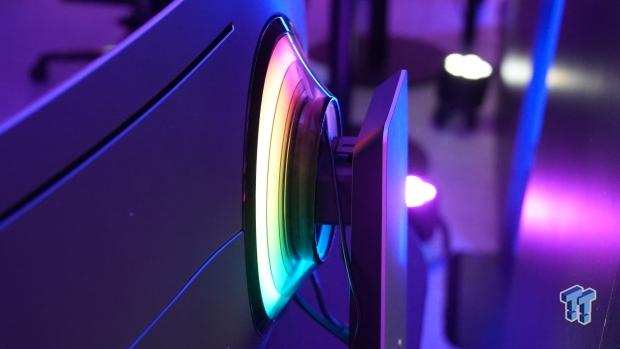 Furthermore, the OLED G9 is a 49-inch dual 1440p display, which means Samsung has crammed two 1440p monitors into one form factor, bringing the maximum resolution to 5,120 x 1,440. The OLED G9 isn't as curved as the G95NC, as it features an 1800R curvature that's designed to take up most of your peripheral vision. More specifications can be found below.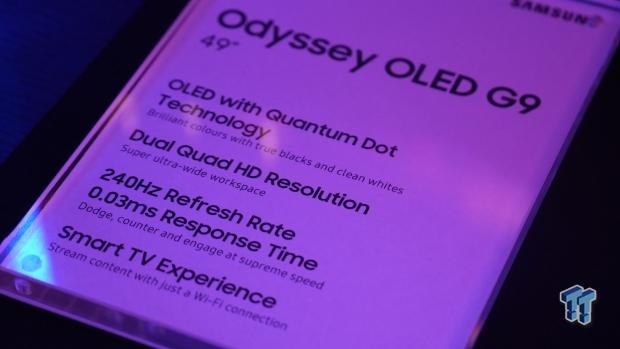 My experience - Samsung's OLED G9 is one of the best gaming monitors I've experienced in terms of true blacks. The OLED really shines in this display, and in areas of the game where there was darkness, it was almost impossible to see anything at all due to Samsung's OLED pixel technology (This is really good true blacks). The colors really shone in areas that were well-lit (I was playing Assassin's Creed Valhalla). The variations in colors and their accuracy, based on my first impressions, were extremely impressive. Colors popped, almost to the point where someone would assume the picture was a little too over-saturated, especially if they are used to gaming on typical gaming monitors.
A downside of this monitor I noticed within the first couple of minutes of using it was the reflections I was seeing in the display from the lights behind me. The reflective coating on the outside of the display was bouncing light from the LEDs that were positioned behind me. I can imagine this would be incredibly annoying if you game in a room that is outfitted in LEDs, such as a typical streamers room - or a room that is well-lit by natural light. You can see what I'm talking about in the above video. It's not a deal breaker at all, just something to keep in mind.
Full Specifications