A photographer taking a group on a storm tour with the intention of catching epic photographs of storms rolling in has photographed a rare atmospheric phenomenon.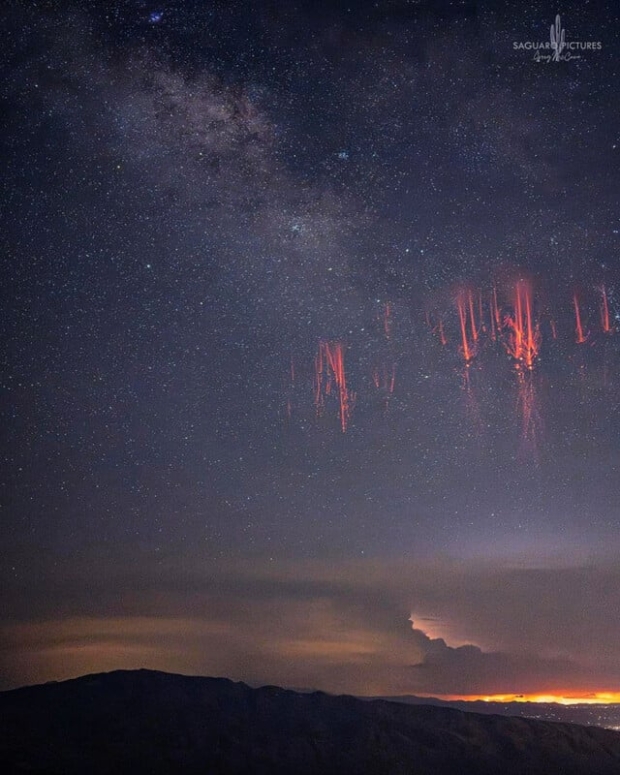 That atmospheric phenomenon is called sprites, and in this case, red sprites, which are pictured above. So, what are sprites, and what makes them rare? Sprites are upper atmospheric discharges from lighting and typically occur around 50 miles above thunderstorms and, more specifically, appear right after a lightning strike.
The photographer behind these incredible photos is Greg McCown, who spoke to PetaPixel and said, "A large storm moved clear down in Mexico about 150 miles south of our position at Windy Point, lining up perfectly with the Milky Way core." Adding, "After some instruction on how to photograph sprites, most in our group were able to catch these elusive gems."
For those camera lovers out there wondering what type of equipment was used to capture the phenomena, McCown was equipped with a Nikon Z6 and 50mm lens.
The group of photographers was positioned on Windy Point, at the top of Mount Lemmon. "I've photographed them about five times before," McCown tells PetaPixel. "As soon as we saw the big storm down in Mexico on radar we knew we had a good chance."
"The city lights you do see are the far east side of Tucson. Dark nights and clear skies with a distant storm are the best conditions to see/photograph them," explains McCown.