As part of the return of QuakeCon, which is one of the world's largest in-person PC LAN gaming events, Bethesda and id Software announced that Quake II has been remastered and enhanced and is available now on PC, PlayStation 4, PlayStation 5, Xbox One, Xbox Series X|S and Nintendo Switch, in addition to Xbox Game Pass. So yeah, id Software's classic first-person shooter from 1997 is playable on all platforms.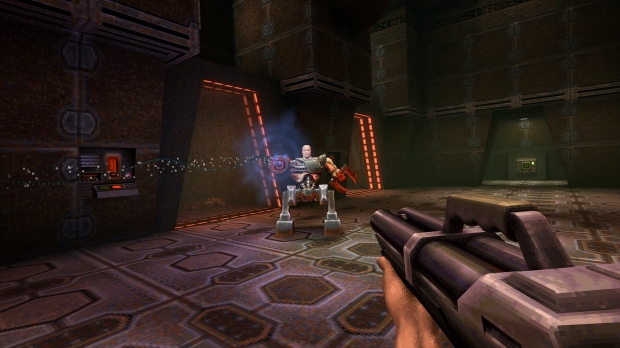 And it's packed with goodies, with the original campaign and its two expansions (The Reckoning and Ground Zero), plus the addition of a brand-new expansion from MachineGames aptly titled Call of the Machine and a remastered Quake II 64 port for the Nintendo 64 version of the game included as a nice little freebie.
As far as re-releases go, this is up there, as Bethesda and id Software confirm that this enhanced edition includes improvements to gameplay, enhanced AI, plus improved visuals in the form of more dynamic shadows and lighting.
MachineGames' brand-new Call of the Machine expansion includes 28 new campaign levels spanning a story covering set in deep space where a Strogg machine is "capable of collapsing the fabric of reality" and needs to be destroyed.
Throw in co-op, deathmatch, and online and offline multiplayer with crossplay support - and this is essentially the definitive version of Quake II. LAN play is supported across all platforms, including the Nintendo Switch. And in a very cool move, Quake II now includes an 8-player split-screen mode on Xbox Series X|S and PC for multiplayer deathmatch.
As part of the Quake II re-release, the minimum and recommended specs for the game have changed (quite significantly) since the game first hit the scene in 1997. Back then, an NVIDIA GeForce GTX 1070 didn't exist - let alone the idea of playing games on a 4K 120Hz display.
Minimum Specs (1080p/60Hz)
Windows 10 (64-bit version)

Intel Core i5-3570 @3.4 GHz or AMD Ryzen 3 1300X @3.5 GHz

NVIDIA GeForce GTX 650 TI (2GB) or AMD HD 7750 (1GB)

8GB System RAM

Minimum 2GB free HDD space

A high-speed broadband connection is required for online play
Recommended Specs (4K/120Hz)
Windows 10 (64-bit version)

Intel Core i5-6600k @3.5 GHz or AMD Ryzen 5 1600 @3.2 GHz

NVIDIA GeForce GTX 1070 (8GB) or AMD RX Vega 56 (8GB)

8GB System RAM

Minimum 2GB free HDD space

A high-speed broadband connection is required for online play