A new report from Jon Peddie Research highlights some good news for the client-based CPU market covering notebooks and desktops - Q2 2023 saw 53.6 million CPUs ship, up 17% from the previous quarter. But it's more of a recovery than a continued upward trend, as total CPU shipments have decreased by 23% year-on-year.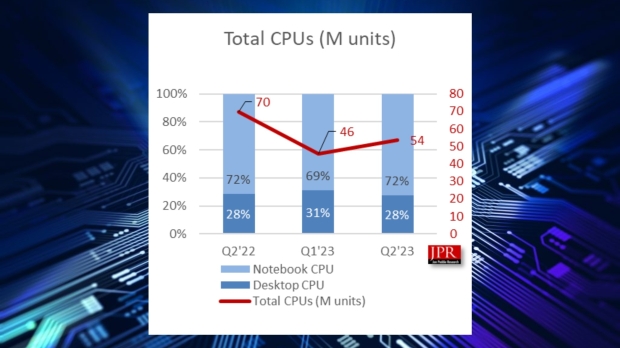 It's a similar trend for iGPUs, with shipments increasing by 14% to 49 million units for Q2 2023, but this also represents a year-on-year decline of -29%. Per the CPU shipment chart supplied by Jon Peddie Research, we see a market share split of 72% for notebook CPs and 28% for desktop CPUs as portable devices continue to dominate the space.
The most interesting news from the Q2 2023 data collected for this report is the overall CPU market share split between the two big players - Intel and AMD. According to the report, Intel's market share increased by 23% compared to the previous quarter, while AMD's overall CPU market share decreased by -5.3%.
Without specific models or a breakdown of products, it's difficult to know exactly what products from the Intel camp led the shipment boom - but it's a definite win for Team Blue. Ultimately the Q2 2023 gains are a good sign that the CPU market is recovering, though it's a case of cautious optimism.
"Q2's increase in client CPU shipments from last quarter is positive and welcomed news in what has been depressing results for that quarter as well as for the last two years," Jon Peddie said. "Integrated graphics also increased from last quarter, which is not too remarkable given most CPUs have built-in GPUs. The forecast for next quarter is a cautionary positive. AMD and Intel are guiding upward, albeit modestly."
With Intel and AMD on the cusp of introducing their latest generation of CPU components, here's hoping this upward trend continues.