The new Super Mario Bros. movie caused sales of Nintendo's Mario games to jump.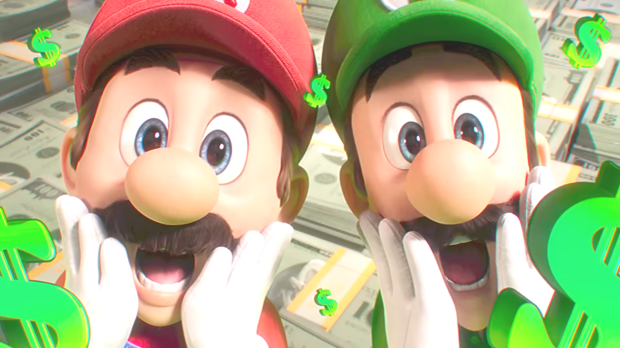 Following the huge success of the star-studded film, Nintendo has enjoyed a strong rise in Super Mario game sales on its Switch handheld-console hybrid. Not only has the film helped rise Nintendo's IP royalty revenue to an incredibly high $131 million, but the movie is also sparking more game and hardware sales for Nintendo's Switch ecosystem.
According to sales data released by Nintendo, the Switch saw a strong 3.91 million shipments worldwide, with the bulk of consumers opting for the more expensive OLED model. This helped Nintendo reach a new all-time Q1 high in yen earnings. It's especially noteworthy that all of the models in the Nintendo Switch family are sold at a profit.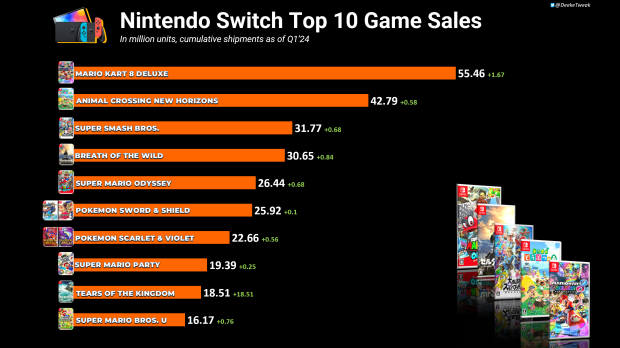 Consumers are also purchasing more Mario games to accompany their new Switch consoles. Nintendo's latest top 10 game sales show the quarter-over-quarter changes for its top-selling titles. Mario Kart 8 Deluxe saw the largest increase in sales, with an added 1.67 million games sold in the Q1 period, bringing total Mario Kart sales to 55.46 million.
Other Mario games like Super Mario Odyssey saw an increase of 680,000 units sold, bringing total Odyssey sals to 26.44 million. Super Mario Party and Super Mario Bros. U Deluxe also saw increases of 250,000 and 760,000 unit sales, respectively.
"Thanks in part to the theatrical release of The Super Mario Bros. Movie and promotions tied to that movie, sales of Mario Kart 8 Deluxe and other Mario related titles posted solid sales," Nintendo President Shuntaro Furukawa noted in the latest Q1'24 earnings brief.
Nintendo aims to keep this momentum going with new Mario Kart 8 content, as well as a brand new side-scrolling game Super Mario Bros. Wonder that is due out in October.