Starting at 850W, the new NE (NeoEco) Gold M ATX 3.0 series of fully modular power supplies from Antec delivers the best for PC gamers, high-end enthusiasts, and workplaces. Because hey, if it can handle modding and overclocking at the pro gaming level, then it should be fine in a professional setting too.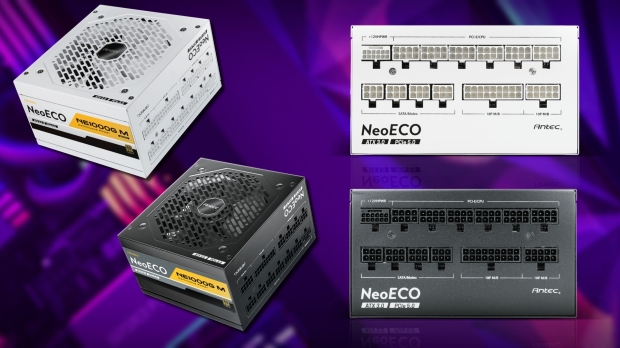 Antec notes that the NE Gold M ATX 3.0 series uses high-quality Japanese capacitors for reliable stability and is 80 PLUS Gold-certified for improved efficiency. Aesthetically you can choose between white or black - with the white model arriving with a 1000W power rating and the black options available in 850W, 1000W, and 1300W ratings.
Built with ATX 3.0 capabilities and standards, and PCIe 5.0 ready, this new power supply series from Antec is tailor-made for the new GeForce RTX 40 Series of GPUs from NVIDIA, thanks to the included PCIe 5.0 12VHPWR GPU cable and connector capable of delivering 600W on a single connection.
Regarding specific features, the NE Gold M ATX 3.0 series introduces Antec's PhaseWave Design which it describes as a "server-class" for power delivery, efficiency, and reliability. This is why Antec is stating that its latest power supplies are for pro gamers and professionals. In addition to the new PhaseWave Design, there's a whole suite of industrial-grade protection as part of the design.
And with all that, Antec offers an impressive 10-year warranty for the NE Gold M ATX 3.0 series - which is awesome. Best of all, there are some smart design decisions outside of components, from the inclusion of a 120mm fan that will turn off during those idle low-temp moments to the overall compact size that makes the flagship 1300W NE1300G M ATX3.0 variant (and other models in the line-up) 30% smaller than typical power supplies.
The new NE Gold M ATX 3.0 series from Antec is available now.