Inspired by the look of the classic Nintendo Entertainment System (NES) from the 1980s, the new 8BitDo Retro Mechanical Keyboard comes in two visual flavors modeled after the US NES (N Edition) and Japanese Famicom (Fami Edition) colors. As a wireless mechanical keyboard with support for Bluetooth, wireless 2.4 GHz, and wired modes, the TKL form-factor keyboard features Kailh Box V2 White switches under the hood.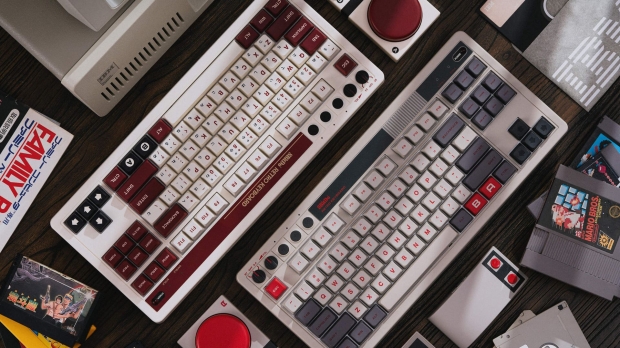 At this point, you're probably wondering why the 8BitDo Retro Mechanical Keyboard comes attached with two big buttons - well, it's a nod to the classic NES controller and its A and B buttons with the option to customize and program them without the need for software. And there's an option to connect up to four sets, with the keyboard shipping with one.
Although the software isn't required, you can fully customize the keyboard using 8BitDo's Ultimate Software V2. The switches are hot-swappable, too, and you've also got PBT keycaps and n-key rollover support, so this is more than just a looker.
Granted, as soon as I saw the first image of the 8BitDo Retro Mechanical Keyboard, it didn't matter what the specs were - it immediately became one of the things that I needed. Just like the DROP and Lord of the Rings keyboard I recently reviewed.
The only thing missing for the USD 100 NES keyboard, at least when stacked up against other mechanical keyboards, is the lack of backlighting - but that's not a major loss when looking at a Nintendo Entertainment System in keyboard form. But, in a cool nod to the NES, there is a red power status LED and a control panel that lets you switch between wired and wireless modes and control the volume.
Pre-orders for the 8BitDo Retro Mechanical Keyboard are open now for USD 99.99, with the keyboards expected to ship on September 20, 2023. Here's a look at the specs.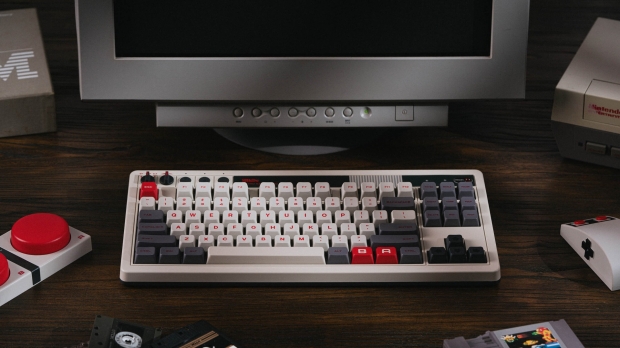 Compatibility: Windows 10(1903) and above, Android 9.0 and above
Dimensions: 376.6 x 169.6 x 46.8mm (Keyboard), 160.2 x 74.6 x 32.3mm (Super Buttons)
Weight: 1050g (Keyboard), 270g (Super Buttons)
Connectivity: Wireless 2.4G, Bluetooth Low Energy, Wired USB
Battery Life: 200 use hours with 4 hours charging time
Special Features: 87 keys, Kailh Box White Switches V2, Hot-swappable PCB, Support n-key rollover, 8BitDo Ultimate Software V2, Dye-sublimation PBT keycaps with MDA-like height, Programmable buttons, Fast-mapping on programmable buttons (no software needed)
What's in the Box: 8BitDo Retro Mechanical Keyboard, 8BitDo Dual Super Buttons, USB cable, 2.4G adapter, Instruction manual, 8BitDo Fun Stickers