Diablo IV has helped Blizzard break $1 billion in quarterly revenues for the first time in its 32-year history, but how does the game's launch compare to its predecessor?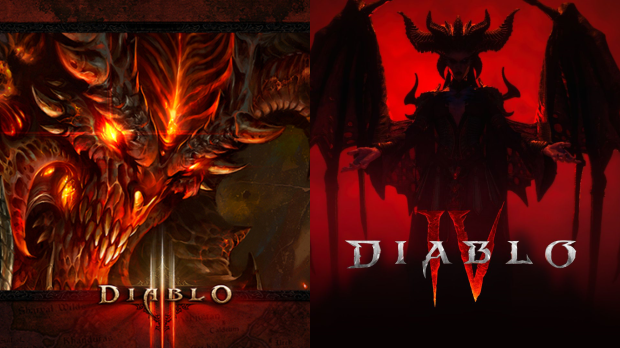 With $666 million revenue earned from game sales in just 5 days' time, Diablo IV is a fiery success. The sequel has done so well that it helped propel Blizzard to a new all-time revenue record that saw the segment making up the lion's share of ABK's quarterly earnings, which is something that doesn't happen very often.
The question remains, though: How did Diablo IV's launch compare to Diablo III's? To answer that, we have to look at Blizzard's past quarterly performance, and analysis shows that there is no easy clear-cut answer to this question.
Before we look at the numbers, we have to go over some important context. Diablo IV was released simultaneously on consoles and PC on June 6, 2023. Diablo III, on the hand, was released only on PC on May 15, 2012. Naturally, Diablo IV's sales should be higher because it launched on multiple platforms at the same time.
Another important piece of context is that Blizzard's modern-day revenues now include mobile revenues. As previous analysis shows, mobile games like Diablo Immortal have had a significant impact on Blizzard's quarterly earnings. The record-breaking $1 billion in quarterly revenues that Blizzard made in Q2 2023 are not exclusively from PC and console, and also include heavy impact from mobile.
Something else to remember is that Diablo III had a multitude of releases that have all had an affect on Blizzard's quarterly earnings. Diablo III launched on PC in May 2012, then on Xbox 360/PlayStation 3 on September 2013. The Reaper of Souls expansion launched in March 2014 and delivered a major uptick in revenues. Then we saw the PS4 and Xbox One version of Diablo III roll out in August 2014. Finally, Diablo III's Eternal Collection rolled out once more on consoles and the Nintendo Switch in June 2017.
The final bit of context is that not all of these revenues reflect full Diablo franchise sales or purchases. Blizzard has a number of different products that generated revenues in these respective historical and modern periods, the chief of which is World of Warcraft. Overwatch also contributes, albeit to a lesser degree. Overwatch during or prior to Diablo III's launch, and was only available prior to the Eternal Collection's release in 2017.
With that context out of the way, let's take a look at the numbers.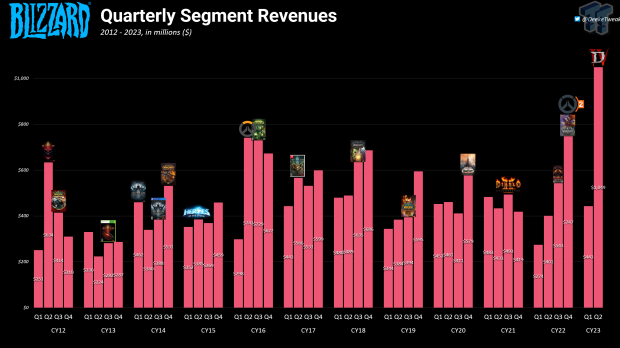 In Q2 2012, which coincides with Diablo III's launch, Blizzard generated a substantial $634 million in revenues.
Since Diablo III released in mid-May, the game had over six weeks worth of sales revenues and potential in-game monetization to be recognized from the RMAH (ex-Blizzard dev Jay Wilson has said that Diablo III's Real Money Auction House did not generate very much revenue).
Diablo III sold 3.5 million copies in its first 24 hours, and went on to become the best-selling PC game of 2012 with 12 million copies sold throughout the year.
There's quite a bit of spacing of Blizzard's projects before Diablo III's launch.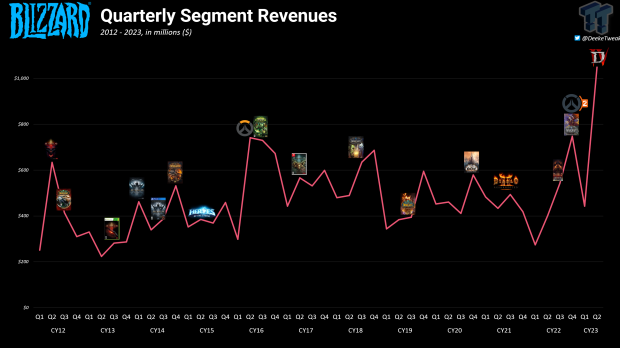 Conversely, Blizzard made $1.049 billion in revenues in Q2 2023, which coincides with Diablo IV's launch.
Activision has also confirmed that Diablo IV has been played by over 10 million players.
It's worth remembering that this was also weighted by mobile gaming, but we won't know exactly by what extent until Activision publishes its 10-Q SEC filing for the Q2 period.
Plus, there are more major releases closer to Diablo IV's launch than there was for Diablo III. These releases include Overwatch 2 and the World of Warcraft Dragonflight expansion, which released two quarters prior. These releases, alongside continued revenues from Diablo Immortal, also contributed to Q2 2023's results.
That being said, Diablo IV was undoubtedly the majority earner here. After all, the game made $666 million worth of game sales in just 5 days on the market. Diablo IV released on June 6 so we may be able to expect the game's revenues to potentially carry over to Q3 2023 as well.
Here's a quick breakdown of Blizzard revenues from each respective Diablo game's launch:
Diablo III - $634 million (Impacted by Diablo III game sales, Diablo III RMAH, World of Warcraft)
Diablo IV - $1.084 billion (Impacted by Diablo IV game sales, Diablo IV monetization, Overwatch 2, Overwatch 1, World of Warcraft, Diablo Immortal)