Activision-Blizzard's mobile performance was one of the main reasons why Microsoft seeks to buy the publisher for $68.7 billion, and our analysis really underlines just how important on-the-go gaming has become for the publisher.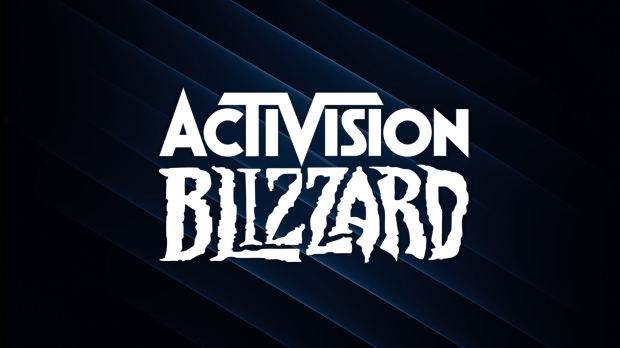 It's well known that ABK makes a lot of money from mobile. After all, the three-headed giant includes King, who is responsible for the ultra-lucrative Candy Crush. But what about the other segments? Traditionally, the company's segments each have their own strengths. King reigns on mobile, Activision dominates on consoles, and Blizzard leads the charge on PC. That's what makes the publisher such a powerhouse--it's able to effectively generate billions of dollars everywhere games are played and sold.
Throughout recent years, we've seen ABK break these traditions. In 2018, the publisher enacted its new four-part plan, an ambitious strategy that led to more mobile games as well as new cross-game innovations like Call of Duty Warzone. The company sought to expand the presence of its mighty billion-dollar IPs (ABK has eight of them) across all available platforms.
This has led to a paradigm shift for the publisher, especially in regards to the Activision and Blizzard segments. Both branches have their own popular mobile games, with Diablo Immortal raking in serious numbers for Blizzard, and Call of Duty mobile breaking $1 billion for Activision. The result has seen mobile platform revenues surge,, and in 2022, nearly half of the company's net revenues came from mobile games.
To really understand how mobile has affected and changed Activision-Blizzard, I decided to run some numbers and compile some charts. The results speak for themselves, and it's easy to see why Microsoft says the $68.7 billion acquisition is mostly aimed at establishing a foothold in mobile.
Along the way, we will discover the operational strengths of the Activision and Blizzard games divisions in regards to platform leverage, and how the divisions are using their strong IPs to cross-over into mobile.
One point that I'd like to reiterate is that neither Activision nor Blizzard are solely responsible for their respective popular mobile games. Diablo Immortal was created in partnership with NetEase, and Chinse juggernaut Tencent assisted with Call of Duty Mobile.
Note: Activision has yet to release its 10-Q SEC filing report for Q2 2023, so the following information caps at Q1 2023.
Activision's mobile performance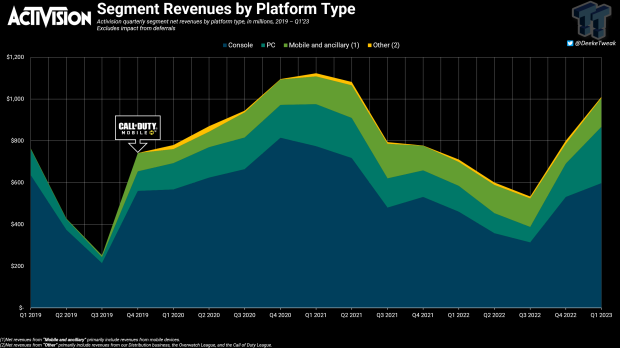 Since Call of Duty Mobile's release in Q4 2019, the Activision segment has made $1.658 billion from mobile gaming revenue. These are earnings that exclude the impact of deferred revenues, which are either added or subtracted depending on certain conditions. In this way, we're able to get a much more targeted value that indicates performance.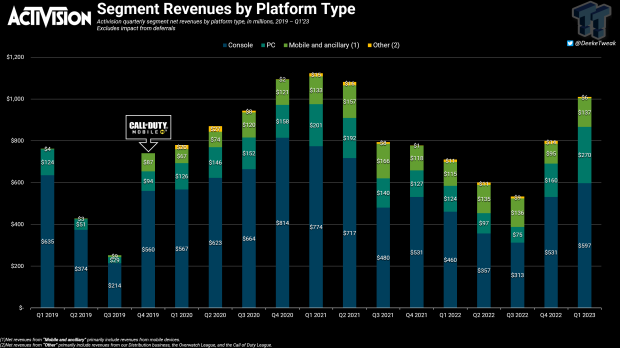 In the quarter of Call of Duty Mobile's release, Activision segment mobile earnings went from $9 million to $87 million, an 866% increase that effectively established Activision as a mobile powerhouse in just 3 months. Since then, Activision segment mobile revenues have fluctuated, hitting an all-time high of $166 million in Q3 2021.
Here's a look at the significant rise in Activision segment mobile revenues by percentage from 2019 - 2022: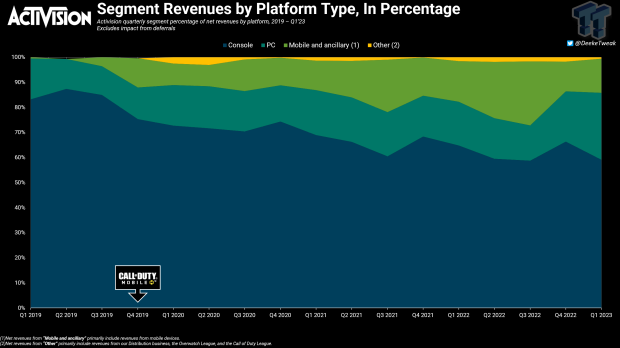 Below we have a quarter-by-quarter breakdown of platform percentage revenue splits from 2019 - Q1 2023. Mobile jumped to 12% of total Activision segment revenues in the quarter of Call of Duty Mobile's release, and mobile has leaped to percentages as high as 21% during Q3 2021, the same period where the segment made $166 million in revenues from the platform.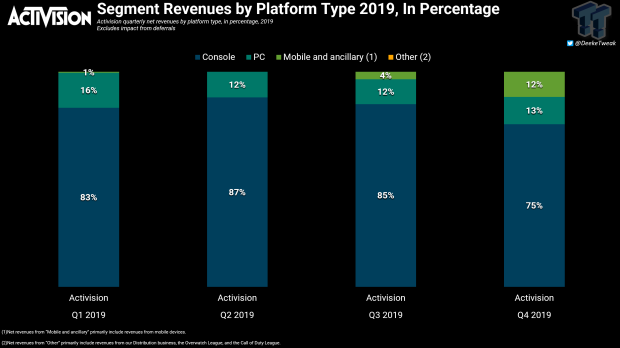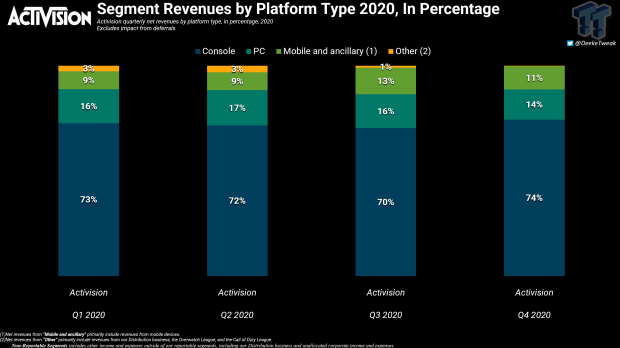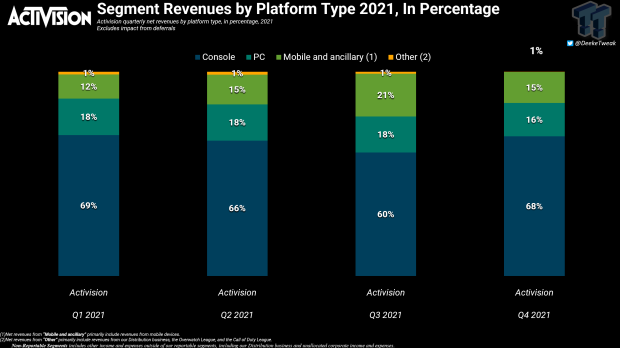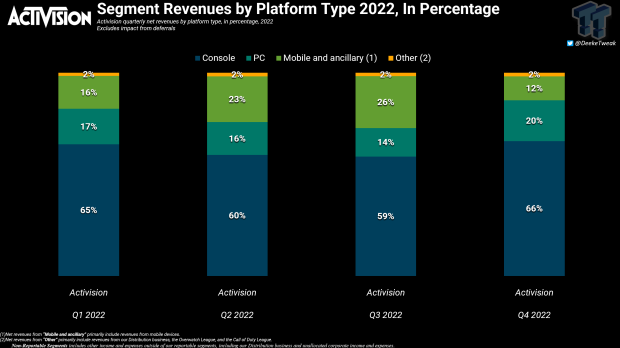 Blizzard's mobile performance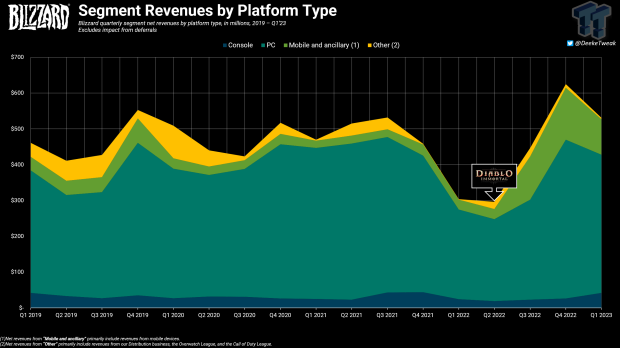 Without the might of Call of Duty behind it, Blizzard's mobile transformation isn't as pronounced as Activision's. Mobile still has become an important part of the publisher's business though, and it mainly stems from Diablo Immortal's success.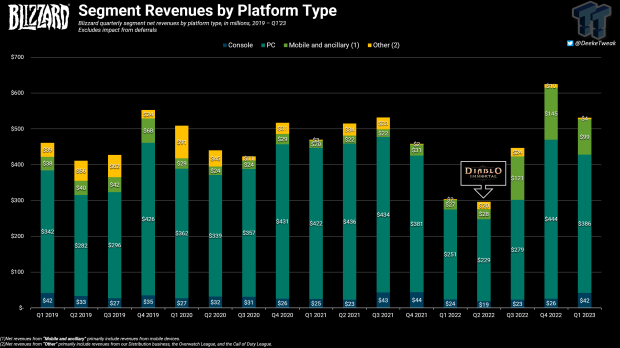 Blizzard, on the other hand, has made $393 million from mobile since Diablo Immortal's release. Remember that Diablo Immortal is fairly new, having released in June 2022, and it's not part of the most popular shooter franchise of all time.
It's worth noting that all of this revenue is not from Diablo Immortal alone because Blizzard also has Hearthstone, however Blizzard's mobile earnings went from $28 million to $121 million in the quarter of Diablo Immortal's launch.
PC is still Blizzard's primary moneymaker, but it is indeed interesting to see how mobile has grown to augment its live operations.
Below we have a breakdown of quarter-over-quarter platform revenue composition: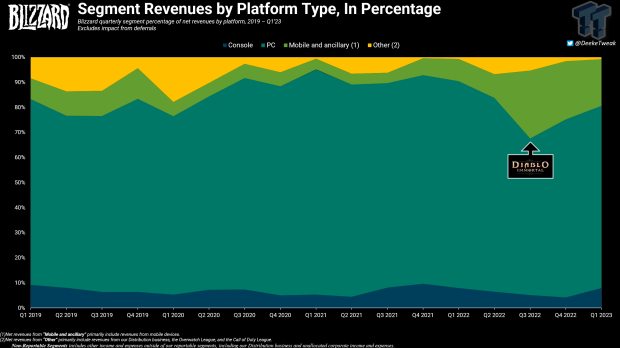 For a better visual representation of these changes, here is the same quarterly data separated into years: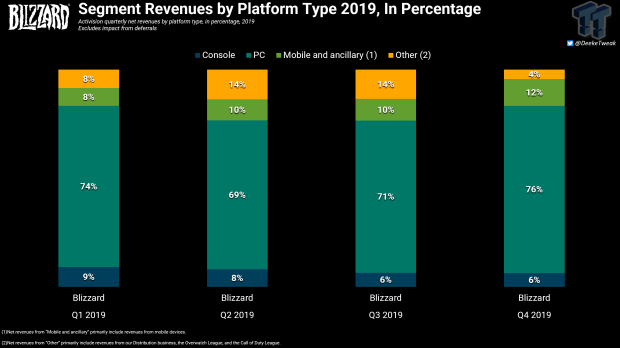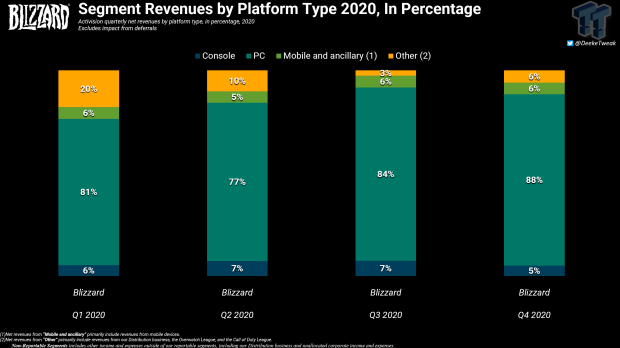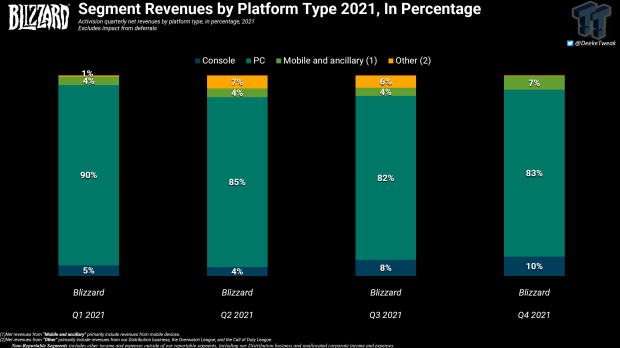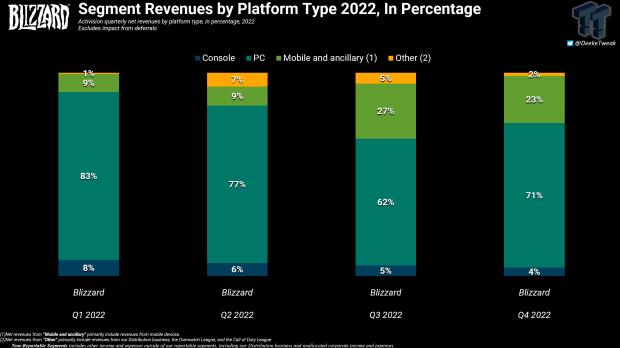 Mobile recognition in all segments
Wrapping everything together on a full-company level, we can see the effects that each segment's mobile operations have on total annual platform revenues. The most dramatic affect happened in 2022, where mobile gaming represented nearly half of Activision Blizzard King's net revenues. This was driven by the mobile titles across all three divisions firing all at once, with Candy Crush, Diablo Immortal, and Call of Duty Mobile offering a triple-hit combo.
How will these revenues transform when Activision releases Call of Duty Warzone Mobile later this year?