A few days ago, a story began going viral about a French woman that claimed she was hit in the rib cage by a meteorite.
Reports indicated that the woman was sitting with her friend, enjoying a cup of coffee, when they heard a noise on the roof above them. The noise was quickly followed by the woman being hit in the chest with what she claims is a fragment of a meteorite.
The above image showcases the purported meteorite, and now scientists are chiming in, saying that the imaged rock is definitely not from outside of Earth's atmosphere as meteorites that make it to Earth's surface are smooth due to the extreme heat they experience while plummeting through Earth's dense atmosphere.
Observatoire de Paris astronomer Jeremie Vaubaillon told Space.com that the imaged rock has "way too many angles to be meteorites" and that as a meteorite passes through Earth's atmosphere, all its jagged angles are quickly removed, similar to how an ice cube melts.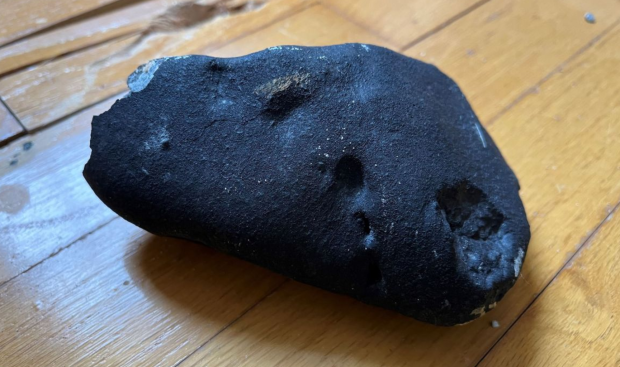 Furthermore, François Colas, an astronomer with the Fireball Recovery and InterPlanetary Observation Network (FRIPON) said that a meteorite that makes it to Earth's surface is typically traveling at around 186 mph, which means there would be significant damage to the roof that the woman claims it hit first. Additionally, such an object passing through Earth's atmosphere would have been detected by many astronomers, which it wasn't.
"Meteorite falls are rare; most of the meteorite material is melted during the atmospheric entry," said Colas. "In order to survive the entry and make it to the ground, the rock has to be both slow and large, above 1.6 feet [0.5 meters] in diameter, and large objects are rare."
"The surface of the Earth is very wide compared to the size of a human," Vaubaillon said. "Two-thirds of meteorite falls end up in the ocean, and most of the remaining ones end up in fields, forests, deserts, etc."
Vaubaillon calculated that the chances of an individual hitting by a meteorite, given that two-thirds of all meteorites fall into the ocean, are approximately 1 in 100 trillion.