NVIDIA RTX IO was first revealed in 2020, during the Ampere-based GeForce RTX 30 Series era, with the new technology all about offloading texture decompression and other data tasks from the CPU onto the GPU by taking advantage of modern NVMe and PCIe Gen storage.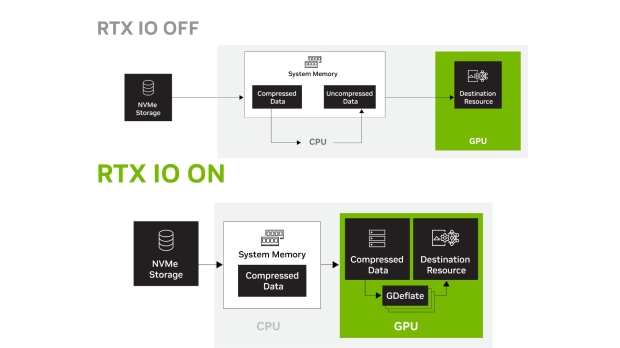 NVIDIA RTX IO uses the technology seen in Microsoft's DirectStorage, GDeflate, an open GPU compression standard that NVIDIA helped create. In most modern games, we see data sent from the disk drive to the CPU, which is then decompressed via system memory and sent to the GPU. With the massive gains we've seen in PCIe Gen 4 and Gen 5 storage, it's a process that doesn't take advantage of their speed and capabilities when it comes to PC gaming.
The result is longer load times and things like texture pop-in, even though storage speeds have doubled or tripled. This is where NVIDIA RTX IO comes in. "NVIDIA RTX IO dramatically increases IO bandwidth by letting compressed data be delivered to GPU memory with minimal staging in the CPU system memory," writes NVIDIA.
"The GPU is utilized for decompression using GDeflate at high throughput, allowing the CPU to perform other tasks," it adds. "As a result, object pop-in and stutter can be reduced, and high-quality textures can be streamed at incredible rates, so even if you're speeding through a world, everything runs and looks great."
An added benefit is that with lossless compression, game download and install sizes can be reduced - which is great news in the age of AAA releases taking up to 150GB of space on an SSD. The good news is that, unlike other RTX technologies that require RTX hardware, RTX IO is supported on all modern DirectX 12 GPUs. RTX IO support arrived via DirectX through DirectStorage and Vulkan through Vulkan extensions.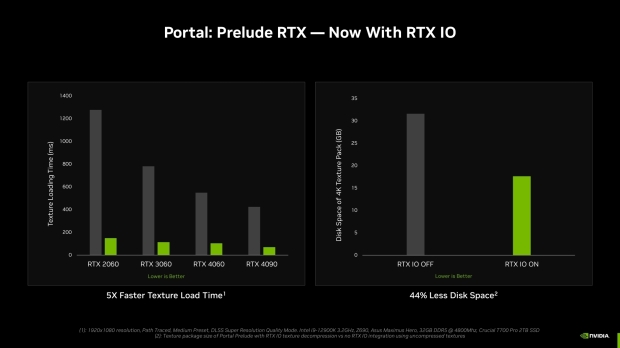 With today's launch of the impressive Portal: Prelude RTX, NVIDIA RTX IO is enabled by default in the game's options - vastly improving loading times and the overall storage space required for 4K assets. "NVIDIA RTX Remix was used to bring Portal: Prelude RTX to life, and thanks to RTX IO and the use of Vulkan extensions, GPU decompression with GDeflate shrank Portal: Prelude RTX's install size by 44%, enabling gorgeous 4K textures to be experienced losslessly with a minimal footprint," NVIDIA writes.
And this month's former PlayStation 5 exclusive Ratchet & Clank: Rift Apart is set to support RTX IO on day one - which is awesome to see as that game was a showcase for the PS5's fast SSD storage as you seamlessly transported to and from new environments and planets instantly.
"To enable quick loading and instant transition between dimensions, the game needs to be able to load assets quickly," Richard van der Laan, Senior Lead Programmer at Nixxes Software, explains. "DirectStorage ensures quick loading times, and GPU decompression is used at high graphics settings to stream assets in the background while playing."
The latest GeForce Game Ready Driver is available now, bringing full support to Portal: Prelude RTX and Ratchet & Clank: Rift Apart with RTX IO - paving the way for more RTX IO-enabled titles in the months to come.