A new report covering the DIY custom PC market in South Korea, with data gathered from Danawa Research (via @harukaze5719 on Twitter), shows the division of hardware covering GPUs and CPUs in the region for the first half of 2023. On the GPU front, it's a blowout, with GeForce GPUs taking 94% of the overall market share, followed by AMD Radeon at 5% and Intel Arc at 1%.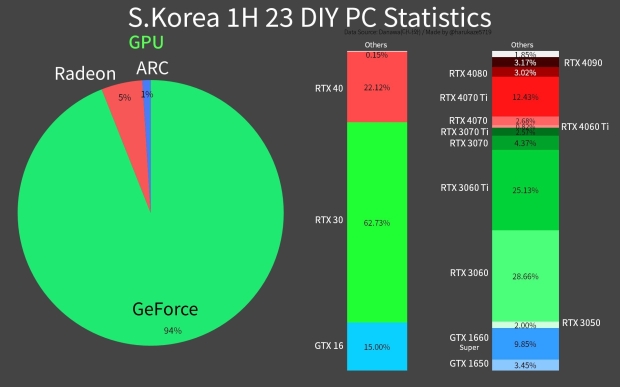 On the CPU side, it's a lot closer, with AMD gaining ground with a 43% share compared to Intel's 57% share. The numbers drill down from there, with the AM4 motherboard platform for AMD covering 71.3% of the Ryzen CPU market in South Korea, with the new AM5 platform and Ryzen 7000 Series covering 28.7% of the market.
With the Ryzen 7000 Series getting close to 30%, it's a strong showing for the new CPU series requiring a new motherboard and an upgrade to faster DDR5 memory. For Intel, the new 13th Gen series of CPUs (in particular, the 13th Gen Core i5) is the most popular, highlighting that PC gamers and DIY builders in South Korea like to keep their hardware up to date.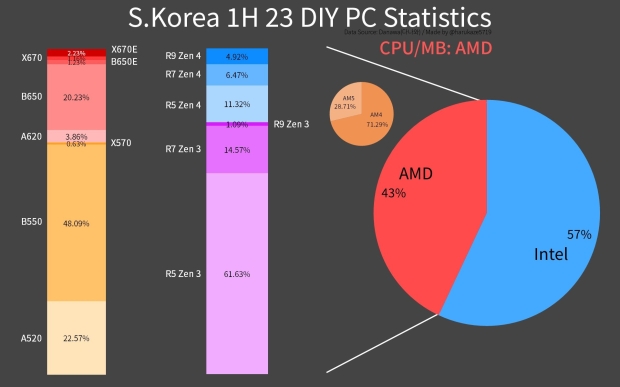 For GPUs, it's interesting to see that NVIDIA's new GeForce RTX 40 Series looks to be gaining traction in the region, with 22.1% of the 94% GeForce GPU market share going to the new line-up. The GeForce RTX 4070 Ti is the most popular model in the line-up, with an impressive 12.4% share, with the GeForce RTX 3060 and RTX 3060 Ti models being the most popular overall.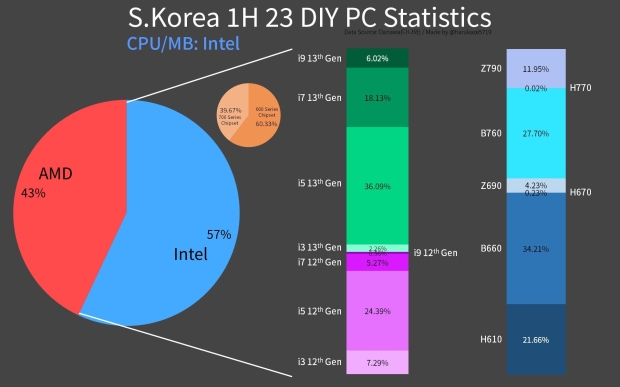 Although still new on the scene, the GeForce RTX 4060 Ti makes an appearance and, like the GeForce RTX 4070, is currently unpopular in South Korea - at least based on the data we see here. Finally, on the CPU front, as AMD continues to gain market-share with its Ryzen line-up, it'll be interesting to see if the company cracks the 50% barrier to take the lead.