With high-profile releases like the Steam Deck from Valve and the ROG Ally from ASUS, portable PC gaming handhelds are more popular than ever. One of the reasons we are seeing powerful handhelds is due to advances in hardware, specifically when it comes to mobile Ryzen chips from AMD, like the new AMD Ryzen 7 7840U being able to deliver excellent game performance.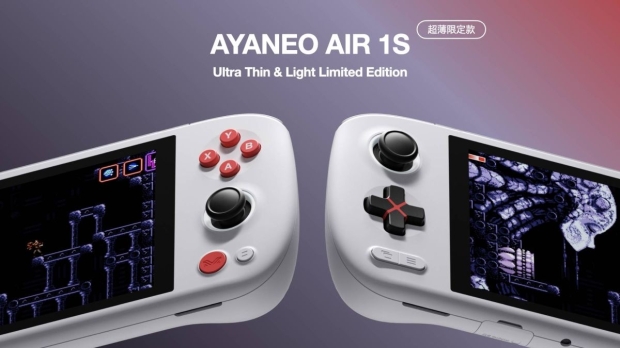 The new AYANEO AIR 1S is taking the idea of a portable and powerful PC gaming handheld one step further by making it thin, light, and comparable to something you might see from Nintendo regarding compact pocket-size gaming. Specs-wise, the AYANEO AIR 1S features the Ryzen 7 7840U APU, 16 GB or 32 GB of LPDDR5X RAM, and a 5.5-inch 1080p AMOLED display.
Although a 5.5-inch display is smaller than what you'd find on the ROG Ally, the AYANEO AIR 1S weighs a lightweight 405 grams, with the thinnest part of the Ultra Thin and Light Limited Edition being only 18mm. This makes it substantially lighter than the Steam Deck, the ROG Ally, and even the Nintendo Switch.
Undoubtedly, getting a Ryzen 7 7840U-powered device in such a small package carries a cost. Regarding the MSRP for the new AYANEO AIR 1S, you're looking at USD 829 for the standard edition (which is a little larger) with 16 GB of memory and 512 GB of storage and USD 1259 for a model with 32 GB of memory and 1 TB of storage. The estimated launch date is August 2023 for the handheld, and if you pre-order, you can save up to USD 150 on the abovementioned prices - via IndieGoGo.
As APUs like the Ryzen 7 7840U hit the scene, we will see more handhelds like the AYANEO AIR 1S - which is great news for gamers.