Last week we saw American overclocker Allen "Splave" Golibersuch break the 4.0 GHz barrier using the flagship liquid-cooled ROG Matrix GeForce RTX 4090 all-in-one from ASUS. An impressive milestone and a conclusion of sorts to a race that was heating up between Splave and German overclocker CENS that saw a back-and-forth over the course of days and weeks to see who could get to 4.0 GHz first.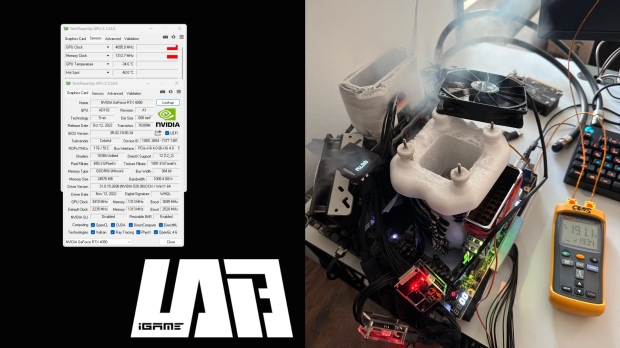 For a brief moment, CENS held the crown by pushing a Colorful GeForce RTX 4090 iGame LAB to an incredible 3.975 GHz. And although the race to 4.0 GHz is over, this hasn't stopped CENS from grabbing some LN2 and going again with the overclocker posting "a fun one" with a 4095 MHz GPU clock speed, or basically 4090 MHz to match the naming of the GeForce RTX 4090.
CENS posted the results on Twitter with an accompanying picture showing his setup, and it's very cool to see what it looks like when a GPU is pushed beyond what we thought was possible.
Interestingly it doesn't look like the GPU was benchmarked with these specs, either using the GPUPI V3.3 - 32B benchmark or anything 3D related. This could mean that the OC record of 4.0 GHz (or 4005 MHz) by Splave represents the absolute peak of what's possible with these high-end GeForce RTX 4090 GPUs, as maintaining stable performance even for a few seconds at 4095 MHz might not be possible. Looking at the image posted by CENS, the temperature readout showcases an eye-watering 191.1 degrees Celsius.
But hey, records are meant to be broken, and even though Splave's GPUPI V3.3 - 32B score is still number one over at HWBOT, it could be superseded any day now.