OSRAM taking OLED's to new lows
Light source without the Watts.
Published Mar 24, 2008 11:03 AM CDT
|
Updated Tue, Nov 3 2020 12:38 PM CST
Everything is going green, not in colour, but in concept. No more wasteful power consumption, and certainly much less heat production from everyday items such as globes. Welcome to the new era of green technology.
OSRAM is a familiar name to almost any household, it might be one of those names you've seen somewhere before, but you have no idea what or where it's from. Let me enlighten you, I mean figuratively take you out of the dark. Yes, these guys are the bright flame of the bulbous world. What I mean is, bulbs and globes are their business, and you have probably bought one of their products at least once in your life.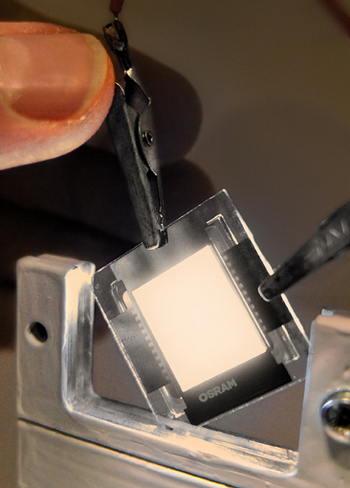 OSRAM is working on the development of high-efficiency OLED light sources that consume little energy. Their latest developments are in the opto semiconductor technology field. For the first time ever they have simultaneously made improvements in the two areas which were considered inversely proportional, that of energy-efficiency and longevity. The energy-efficient OLEDs have been tweaked to achieving an efficiency of 46 lm/W and a life of more than 5000 hours.
Dr. Karsten Heuser, Director of OLED Lighting Technology at OSRAM Opto Semiconductors is very pleased with the excellent results to date. "Our development team has reached a real milestone for warm white OLEDs ....OLED flat light sources are approaching the values of conventional lighting solutions and are therefore becoming attractive for a wide variety of applications."
The warm OLEDs can be used for many different applications, from illuminated wall coverings, atmospheric canopies of light and light partitions. With their pleasant diffused light, the colour of which can be individually controlled, OLEDs will enhance the premium design segment, for example as light tiles that can be attached to any surface.
By March 2009, development should be so far advanced that a demonstrator for an energy-saving OLED flat light module comprising several tiles will be able to deliver an overall luminous flux of 500 lm from a power consumption of less than 10 W. What this means is big savings both in power consumption and in terms of cost of the products in the future.
You can read the full report
here
.