A few months ago, we reported on the new GALAX HOF Extreme 50 PCIe Gen 5 SSD, which aimed to bring some of that high-end HOF (Hall of Fame) style to its SSD line-up. With sequential read speeds of up to 10 GB/s, the HOF Extreme 50 SSDs, available in 1TB and 2TB variants, also feature a large copper heatsink and active cooling via a tiny fan.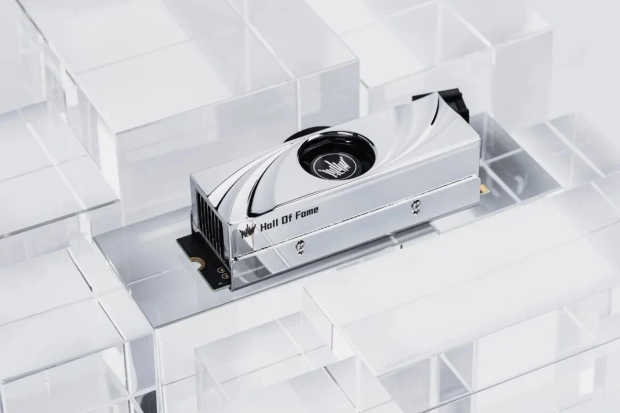 Having chunky cooling on a PCIe Gen 5 SSD is, unfortunately, the norm and not the exception, thanks in part to the impressive speeds you're getting. Keeping the hardware cool and free from throttling is a genuine concern, and GALAX's HOF cooling reportedly keeps temps within the 40 to 45 degree Celsius range.
But GALAX has a new flagship PCIe Gen 5 SSD coming, the GALAX HOF Extreme 50S PCIe 5 SSD. And it looks like it's got the same active cooling setup. If you're wondering what the difference is outside of an 'S' being slapped on at the end of '50', let's dig in.
Firstly the new GALAX HOF Extreme 50S delivers improved read and write performance over the non-S model, with read and write speeds of up to 12.4 GB/s and 11.8 GB/s, respectively. This is a nice little bump from the previous model's 10 and 9.5 GB/s.
According to the Chinese outlet ITHome, which broke the news, both SSDs feature the same Phison controller, the PS5026-E26. As to why you're looking at improved speeds, this probably comes down to refined algorithms and improved error correction. In addition to the speed boost, IOPS has increased from 1500K read and 1250K write to 1500K for both on the GALAX HOF Extreme 50S.
No pricing or release info has been supplied, but GALAX is set to launch with a 2TB variant, with a 4TB version to follow.