Our good friend Igor Wallossek over at Igor's Lab has tested the new professional Radeon Pro W7800 GPU as a potential gaming card - the still-to-be-announced Radeon RX 7800 XT. The big thing is that these GPUs are not like-for-like; one is designed for efficiency and professional workloads, while the other is all about gaming performance.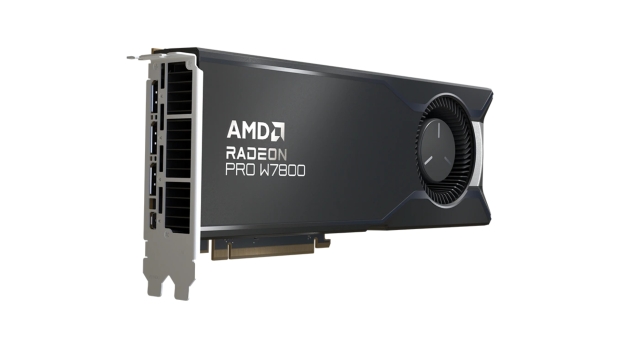 First up, with the Radeon Pro W7800 GPU rated at 260W, the estimation made by Igor's Lab is that the Radeon RX 7800 XT proper will be rated at around 270W, not to mention the fact that it will probably feature 16GB of VRAM. Other considerations were taken, including drivers that will be a factor and that memory speeds will differ. The Radeon PRO W7800's 4480 shader units, 280 texture mapping units, and 70 ray tracing acceleration cores match the expected Radeon RX 7800 XT specs.
And with that, Igor's Lab's extensive benchmarks - which go into far greater technical detail than my quick summary here - present 1080p, 1440p, and 4K simulated results for the Radeon RX 7800 XT plus adjusted results. And for those wondering, you're looking at a modest improvement to the Radeon RX 6800 XT, albeit with better power efficiency, thanks to the new RDNA 3 architecture.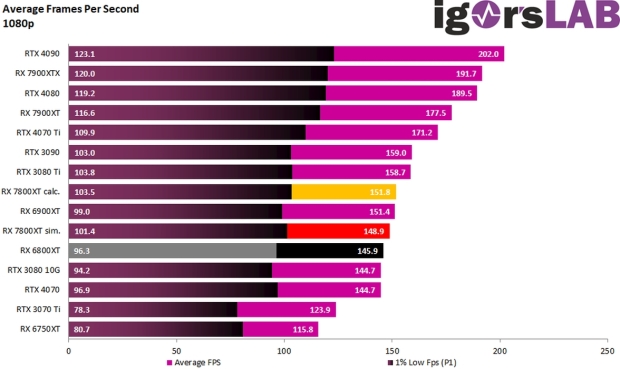 Based on the 1080p benchmark results, which focus on DirectX 12 performance and even RT where available, the simulated results for the Radeon RX 7800 XT put its performance at only 2.1% faster than the Radeon RX 6800 XT - or 4% faster when adjusted, which puts it on par with the Radeon RX 6900 XT.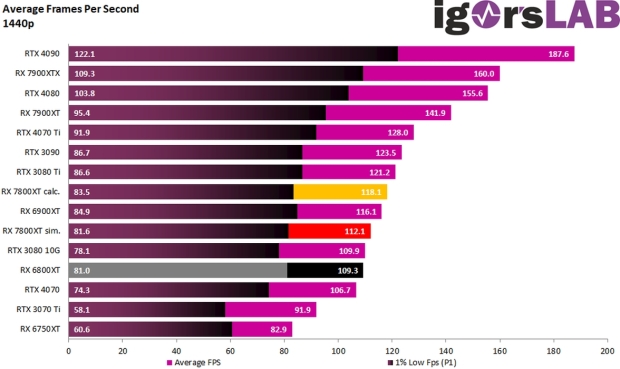 Switching things over to 1440p, the simulated Radeon RX 7800 XT results are 2.5% faster than the Radeon RX 6800 XT, using considerably less power. Adjusted results bump this to around 8%, though that's still a modest gen-on-gen upgrade, with the most significant gains coming via RDNA 3's power efficiency.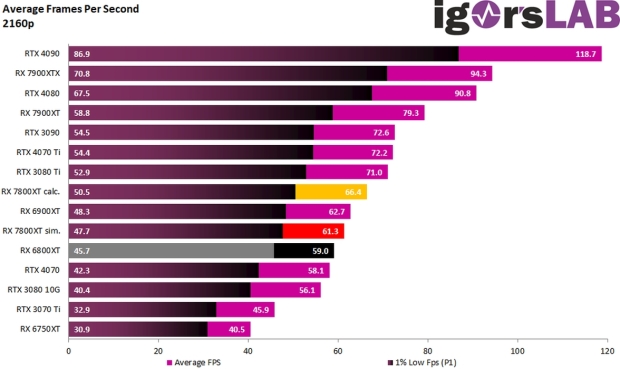 At 4K, the performance uplift for the Radeon RX 7800 XT over the Radeon RX 6800 XT sits at around 3.9% or 12.5% adjusted, the biggest gain among the various resolutions tested. Taking the 12.5% figure as the high-end of what to expect for the Radeon RX 7800 XT paints a picture of a modest improvement that will come down to price and value for money. With the heavily discounted Radeon RX 6800 XT still available, these simulated benchmark results also justify AMD delaying the launch and release of the card so it can clear out existing inventory.
Compared to NVIDIA, the data here places the Radeon RX 7800 XT in between the GeForce RTX 4070 and GeForce RTX 4070 Ti, with Igor concluding that it "would be the ideal filler for the huge gap between the two NVIDIA cards."
And now we play the waiting game.