Blizzard's Diablo IV is currently one of the most talked about and played games on PC and console, breaking both sales and revenue records for the studio. On PC, the game makes full use of GeForce RTX technologies like DLSS 2, DLSS 3's Frame Generation, and NVIDIA Reflex for low-latency performance, not to mention it runs great on a variety of hardware that includes Valve's Steam Deck.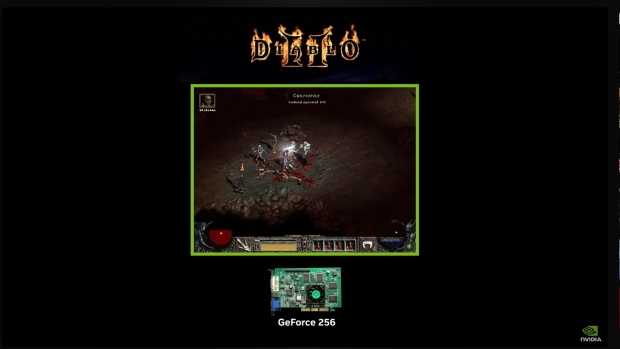 But, with new mainline entries in the Diablo franchise being few and far between, this means that the very first title in the series dates back to 1997 - when the presentation was 2D and a far cry from the massive open world Sanctuary seen in the latest release.
As part of a reminder that Diablo IV supports the GeForce RTX 40 Series exclusive DLSS 3 feature - which uses AI to generate frames and boost perceived performance - NVIDIA and the GeForce team have released a cool little video showcasing the various NVIDIA GPUs that have been used to play each Diablo game over the years. Starting with the RIVA TNT 128, which put NVIDIA on the map regarding 2D and 3D acceleration.
Jumping forward to Diablo II and its expansion which arrived over the course of the year 2000 and 2001, we see the game running on the GeForce 256 - the world's first GPU and a milestone release for PC gaming and 3D acceleration.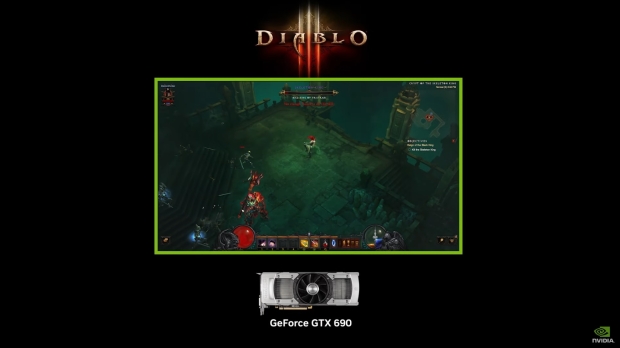 Jumping forward again to 2012's release of Diablo III and you're looking at over a decade of GeForce hardware evolution with the GeForce GTX 690 - a GPU based on NVIDIA's Kepler architecture using TSMC's 28 nm process node. This thing was a beast back in the day, a 300W 2x 8-pin power connector GPU with a launch price of USD 999. That's a lot of money for a GPU in 2023 and a tonne for a GPU back in 2012.
Finally, we get to Diablo IV and what we assume is footage of the game running natively on a GeForce RTX 4090 with a frame rate of over 130 fps - which then jumps up to around 300 fps with DLSS 3 Frame Generation enabled.
Check out the full video below.