A group of astronomers has confirmed the existence of four warm exoplanets that are estimated to be between the Earth and Neptune in size.
The team used NASA and European Space Agency (ESA) telescopes to identify the four planets, which the ESA explains on its website, are "unlike any planet in our Solar System and provide a 'missing link' between Earth-like and Neptune-like planets that is not yet understood." The ESA refers to these planets are "Mini-Neptunes," which astronomers are yet to know much about. However, what is known about Mini-Neptune's is they are smaller, cooler, and more difficult to find than hot Jupiter-like exoplanets.
For example, hot Jupiter-like planets have surface temperatures of more than 1,832 degrees Fahrenheit, and orbit their host stars within days, sometimes within a matter of hours. Mini-Neptune planets have a much cooler surface temperature of approximately 572 degrees Fahrenheit and orbit their host stars within a matter of days. Despite what is known about their orbiting patterns compared to other exoplanets, there is very little known about the composition of Mini-Neptune's.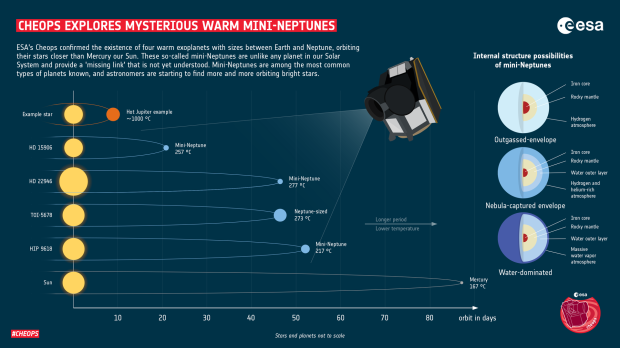 "One of the outstanding questions about mini-Neptunes is what they are made of. Astronomers predict that they have an iron-rocky core with thick outer layers of lighter material. Different theories predict different outer layers: Do they have deep oceans of liquid water, a puffy hydrogen and helium atmosphere or an atmosphere of pure water vapour?

Discovering the composition of mini-Neptunes is important to understand the formation history of this type of planet. Water-rich mini-Neptunes probably formed far out in the icy regions of their planetary system before migrating inwards, while combinations of rock and gas would tell us that these planets stayed in the same place as they formed.

The new Cheops measurements helped determine the radius of the four exoplanets, while their mass could be determined using observations from ground-based telescopes. Combining the mass and radius of a planet gives an estimate of its overall density. The density can only give a first estimate of the mass of the iron-rocky core. While this new information about the density is an important step forward in understanding mini-Neptunes, it does not contain enough information to offer a conclusion for the outer layers," writes the ESA