When NVIDIA lifted the lid on the new GeForce RTX 40 Series of GPUs - and so far, the GeForce RTX 4060 Ti is already available starting from USD 399 - we got word that the baseline mainstream GeForce RTX 4060 was set to launch sometime in July 2023.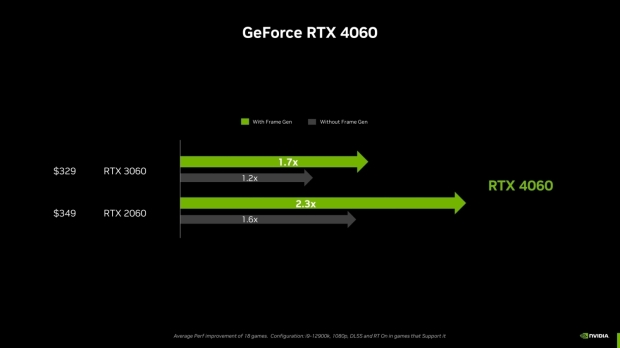 NVIDIA is changing its plans, with the NVIDIA GeForce RTX 4060 8 GB now set to launch in late June 2023, as per insider leaks. The information comes via MEGAsizeGPU, a well-known and established leaker in the GeForce space, who said to expect the GeForce RTX 4060 in June.
The good news is that the GeForce RTX 4060 is set to launch with a price-point of USD 299, cheaper than the GeForce RTX 3060's launch price of USD 329. As far as performance is concerned, NVIDIA has already provided information noting that it will deliver a raw 20% or so bump over the GeForce RTX 3060 with the added benefit of being considerably more power efficient thanks to the new Ada Lovelace architecture as well as making full use of cutting-edge techs like DLSS 3 and Frame Generation.
Compared to the GeForce RTX 2060, you're looking at a 60% increase in raw performance, which is good news for those that upgrade every second generation.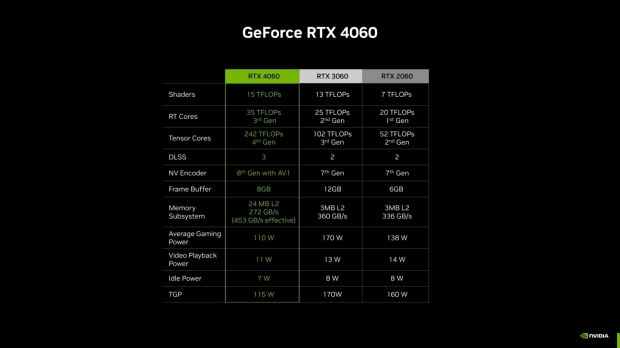 The GeForce RTX 4060 will use the AD107-400-A1 GPU, similar in configuration to GeForce RTX 4060 Laptop GPU. It features 3072 CUDA cores and 8 GB of GDDR6 memory on a 128-bit bus interface. That said, with 24 MB of L2 Cache, the memory bandwidth is being rated by NVIDIA as "effectively" 453 GB/s - higher than the RTX 3060.
It's also worth noting that the GeForce RTX 3060 launched amid the last (and possibly final) crypto-mining boom, so its availability was scarce, and models were sold for much more than the USD 329 asking price.
As we've seen so far with the GeForce RTX 40 Series generation, we fully expect models to be available at or close to the USD 299 asking price - making it a proper mainstream release from NVIDIA. It will also go toe-to-toe with AMD's recent Radeon RX 7600, which launched at USD 269, though there won't be a Founders Edition model for the GeForce RTX 4060.