Apple has just unveiled what it's calling the Vision Pro, an AR/VR headset that will be the company's newest 1st generation product.
So, what is the Vision Pro? This is a first-of-its-kind release from Apple, and it's described as the newest spatial computing platform, providing users with a unique augmented and virtual reality experience. Apple has outfitted the Vision Pro with multiple cameras and sensors, enabling a controller-free experience through the use of eye-tracking and hand gestures. Users are also able to be aware of the world around them through Apple's seamless pass-through technology, which allows users to see a real-time rendering of the physical world around them.
How does it work? The cameras outfitted basically all around the headset scan the physical world around the user and then project a real-time 3D rendering of the world into the headset. Apple has equipped the Vision Pro with two 4K+ displays, one for each eye. Around these eye displays are cameras specifically designed to track the user's eyes, and once calibration is completed after the setup phase, the user is able to navigate the headset by simply looking where they want to click and then clicking by touching their index finger and thumb together.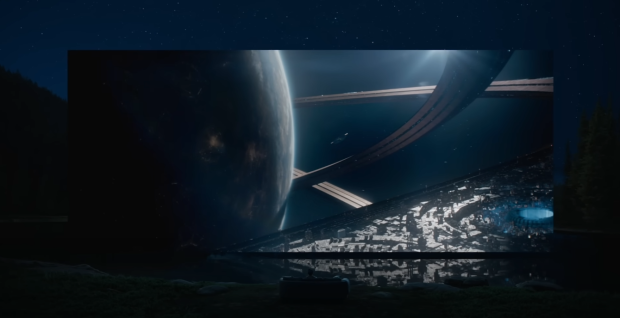 For example, sending a message to a friend can be done by looking at the iMessage app, then looking at a contact, looking at the text box, and then saying your message out loud.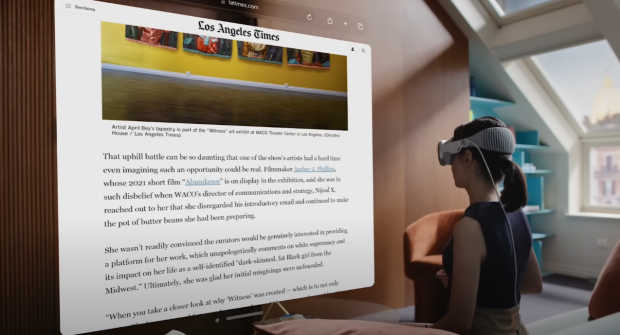 Apple claims the Vision Pro is able to display 23 million pixels across two display panels that are approximately the size of a postage stamp. How is it able to do this? Apple's dual-chip design, which features an M2 chip and the brand-new R1 chip. Through the eye cameras, Apple's software is able to know where the user is looking in real-time and render the focus point the highest visual quality, while simultaneously reducing the visual quality of all other areas.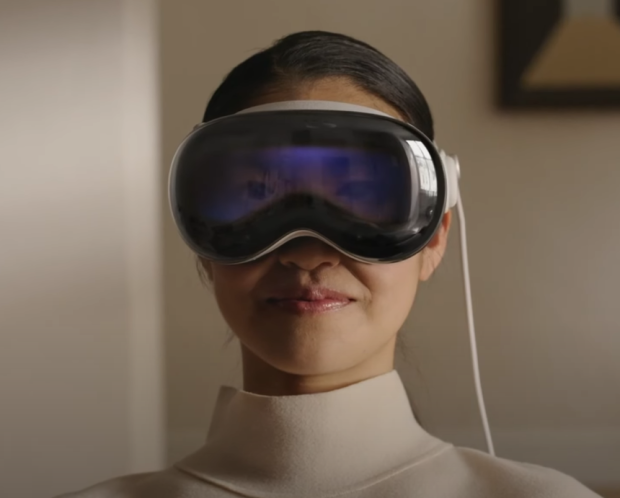 The weird eyes? The eyes you see on the outside of the headset are a rendering of the user's eyes on an outward-facing display. The headset isn't transparent. There is a dial on the headset that enables the user to bleed in more of the physical world into their VR experience when turning it counterclockwise. Turning this dial clockwise will increase the VR immersion.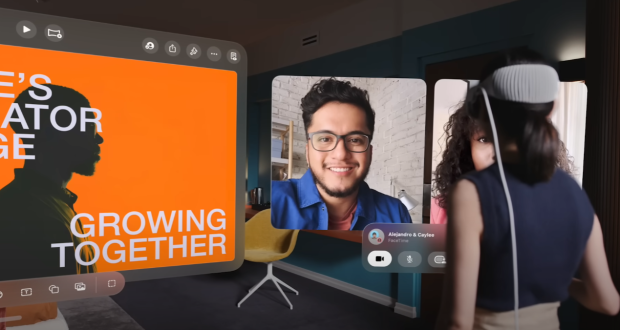 Price and availability? Apple will be launching the Vision Pro headset at $3,499, with pre-orders beginning in early 2024. It's clear by the price that Apple isn't aiming the Vision Pro at the everyday user. It's a luxury price for a luxury item. But then again, there is nothing else that compares to the Vision Pro in terms of technological capabilities, Apple can set the price as there is no competition forcing them to do otherwise.