Tim Cain, the lead programmer of the original Fallout cRPG from the 1990s, gives rare insight into the content that didn't make it into the final games.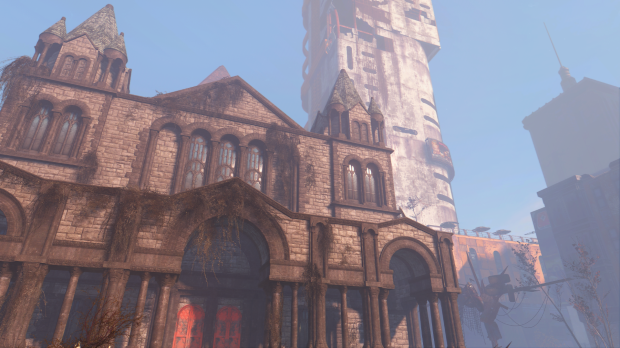 Just because a game is out in stores doesn't mean it's complete. Games are actually never complete, and developers typically shave off significant amounts of content from a dev build to make things fit into a finalized version. That was also the case with the first Fallout games.
So what kinds of things were left on the cutting room floor in Fallout? In a recent video, Tim Cain outlines some interesting concepts, stories, and features that didn't miss the axe. One piece of content was a kind of Library of Alexandria for the wasteland that was based on Walter Miller's classic dystopian novel A Canticle for Leibowitz.
"In Fallout 2, there was something that I designed that I kind of missed wasn't there when Fallout 2 shipped. This was the Abbey of Lost Knowledge.

"It was totally based off Walter Miller's A Canticle for Leibowitz. I know Brotherhood of Steel was based on them, but this one was even more direct.

"There was going to be a monastery to the North of Vault City, and there were a bunch of monks there. All they did is collect manuals and blueprints and technical specifications for technology that they would copy over and illustrate. It was very canticle. They were different from the Brotherhood, who found technology to hoard and keep away from people and preserve.

"The monks were trying to preserve knowledge, and anybody was allowed into the abbey. You were allowed to visit it, they welcomed you in, you could look at anything you wanted, but you couldn't take or damage anything.

"I had whole questlines planned where you'd go back to the abbey to find some important piece of information to advance a quest, or the Brotherhood of Steel discovers the abbey, and of course they want to confiscate everything.

"The monks there are pacifists, but they don't want to give it up. Maybe they ask you to intervene.

"We had quests designed for all that stuff. And it just never got done, and I'm not sure why."
Other tidbits from the video:
Someone had designed a Terminator-like robot for Fallout, but Cain didn't want to use it for the game: "It was a good idea, just not a good idea for this game."

Cain was then surprised when Bethesda put synths in Fallout 4
Tim Cain also revealed why it is he left Interplay in 1998, citing pay disputes and burn out as main causes.