NASA's James Webb Space Telescope (JWST) continues to shock scientists and astronomers with the incredible science the observatory can conduct from its vantage point of 1 million miles away from Earth at what is called the second Lagrange point.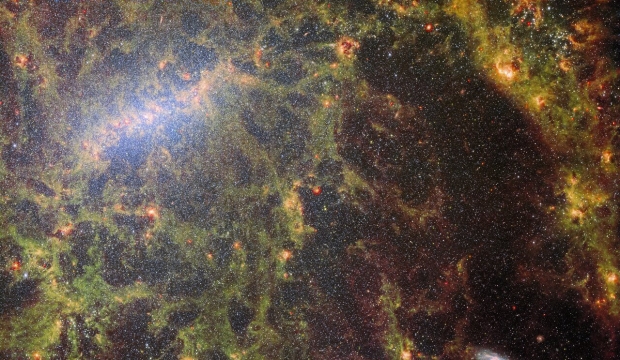 NASA intentionally sent Webb to Lagrange Point 2 for a few different coinciding reasons. This position in space enables Webb to stay in line with Earth as it orbits the Sun while also giving it the ability to see further into space than any other telescope. Since arriving at its destination, Webb has been conducting cutting-edge science, and according to a newly released image on the European Space Agency (ESA) website, Webb isn't by any means slowing down its scientific escapade as it has recently imaged a barred spiral galaxy dubbed NGC 5068.
The ESA explains on its website that Webb's image showcases the bright long tendrils of gas and stars of NGC 5068, which is located approximately 17 million light years away from Earth within the constellation Virgo. To give a perspective of just how big 17 million light-years is, the Milky Way's neighborhood of galaxies is called the Local Group and is approximately 5 million light-years away, which puts NGC 5068 well out of our galactic neighborhood.
So, what's so special about NGC 5068? According to the ESA, Webb has collected images of the distant galaxy to add to its ever-growing astronomical treasure of observations made of star formation within galaxies. These observations of star formation are particularly valuable to astronomers as star formation underpins so many fields in astronomy, from the physics behind the evolution of the star to the evolution of entire galaxies.
As for NGC 5068, NASA explains that with Webb's extremely sensitive instruments that are designed to see through dust and gas (something the Hubble Space Telescope struggled to do), researchers are able to look directly into the heart of a galaxy and see aspects of it that they previously weren't able to see. For example, every single white dot you can see in the above image is a star. Capturing NGC 5068 in this amount of detail was previously impossible as stars would have been obscured by vast oceans of dust and gas.
Furthermore, NASA and the ESA explain that there is a cluster of stars located at the center of the galaxy, which can be identified by the bright central bar visible in the upper left of the image. If you are interested in reading more about NGC 5068, or the James Webb Space Telescope, check out the ESA website here.