After months of speculation and leaks, NVIDIA has formally announced the GeForce RTX 4060 Ti, with an 8GB model coming May 24 for USD 399 and a 16GB model in July for USD 499. During the presentation for the new GPUs, NVIDIA did note that outside of the difference in VRAM capacity, both models feature the same underlying specs.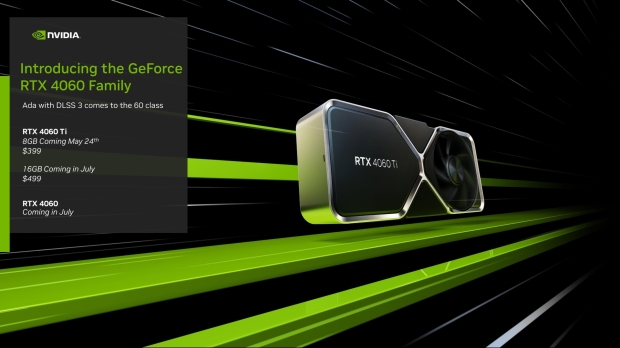 For the 8GB model coming on May 24, the MSRP of USD399 is in line with previous-generation graphics cards, the RTX 3060 Ti and the RTX 2060 SUPER. In terms of expected in-game performance, which is the big question for many out there, 1080p gaming on the new RTX 4060 Ti will deliver a 1.15X increase (15%) in rasterized performance compared to the RTX 3060 Ti and a 1.6X increase (60%) over the RTX 2060 SUPER.
Like other GeForce RTX 40 Series models, the new RTX 4060 Ti will benefit from RTX technologies exclusive to the Ada Lovelace architecture, including AV1 encoding for content creators and DLSS 3 rendering with the AI-enhanced Frame Generation. With Frame Generation enabled (in supported titles), the performance increase compared to the RTX 3060 Ti jumps up to 1.7X, with that figure rising to an impressive 2.6X compared to the RTX 2060 SUPER.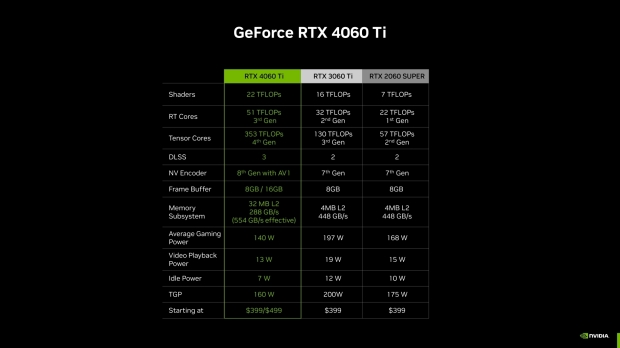 The GeForce RTX 4060 Ti also takes full advantage of Ada's impressive power efficiency, with the RTX 4060 Ti featuring a 160W TGP power rating compared to the 200W of the RTX 3060 Ti. NVIDIA notes that based on its internal testing, the average gaming power usage on the card sits at around 140W. This means better performance than the RTX 3060 Ti, using close to 30% less power, which is an impressive stat for the power-conscious people out there.
If you're wondering, NVIDIA addressed the VRAM capacity question during the presentation. The following 1080p benchmark slide shows that two titles, A Plague Tale: Requiem and Resident Evil 4 Remake, were tested with the lower 'High' in-game presets - due to the 8GB limitation.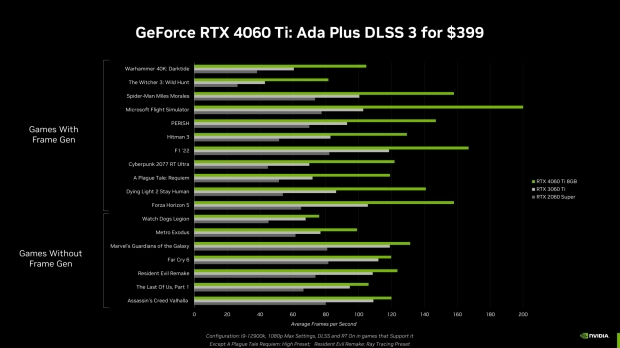 This is why the 16GB model exists, for those who want to play games with all settings maxed. And with that, the following benchmark slide for the RTX 4060 Ti 16GB shows identical results except for these two games, which can now be played with all settings maxed out.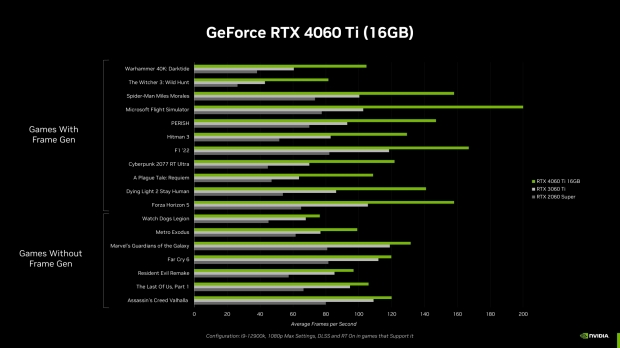 Another area where the RTX 4060 Ti offers improvements over the previous generations of RTX 60 class graphics cards is an increase in L2 Cache size from 2 MB to 32 MB. Essentially this helps reduce memory bus traffic by keeping tasks 'on the GPU,' leading to a 25% improvement in RT (ray-tracing) performance and a 35% improvement in DLSS 3 performance.
NVIDIA also announced that as DLSS 3's adoption continues to accelerate, it's now available in over 50 games and apps, so this feature is one of the main drawcards for the RTX 4060 Ti-mainstream DLSS 3.