Patriot Group is teasing an upcoming reveal for a new super-fast PCIe Gen5 SSD it plans to showcase at Computex, the Patriot Viper PV553. Based on the specs seen so far, it could end up being one of the fastest PCIe Gen5 x4 M.2 SSDs on the market, with a sequential read speed of 12.4GB/s and a sequential write speed of 11.8GB/s.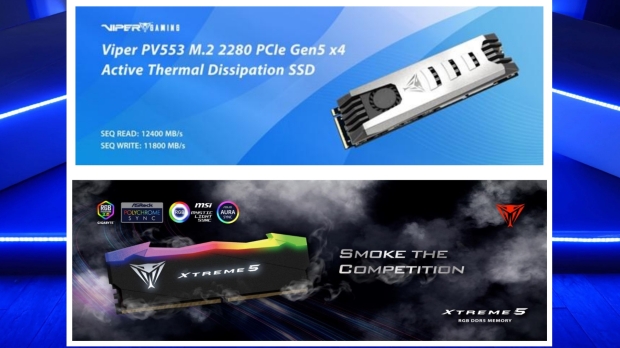 Computex 2023 kicks off in a few weeks and will see tech companies from across the globe get together to showcase new products, announce partnerships, and lift the lid on a few surprises. The Patriot Viper PV553 will be on hand at the California-based company's booth alongside new memory kits with Viper Xtreme 5 DDR5 extreme performance and mainstream performance memory.
Outside of the reported speed, there's not a lot of other information currently available for the new Patriot Viper PV553 SSDs. We don't have info on what controller or NAND technology will be used.
We do know that the Patriot Viper PV553 will feature active cooling, thanks to the single image provided by Patriot and the SSD's 'Active Thermal Dissipation' tag. The PCIe Gen5 x4 M.2 SSD is set to feature a black and chrome finish with a heatsink and what looks to be a single tiny fan. With the arrival of PCIe Gen5 drives and the massive increase in speeds being recorded, that comes with a cost to overall temperatures. Proper cooling is becoming necessary to maintain performance and avoid things like thermal throttling for the next generation of SSD technology.
Patriot is a manufacturer of high-performance memory, SSDs, flash storage, and other gaming peripherals, with the company founded back in 1985. A time when SSDs weren't a thing unless you had access to a time machine and could travel into the future, ala Back to the Future - which first hit theaters in 1985.