Corsair has launched its first high-speed PCIe Gen5 M.2 SSD, with the new MP700 pushing 10 GB/s sequential read and write performance.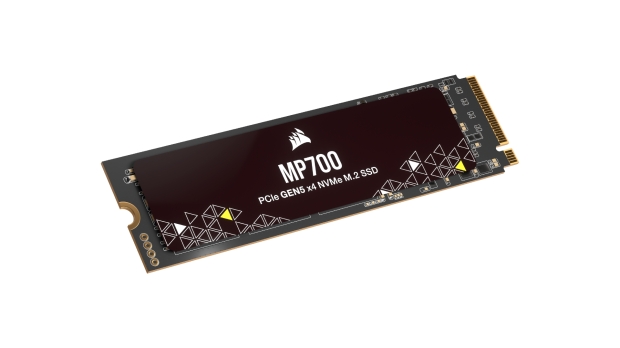 It's the fastest Corsair M.2 SSD by a huge margin, with the company noting that it can deliver speeds up to 40% faster than the PCIe 4.0 SSDs on the market.
As the images show, this MP700 isn't shipping with a heatsink, something that most new high-speed PCIe Gen5 M.2 SSDs have featured to keep operating temperatures down. Corsair does note that for optimal performance, the MP700 "requires additional cooling."
This could be via motherboard cooling systems or dedicated M.2 SSD coolers like Corsair's Hydro X Series XM2 Water Block. Or something more practical than connecting an SSD to a custom cooling loop. The maximum operating temperature listed by Corsair is 70 degrees Celcius so you'll definitely need cooling to avoid thermal throttling.
Specs-wise, the Corsair MP700 utilizes the standard M.2 2280 form factor with 3D TLC NAND technology and support for DirectX 12's DirectStorage to enable direct communication between the GPU and SSD to improve loading times in games.
It's also backward compatible with PCIe 4.0 motherboards, making it a great option if you're not quite ready to upgrade to a new PCIe Gen5 motherboard. The Corsair MP700 PCIe Gen5 M.2 SSD is available in two variants, 1TB and 2TB, with launch prices of USD 169.99 and 289.99, respectively. Both come with a five-year warranty, and you can check out the full specs below.
SSD Unformatted Capacity: 1TB and 2TB

Weight 0.034kg

SSD Interface: PCIe Gen 5.0 x4

SSD Max Sequential Read CDM: Up to 9,500MB/s (1TB) Up to 10,000MB/s (2TB)

SSD Max Sequential Write CDM: Up to 8,500MB/s (1TB) Up to 10,000MB/s (2TB)

Max Random Write QD32 IOMeter: Up to 1.6M IOPS (1TB) Up to 1.7M IOPS (2TB)

Max Random Read QD32 IOMeter: Up to 1.3M IOPS (1TB) Up to 1.5M IOPS (2TB)

Power Consumption active: 10.5W Average

Form Factor: M.2 2280

NAND Technology: 3D TLC NAND

MTBF: 1,600,000 Hours

SSD Operating Temperature: 0°C to +70°C