A new study published in the journal Science Advances on April 28 states that China's Mars rover has discovered evidence of liquid water, a claim that contradicts the general consensus that water can only exist in solid or gaseous states on Mars.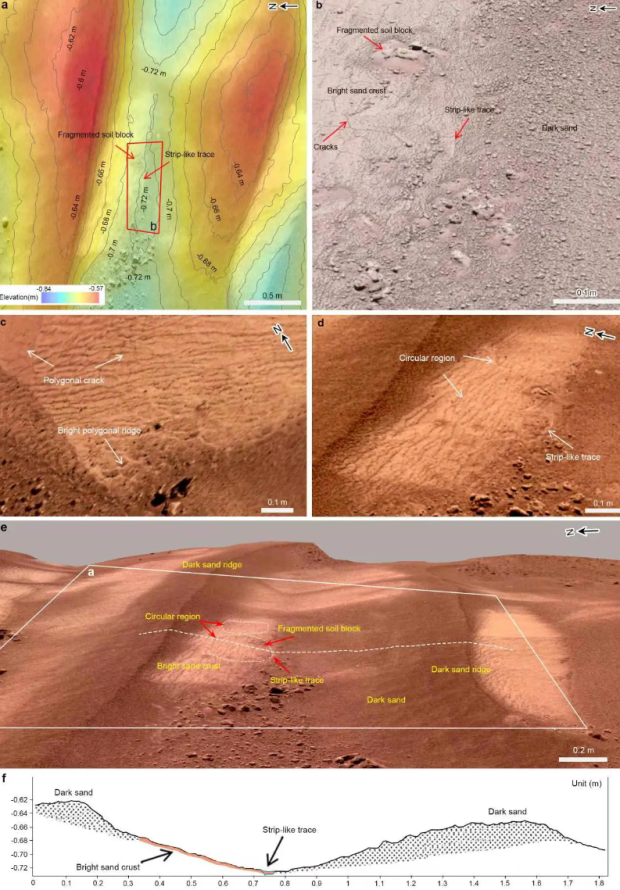 The study was led by Prof. Xiaoguang Qin from the Institute of Geology and Geophysics (IGG) of the Chinese Academy of Sciences (CAS), and according to its results, China's Zhurong rover has found proof of liquid water traces at low latitudes where temperatures are more warm and suitable for the ingredients of life. It should be noted that humans have discovered large amounts of frozen water on Mars, but due to the planet's incredibly thin atmosphere, it's thought the presence of liquid water on the Red Planet is impossible.
However, in 2008 salty droplets of water landed on the arm of NASA's Phoenix Lander, which led researchers to believe that liquid water could exist in the higher latitudes of the planet. Now, researchers are suggesting the very same for the low latitudes. Zhurong's scientific instruments analyzed the surface of sand dunes, discovering that their composition was rich with hydrated sulfates, silica, oxide minerals, and possibly chlorides. Additionally, Zhurong's instruments revealed important morphological features on the surface of the dunes, such as crusts, cracks, granulation, polygonal ridges, and water traces.
From the rover's observations, the researchers derived that the inspected sand dunes showed key characteristics that were related to the liquid saline water forming throughout the process of frost/snow melting in the region. Notably, when saline water dries, its minerals and particles form what is called sand aggregates or crust. As the melting process continues for the snow, polygonal ridges are formed in the surface of the crust, giving the surface the ridge or stripe-like trace.
So, where did the snow come from? Researchers suggest that due to the age of the observed sand dune, approximately 400,000 to 1.4 million years old, the snow or water vapor came from the polar ice sheet closer to Mars' equator during an earlier period of its evolution.
The team behind the study has now called for a priority of salt-tolerant microbes in any future missions that are searching for life on Mars, and that evidence such as what is presented in the recent study is important to understanding the evolutionary history of the Martian climate. Furthermore, research such as this aids the widespread effort to find evidence of past life existing on the Red Planet.