China successfully landed its Zhurong rover on Mars on May 14, 2021, and after exploring the Martian wastelands for some time, the rover entered into hibernation mode, breaking all radio communication with China National Space Administration (CNSA).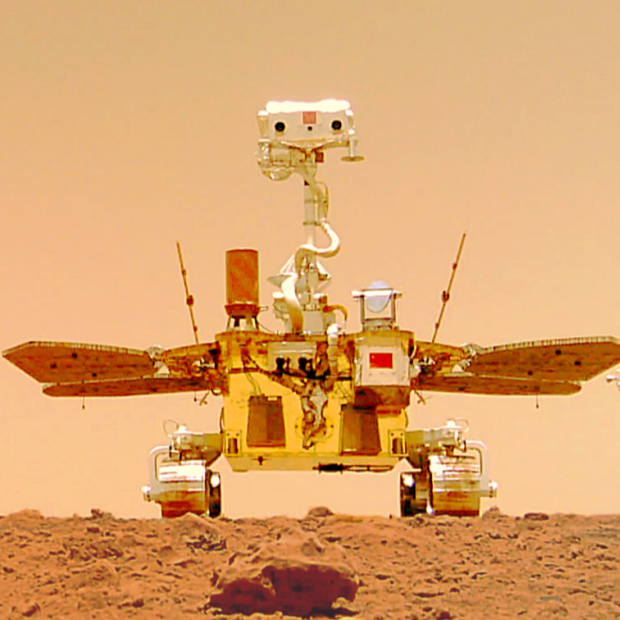 China selected the Mars region Utopia Planitia as the destination for Zhurong, and the primary mission for the rover was to conduct scientific operations on any discovered water ice that's expected to be located under a volcanic rock within the region. Notably, Zhurong uses solar panels as an energy source, and in late May 2022, the CNSA decided to put the rover into hibernation mode ahead of dropping temperatures and sandstorms in the region.
Putting rovers into hibernation mode is a common tactic used by space agencies as it keeps the rover in a safe, energy-conserving position. Typically this tactic is carried out when there isn't enough sunlight available for the rover's solar panels to absorb and convert into usable energy. However, having only solar panels as an energy source comes with some severe downsides. If enough Martian dust builds up on the rover's solar panels, it will prevent any sunlight from being absorbed, effectively killing the rover.
The tragic fate of death by Martian dust has fallen upon a few NASA missions, such as the InSight Lander and the Opportunity rover. Now, space watchers have been speculating that a similar fate has fallen upon CNSA's Zhurong rover as NASA imagery snapped by the Mars Reconnaissance Orbiter (MRO) shows Zhurong hasn't moved since at least September 8, 2022. The CNSA has been extremely tight-lipped about the status of the rover and even celebrated the Zhurong mission's second anniversary on February 10, but didn't provide an update on the rover's health.
The CNSA has since broken its silence on its long-rumored dead rover, with Zhang Rongqiao, chief designer of China's Mars exploration program, spoke to Reuters and said, "We have not had any communication from the rover since it entered hibernation. We are monitoring it every day and believe it has not woken up because the sunlight has not yet reached the minimum level for power generation."
In other words, the CNSA hasn't been able to contact Zhurong because it's out of battery and isn't receiving any charge, presumably due to dust covering its solar panels. The CNSA doesn't seem to want to give up hope on Zhurong's fate, as the teams will continue monitoring the situation for any indication of Zhurong being alive. Additionally, the CNSA hasn't yet declared that its Zhurong mission has ended, which is an indication that the space agency is still maintaining at least some hope.
In other space news, a private spacecraft expected to make a historic landing on the surface of the Moon today has sadly crashed, failing the milestone mission. If you would like to learn more about that spacecraft and its importance, check out the below link.