The Google Pixel Fold is coming, that's absolutely something that we can take for granted at this point. The phone has already leaked over and over and now we're seeing even more images of the as-yet-unannounced foldable phone.
These latest images appear to be the closest thing to a press render that we've seen to date and they show a Pixel Fold in what appears to be a black color that we imagine will be called Charcoal. It isn't the most imaginative color, that's true. But it's probably the one that the majority of people will find themselves walking around with.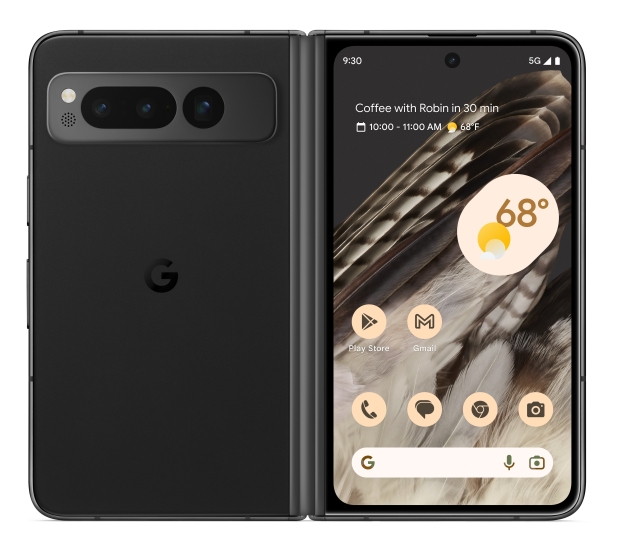 The images were shared to Twitter by the leaker Evan Blass and are behind a locked account, so you might not be able to see the tweets themselves. But they're there, and we've shared the images here so you can get a good eyeful of what's coming.
One of the images in particular shows what we have to admit are fairly chunky bezels. Not that that's necessarily a bad thing - as Blass himself points out, sometimes having a little bit of bezel to hold onto isn't the worst idea because it means you always know where to put your meaty fingers. And you don't need to worry about accidentally tapping things at that.
You only have to look at Apple's iPads and the still chunky bezels to know what we're getting at. An iPad with thinner bezels would be unwieldy, and that seems to be the approach Google has taken with the Pixel Fold.
As for the rest of the Pixel Fold, we're expecting big things for the expected $1,799. In terms of specifications, we're expecting a Google-designed Tensor G2 chip to give the phone plenty of performance, while up to 512GB of storage will be available. On the inside, you'll find a 7.6-inch 120Hz display while the external offering will be 5.8 inches, also with a 120Hz refresh rate. Cameras? Well, a main 64-megapixel shooter is expected to be joined by an ultrawide 12-megapixel camera and a 10.8-megapixel zoom camera.
All of this is set to be announced at Google I/O on May 10 with the phone then expected to go on sale around a month or so later. The Google Pixel 7a and Pixel Tablet are also expected to be properly unveiled at the same event, making for a packed day.
With a new flagship foldable about to enter the fray we're left wondering one thing - when will Apple join the party with a foldable iPhone?