NASA's Mars Reconnaissance Orbiter has used its bird-eye vantage spot to take photos of the area where China landed its Mars rover named Zhurong on May 15, 2021.
China selected the region called Utopia Planitia as the destination for Zhurong, with the overall objective of searching for ice water suspected of being located underneath volcanic rock. Above is a selfie taken in its landing location on May 15, 2021; take note of the solar panels. NASA imagery shows the rover moved between March and September 2022, which was backed up by the state-owned publication South China Morning Post writing Zhurong entered hibernation mode in May 2022.
Chinese officials decided to put Zhurong in hibernation mode to wait out dropping temperatures and dangerous sandstorms. Putting rovers in hibernation is a strategy that is commonly used as it enables the rover to save energy when there is no sunlight available for solar panels to absorb. This is particularly a problem for rovers that only have solar power as a means of generating battery charge, as their panels can be coated in Martian dust, which prevents the panels from charging. The tragedy of death by dust has fallen upon several NASA missions, such as the InSight lander mission and the Opportunity rover in 2018.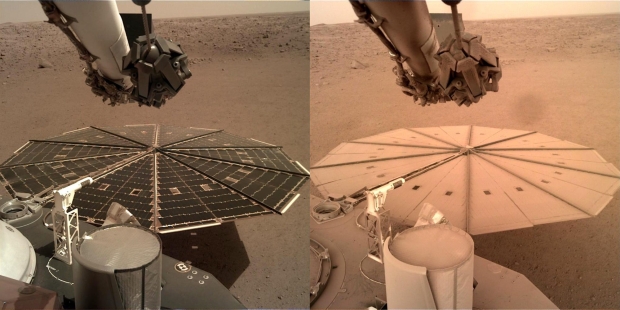 NASA imagery captured by the Mars Reconnaissance Orbiter shows that Zhurong hasn't moved since at least September 8, 2022. China's space agency celebrated the second anniversary of the Zhurong mission on February 10, but didn't provide any updates on the condition or health of the rover since it entered into hibernation mode. This strange silence, and now images from NASA showcasing that the rover hasn't moved, has led some to speculate that Zhurong, China's first Mars rover, has become an expensive pile of Martian trash.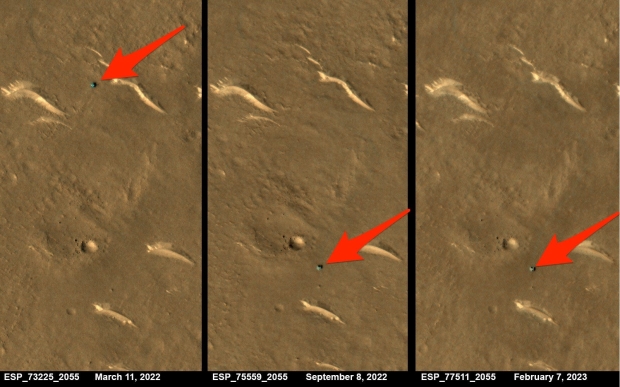 In comparison, this issue of dust coating the solar panels on rovers isn't something NASA has to worry about for its Perseverance rover as that's nuclear powered. While Perseverance has solar panels to still convert solar rays into energy, it mostly relies on the radioactive decay of plutonium to keep scientific operations up and running.
Technically speaking, Zhurong should wake back up once its instruments reach temperatures of more than 5 degrees Fahrenheit and energy generation has reached more than 140 watts.
As for Zhurong, an unnamed source spoke to the South China Morning Post and said, "It's not hard to imagine that after a harsh sandstorm season, Zhurong is now probably all covered in the reddish Martian dust." Adding, "From a selfie taken days after Zhurong landed in 2021, we can see its solar panels were very clean back then. However, pictures taken the following January already showed the panels coated with a layer of dust."
In other news, NASA has confirmed that four asteroids are approaching Earth this week. One of them is approximately the size of a stadium. If you are interested in learning more about these asteroids and how close they will get to the planet, check out the below link.